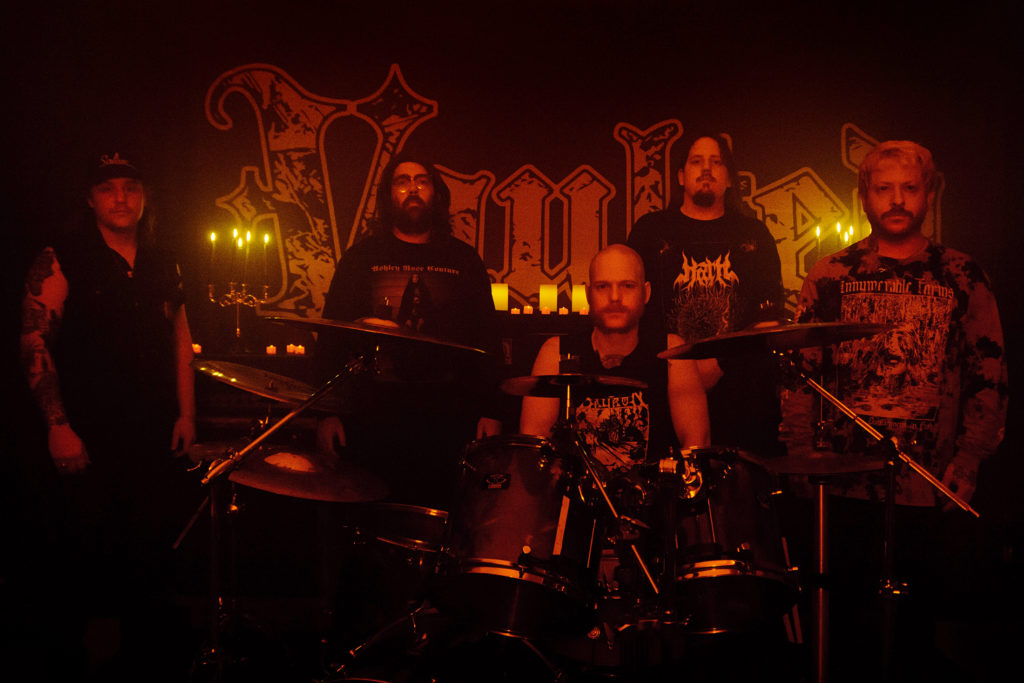 photo by Adam Parshall
Invisible Oranges is hosting an exclusive stream of Left In Despair, the second album from Boston death metal quintet VAULTED, on the eve of its official release tomorrow. VAULTED has also posted two New England release shows and has been nominated for a Boston Music Award.
Born from bitter Winters, VAULTED siphons aggression and internal growth through searing and metallic, sometimes melodic, unapologetic auditory chaos, and pinpointed lyrical constructs that reflect on personal despair, social atrocity, and global vitriol. The group maintains a bludgeoning heaviness with a poetic weaponry of ferocity and internal strife.
VAULTED now prepares to close out the tumultuous 2021 with their latest and most advanced effort to date titled, Left In Despair. The band returned to their trusted producer, engineer, and manager Shane Frisby of LifeBlood Inc. and owner/operator of The BrickHitHouse to capture Left In Despair's eleven groove-heavy tracks, the album blending influences from seminal death metal monarchs Dismember, Entombed, Grave, Obituary, and Gorefest with the modern approach of Black Breath, Nails, Trap Them, Gatecreeper, and All Pigs Must Die. The record was mastered by Alan Douches at West Westside Studios (The Dillinger Escape Plan, Converge, Cannibal Corpse), and completed with artwork by Yodth Gnosis.
With their stream of the album, Invisible Oranges has published an interrogation of VAULTED, the feature including, "Originally made famous by the Stockholm, Sweden scene in the early 1990s, the buzzsaw-sounding HM-2 pedal has spread far and wide—and it's a part of what gives VAULTED, a metallic hardcore band based out of Boston, their metallic edge. In fact, the Scandinavian sounds are all over Left In Despair from the outset of opener 'Forged In Darkness'. VAULTED make their mark by repeatedly beating your head in with riffs that change speeds and drums that do not quit. The tracks here are quick and to the point and never overstay their welcome; there is a designed level of violent precision that VAULTED work towards with each breakneck outing."
Let VAULTED's entire Left In Despair off the chain early only at Invisible Oranges RIGHT HERE.
VAULTED will independently release Left In Despair digitally with a cassette version through bassist Nicholas Wolf's War Fever Recordings this Friday, November 19th. Find preorders at the War Fever store HERE and Bandcamp HERE, and watch the band's video for the title track HERE.
VAULTED has booked two release shows for the album, playing Friday, December 3rd in Allston, Massachusetts, and Saturday, December 4th in Manchester, New Hampshire. See all show info below and watch for additional live announcements to post soon.
Left In Despair also sees VAULTED nominated for Metal Artist Of The Year for 2021! Read more and cast your vote HERE ahead of the official awards ceremony at Brighton Music Hall on Wednesday, December 8th.
VAULTED Left In Despair Release Shows:
12/03/2021 O'Brien's Pub – Allston, MA w/ Torn In Half, Black Palm, Matriphagy, Ancient Death [info]
12/04/2021 Shaskeen Pub – Manchester, NH w/ Willzyx, Iron Gag, Your Fault [info]
https://vaulted.bandcamp.com
https://twitter.com/vaultedband
https://www.instagram.com/vaultedband
https://www.facebook.com/VaultedBand