[photo by Al Cummings]
Ravaging everything in its path, VASTUM's "Amniosis" comes marauding forth through a premiere at Cvlt Nation ahead of the street date for band's third LP, Hole Below, due out next week as the band embarks on their first East Coast US tour with Four Days Of Sodom.
One of the most lyrically unique, creative and disturbing bands in underground metal, through their first two albums, San Francisco's VASTUM has already sadistically carved a jagged, dripping wound into an increasingly reductive American death metal scene, but now plumbs the depths of internalized agony and degradation farther than ever on their crushing third LP, Hole Below. Recorded with Greg Wilkinson at Earhammer Studios (Noothgrush, Lycus, Vhöl) and mastered by Brad Boatright at Audiosiege (Obituary, Nails, Yob), the nearly forty-minute torrent of trauma that is Hole Below bleeds six grueling movements which see the band even delivering more densely claustrophobic tonal obliteration while simultaneously unloading top-notch musicianship. Here, the band has honed their disturbed masochism into a sound manifestly their own and true to the core of the purest, darkest death metal.
The crew at Cvlt Nation has deployed "Amniosis," the monstrous second track on VASTUM's Hole Below, reaffirming the band's savagery and significance with their introduction to the song, issuing, "this fucker slays from the moment you press play! Is this album going to end up our year end list as one of the raddest Death Metal LP's of 2015? The answer is HELL YES!!!"
VASTUM's "Amniosis" will rip you in two via Cvlt Nation RIGHT HERE.
Also stream Hole Below's opening "Sodomitic Malevolence" through Decibel Magazine RIGHT HERE and "Empty Breast" at Invisible Oranges HERE.
Hole Below sees release next Friday, November 6th on digital platforms and CD through 20 Buck Spin and on cassette via Sentient Ruin Laboratories. The LP will follow in December via 20 Buck Spin. Preorders for the CD can be placed HERE, the digital HERE, and the cassette HERE. Vinyl preorders will be available in the coming days.
VASTUM returns to the stage in support of Hole Below as well, beginning with the band's first ever East Coast run, beginning directly in conjunction with the release of the album next week. The Four Days Of Sodom trek sees the band invade Brooklyn on November 5th, then hitting Baltimore on the 6th, Richmond on the 7th and Philadelphia on the 8th, sharing the stage with the likes of Trenchgrinder, Infernal Stronghold, Ilsa, Locusta, Genocide Pact and more along the way.
VASTUM Four Days Of Sodom Tour:
11/05/2015 The Acheron – Brooklyn, NY w/ Trenchgrinder, Infernal Stronghold, Coagula [info]
11/06/2015 The Sidebar – Baltimore, MD w/ Ilsa, Genocide Pact, Castle Freak, Bestial Evil [info]
11/07/2015 Strange Matter – Richmond, VA w/ Locusta, Vorator, Left Cross [info]
11/08/2015 The Farm – Philadelphia, PA matinee show w/ Trenchgrinder, Repellers [info]
Stand by for further VASTUM tour and album informational broadcasts in the coming days.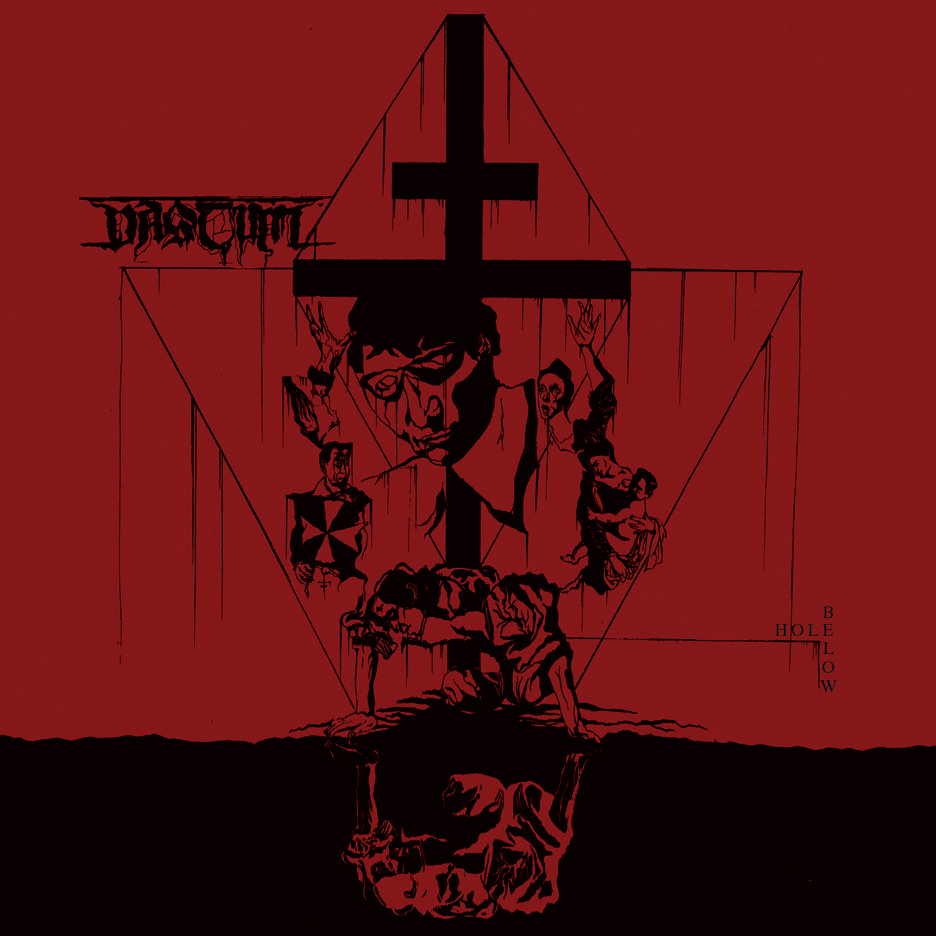 http://www.vastum.bandcamp.com
http://www.facebook.com/pages/Vastum/440192535391
http://www.20buckspin.com
http://www.facebook.com/20buckspin
http://www.twitter.com/20buckspinlabel
http://www.sentientruin.com
http://www.sentientruin.bandcamp.com
http://www.facebook.com/SentientRuin