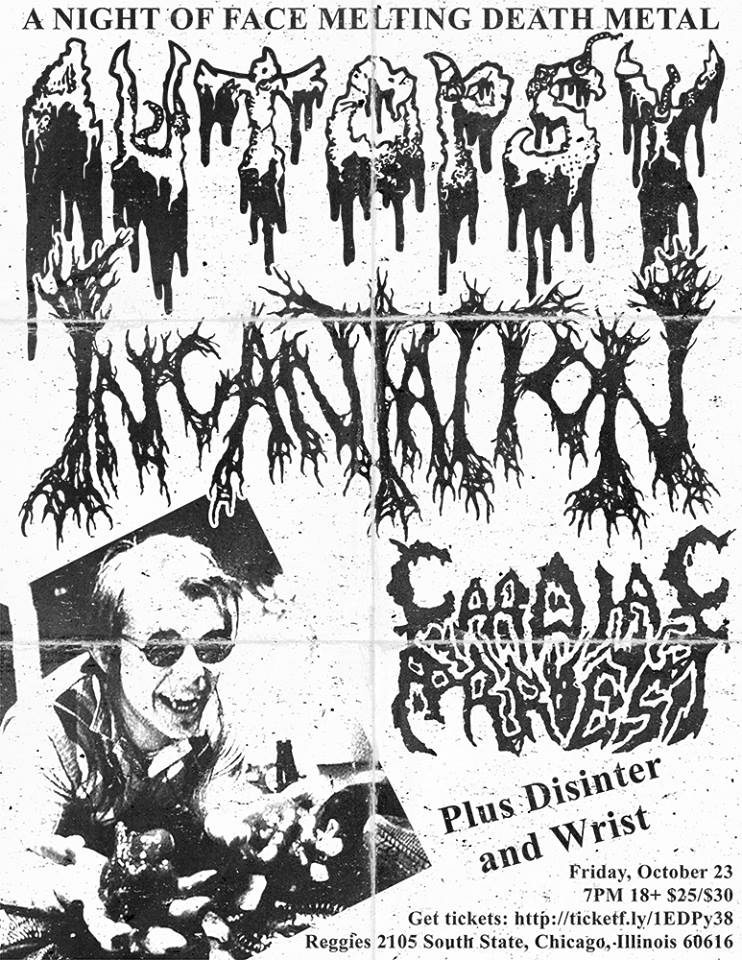 Death metal legends, INCANTATION, will be playing a special show tonight at Reggies in Chicago with Autopsy, Cardiac Arrest, Disinter and Wrist. The performance will be streaming LIVE at this location: https://gigity.tv/event/109227. Don't miss it!
Additionally, INCANTATION will appear on this year's addition of Philip H. Anselmo's Housecore Horror Film Fest inn San Antonio, Texas next month. The band will play on Sunday November 15th at The Aztec Theater alongside Goblin, Autopsy, Zombi, Yob, Ghoul, Author And Punisher, Gristnam and Muscle And Marrow with additional live incursions in the plotting stages. Stay alert.
INCANTATION:
10/23/2015 Reggies – Chicago, IL
11/15/2015 Housecore Horror Film Fest @ The Aztec Theater – San Antonio, TX
INCANTATION continues to tour in support of their Dirges Of Elysium full-length released last year via Listenable Records. Crowned, "one of the most influential death metal bands of all time," by Metal Injection, who further elaborated of the record, "with all the evil-sounding riffs, squealing pinch-harmonics and crushing dirges scattered throughout, this is the sound that made INCANTATION legends," Dirges Of Elysium continues to raise the horns of death metallers old and new. Sputnik Music dubbed Dirges Of Elysium, "a breath of fresh air for INCANTATION, and another fine addition to their discography, " Metal Forces gushed, "it's all ungodly but all so bloody brilliant, and with 'Charnel Grounds' smoldering from the stench of charcoaled flesh and the blustering bluster of 'Dominant Ethos' dragging us into the mud-clogged shredder that is 'Elysium (Eternity Is Nigh),' I hold up my severed stumps in surrender for another harangue of hate from one of death metal's most criminally underrated bands," while Exclaim added, "INCANTATION preserve their archetypal ominous atmosphere, while the production gives the band a more modern edge, making Dirges Of Elysium a consistent yet fresh release from the influential band."
New INCANTATION developments to be announced in the weeks to come. In the meantime, visit the INCANTATION merch store at THIS LOCATION.
http://www.incantation.com
http://www.facebook.com/IncantationOfficial