Upcoming Releases From Candlelight USA:
BLOOD OF KINGU . DIVINITY . WAKING THE CADAVER . YAOTL MICTLAN . CITY OF FIRE . SARAH JEZEBEL DEVA . TRIGGER THE BLOODSHED……………
BLOOD OF KINGU
Sun In the House Of The Scorpion
Release Date: 8/10/2010
The second album from Ukrainian black metallers BLOOD OF KINGU already has an underground buzz not only for the cult status of its members (Drudkh, Hate Forest), but for the unique sound the band create. Following the release of 2007 debut, De Occulta Philosophia, new album Sun In The House Of The Scorpion builds upon the band's ritualistic melodies and revered shaman vocal delivery. Lyrically the band continue to pay homage to Sumerian, ancient Egyptian, Tibetan and Indo-Aryan mythology.
"Fierce melodic aggression, killer riffing, and competent songwriting/musicianship," says Sputnik Music when reviewing BLOOD OF KINGU's sonic output. Metal Crypt adds, "Blood of Kingu are the real deal."
Sun In The House Of The Scorpion Track Listing:
1. "Herald Of The Aeon Of Darkness"
2. "Those That Wander Amidst The Stars"
3. "Cyclopean Temples Of The Old Ones"
4. "Incantation Of He Who Sleeps"
5. "Guardians Of Gateways to Outer Void"
6. "Ceremonies To Awake Thy Ageless Hate"
7. "Morbid Black Dreams Bringing Madness"
8. "Gate Of Nanna"
http://www.myspace.com/bloodofkinguband
YAOTL MICTLAN
Dentro del Manto Gris de Chaac
Release Date: 8/10/2010
Salt Lake City-based YAOTL MICTLAN (meaning "warriors from the land of the dead") unite metal and their native Mayan heritage. Founded by brothers in 1998, the band made its critical first impression on the ears of Brujeria vocalist Juan Brujo. So impressed Brujo later produced the band's first demo, A Batalla Vamos.
Dentro del Mantro Gris de Chaac is the band's first with label Candlelight Records. It follows their 2006 debut, Guerreros de la Tierra de los Muertos (American Line Productions). The band is planning to tour shortly after release. "Solid. Melodic black metal played with a lot of strength and power… the lyrical content is what amazes me the most." – Metal Storm
Dentro del Mantro Gris de Chaac Track Listing:
1. "Dentro del Manto Gris de Chaac"
2. "Garra de Jaguar (Ocho Venado)"
3. "Cihuacoatl (La Llorona)"
4. "Hun Hunapu"
5. "Gemelos Heroes"
6. "Noche Triunfadora"
7. "Huelitiyotl Mexica"
8. "Nada Verde Creece Aqui"
http://www.myspace.com/yaotlmictlan
DIVINITY
The Singularity
Release Date: 8/10/2010
About.com calls Canadian modern metal juggernaut DIVINITY "a band to keep an eye (and ear) on." Following their debut album Allegory (2008, Nuclear Blast), the Alberta-based five-piece have crafted another polished album of melodic death/thrash that is sure to further their already growing fanbase. "The more I listen to The Singularity, the better it gets," says MetalSucks in an early review of the album. "It's complex, its' progressive, it's deep, it's brutal, it's shreddy, it's hooky, it's artsy… it's everything you want a metal record to be."
Armed with an arsenal of growls, high-pitched screams and melodic clean vocals, The Singularity successfully works through an amalgamation of crushing thrash, complex progressive metal arrangements, and brutal death metal overtones. It should easily qualify as one of the year's more memorable aural assaults. The poise of each song's shifting time signatures and their unpredictable rhythmic insanities alone are devastating.
Lyrically tackling the themes of mindless consumerism, survival in the midst of adversity, the chaos of existence, and humanity's battle against technology, DIVINITY deliver a rock-solid audio palette. Songs "Monsters Are Real," "Emergent," "Beg To Consume" and "Lay In The Bed You've Made" unquestionably exhibit the band's dynamic and ferocious range.
The Singularity Track Listing:
1. "Abiogenesis"
2. "Beg To Consume"
3. "Lay In the Bed You've Made"
4. "Emergent"
5. "Transformation"
6. "Monsters Are Real"
7. "Embrace The Uncertain"
8. "Formless Dimension"
9. "Approaching The Singularity"
http://www.myspace.com/divinitymetal
http://www.youtube.com/user/divinitymetal
CITY OF FIRE
City Of Fire
Release Date: 8/24/2010
It was early 2008 when the Cobalt Hotel in Vancouver hosted the reunion of Caustic Thought, a popular local band that had not played together for twelve years. Little did bassist Byron Stroud (Fear Factory, Strapping Young Lad, Zimmer's Hole), drummer Bob Wagner (Econoline Crush), and guitarist Ian White know at the start that this special evening would light a spark that would take this reunion further than they initially expected.
After recruiting guitarist Terry Murray, the four decided to rearrange, write and record new material. As the writing came together Byron reached out to friend and band mate Burton C. Bell (Fear Factory, Ascension of the Watchers, G/Z/R, Ministry) and the final member was found. The spark that ignited on that very special night among old friends had now become a spirited new band… CITY OF FIRE was complete.
The band's self-titled debut contains eleven energetic and melodic songs that reflect the band's immensely talented musicianship. Three additional songs were recorded earlier this year adding to the album's overall depth. Bell recalls of the early sessions, "I have always loved Vancouver. During this session, my eyes were intensely aware that Vancouver is vibrant with life, like a raging fire. This is where the name of the band came from. I was inspired like never before and I believe it shows."
Musically, CITY OF FIRE finds its roots in everything from metal to hard rock to punk, and boasts a more commercially-oriented sensibility; a sound reflective of the evolving maturity of its members and audience. Sonically hard yet groove heavy, the band has conceived a sound that distinguishes itself from the rest.
"Byron and I have always talked about music and realized that we had many similarities between us: the same music likes and dislikes," Bell explained to popular music site Noisecreep. "Byron knew that I would love the music he and the guys were creating and he was right. When I first heard the music, I was excited by the sounds I heard."
CITY OF FIRE will see US release just as Fear Factory finish up their Canadian run of dates which will include their performance at Montreal's Heavy MTL Festival where the band will appear alongside Megadeth, Slayer, Mastodon, Korn, Rob Zombie, Lamb of God and more.
City Of Fire Track Listing:
1. "Carve Your Name"
2. "Gravity"
3. "Rising"
4. "A Memory"
5. "Spirit Guide"
6. "Coitus Interruptus"
7. "Hanya"
8. "Emerald"
9. "Hollow Land"
10. "Dark Tides"
11. "Rain"
12. "Children of the Revolution (bonus)"
13. "Last Wish (bonus)"
14. "Dark Tides Revisited (bonus)"
15. "Rising (video)"
http://www.cityoffire.com
http://www.myspace.com/thecityoffire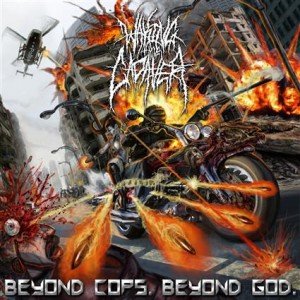 WAKING THE CADAVER
Beyond Cops. Beyond God.
Release Date: 8/10/2010
New Jersey's WAKING THE CADAVER have never apologized for anything and they are not about to start now. Love 'em or hate 'em, the band's self-penned "slamming gore groove" has made an impact with audiences with nearly four million views to the band's MySpace page… and growing.
With Beyond Cops. Beyond God, the five-piece go for broke by delivering a lethal collection of unrelenting death-meets-gore-meets-grind-meets-hardcore anthems that will have the weak feverously running for cover. A renewed commitment to the cause, with three new members now in their ranks, the album is a frightening, high caliber platter that will pierce any shell on impact.
Produced by Joe Cincotta (Suffocation, Internal Bleeding) and featuring incredibly visual art by Tony Khoel (The Black Dahlia Murder), With Beyond Cops. Beyond God will find champions quickly.
Formed in 2006, WAKING THE CADAVER had a following long before they had any recordings available due to their manic live show. When time came for the release of their debut, 2008's Perverse Recollections Of A Necromangler, legions of followers flocked. With more than 8000 units sold via direct or independent means, the record made an impressive impact. With Beyond Cops. Beyond God will be the first album to see proper distribution.
Touring has consistently been a focus of WAKING THE CADAVER. The band have been performing live since their inception with countless tours around the US plus trips abroad. A full schedule of shows has already been confirmed to begin in June and will continue to lead the awareness of the album's August release date.
With Beyond Cops. Beyond God. Track Listing:
1. "Beyond Cops"
2. "Reign Supreme"
3. "Sadistic Tortures"
4. "Made In Hell"
5. "Boss Status"
6. "Terminate With Extreme Prejudice"
7. "Suffering Upon Revenge"
8. "Waking the Cadaver"
9. "Beyond God"
http://www.wakingthecadaver.net
http://www.myspace.com/wakingthecadaver
http://www.purevolume.com/wakingthecadaver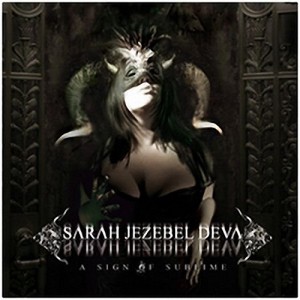 SARAH JEZEBEL DEVA
A Sign Of Sublime
Release Date: 8/24/2010
A Sign of Sublime is the anticipated solo debut from renowned vocalist SARAH JEZEBEL DEVA. With cooperation from good friends bassist Dave Pybus (Cradle Of Filth), multi-instrumentalist Martin Powell (Cradle Of Filth, My Dying Bride), and drummer Max Blumos (ex-Trigger The Bloodshed), the album presents a nicely rounded sonic palette that brilliant showcases DEVA's amazing voice.
"The album has no set genre," she explains. "It's rock in places, but elsewhere it's epic, like a film score. The album has something for everyone though it's definitely not for the narrow-minded."
DEVA has been performing professionally since the age of 13. She has collaborated on recordings for Therion, The Gathering, Mystic Circle, Mortiis, Graveworm, The Kovenant, Tulus, her own band Angtoria and nearly every album from Cradle Of Filth.
"What could have been an easy way for SJD to rest on her laurels is actually the sound of an artist seeking to expand her horizons." – Rocksound
A Sign of Sublime Track Listing:
1. "Genesis (intro)"
2. "A Sign Of Sublime"
3. "She Stands Like Stone"
4. "The Devils Opera"
5. "They Called Her Lady Tyranny"
6. "The Road To Nowhere"
7. "Your Woeful Chair"
8. "A Newborn Failure"
9. "Daddy's Not Coming Home"
10. "Bitch (bonus track)"
http://www.myspace.com/jezebeldeva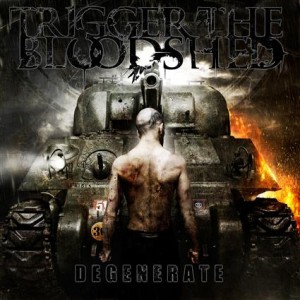 TRIGGER THE BLOODSHED
Degenerate
Release Date: 8/24/2010
Blabbermouth calls England's TRIGGER THE BLOODSHED "UK's heaviest band." For their third album, the five-piece reunite with the production team of Mark Daghorn (Orange Goblin, Cradle of Filth) and Jacob Hansen (Aborted, Volbeat) for another punishing offering.
Degenerate, according to vocalist Jonny Burgan, finds the band "putting a lot more focus into the songwriting and building riffs without losing the technicality and aggressive nature that has become us. Ultimately we feel this album is the perfect mix of groove and hostility." Continuing, he notes that lyrically the album "is based upon how as 'youths' we are often discriminated against. Because the higher social order is afraid of being overthrown they are corrupting the generation to neutralize this threat of revolution."
TRIGGER THE BLOODSHED have build a loyal and growing worldwide fanbase. Their non-stop touring and commitment has made them a band to watch as confirmed by their two Metal Hammer "Underground Band of the Year" nominations.
Degenerate Track Listing:
1. "A Vision Showing Nothing"
2. "De-breed"
3. "Hollow Prophecy"
4. "Dead Vein"
5. "Dethrone"
6. "A Sterile Existence"
7. "The Soulful Dead"
8. "Until Kingdom Come"
http://www.myspace.com/triggerthebloodshed
http://www.purevolume.com/triggerthebloodshed
…………………………………………………………..
http://www.candlelightrecordsusa.com
http://www.myspace.com/candlelightrecordsusa