Tijuana-Based grindcore faction UNIDAD TRAUMA is currently on a Western US tour supporting Brujeria. The journey will run through May 15th in Palmdale, California with additional support provided by Goatwhore. See all upcoming dates below.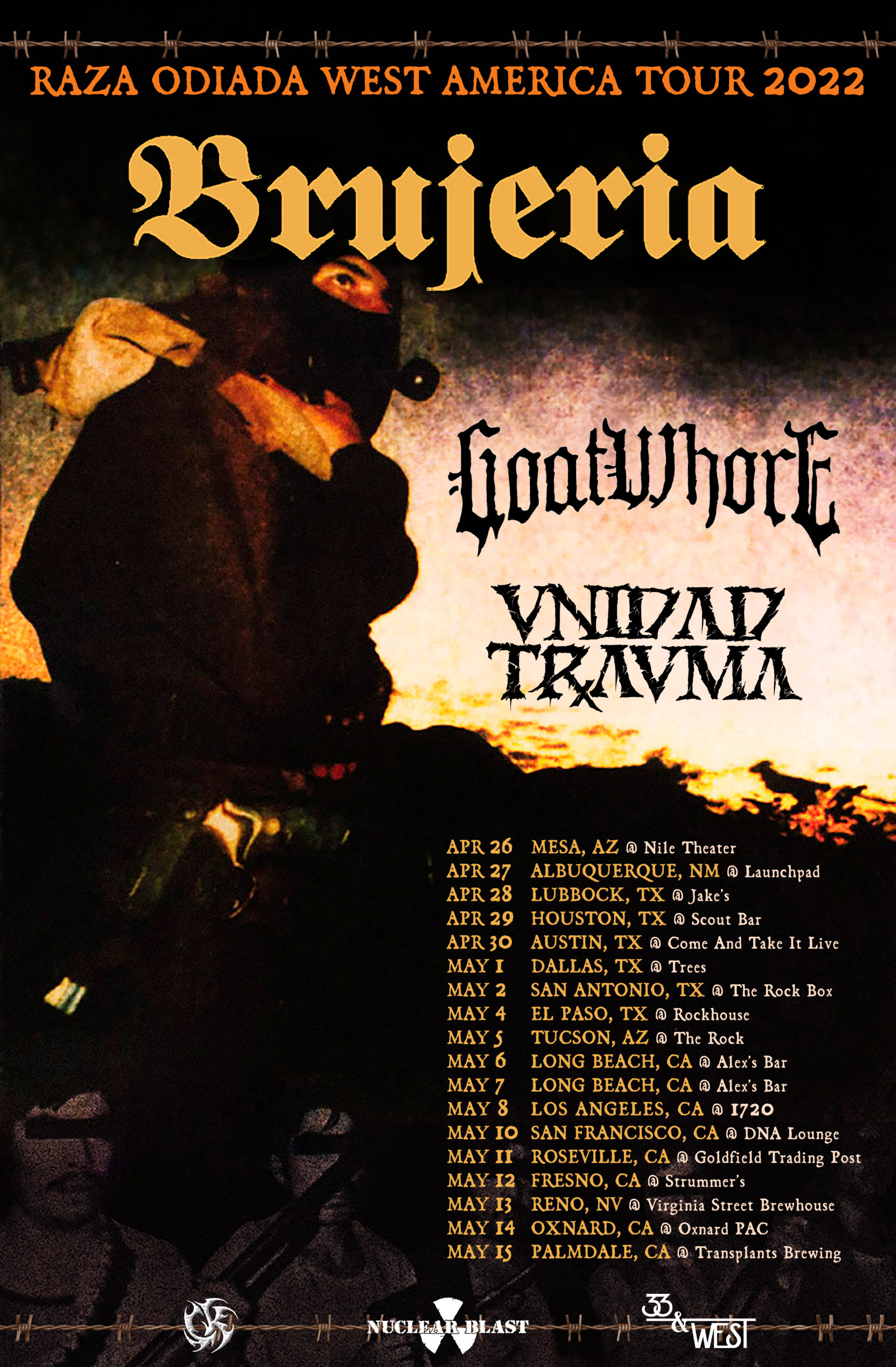 UNIDAD TRAUMA w/ Brujeria, Goatwhore:
4/27/2022 Launchpad – Albuquerque, NM
4/28/2022 Jake's – Lubbock, TX
4/29/2022 Scout Bar – Houston, TX
4/30/2022 Come And Take It Live – Austin, TX
5/01/2022 Trees – Dallas, TX
5/02/2022 The Rock Box – San Antonio, TX
5/04/2022 Rockhouse – El Paso, TX
5/05/2022 The Rock – Tucson, AZ
5/06/2022 Alex's Bar – Long Beach, CA
5/07/2022 Alex's Bar – Long Beach, CA
5/08/2022 1720 – Los Angeles, CA
5/10/2022 DNA Lounge – San Francisco, CA
5/11/2022 Goldfield Trading Post – Roseville, CA
5/12/2022 Strummer's – Fresno, CA
5/13/2022 Virginia Street Brewhouse – Reno, NV w/ Municipal Waste, Dwarves
5/14/2022 Oxnard PAC – Oxnard, CA
5/15/2022 Transplants Brewing – Palmdale, CA
UNIDAD TRAUMA will be touring in support of their Arte Médica Siniestra EP released last year via Concreto Records. 2019 was a strange year for underground medicine in Tijuana, Baja California. A series of unfortunate events befell one of the most infamous medical practices in all of Mexico, causing it to abruptly shutter its seedy doors, effectively halting its progress on questionable medical techniques and research. However, the fierce need within the remaining doctors to continue their work could not be excised from the world of medicine. Plans were quickly brought forth to create a new practice in which the four young doctors' thirst for the discovery of new sinister medical knowledge could be quenched. So comes forth Arte Médica Siniestra, the debut collection of lurid symposiums from the medical practitioners UNIDAD TRAUMA.
By mid-2019, UNIDAD TRAUMA had already begun to enter the ears of the populace of Mexico and the United States. Stories began circulating regarding a group of so-called "medical practitioners" who would give dissertations in the form of a harsh musical assault to those with an unhealthy curiosity for occult medicine, the most well-known of which took place during a string of dates across the American Southwest with Cattle Decapitation. More of these sorts of lectures were also done in Mexico the same year, with a tour of the country's most populous cities. Soon enough, word had spread to the European country of Belgium through a purveyor of morally questionable art and music, and thus the Doctors were invited to perform at Masters Of Grind in November 2019 with acts such as Birdflesh, General Surgery, Cattle Decapitation, and Agathocles. But this was only the beginning, as the fervor of the clad-in-black surgeons only became more unrelenting with each successful procedure in the name of progress and science.
View UNIDAD TRAUMA's video for "33 (Ars Sinistra)" at THIS LOCATION.
Arte Médica Siniestra is available on CD HERE and digitally HERE.
In related UNIDAD TRAUMA news, the band recently secured a sponsorship with Arachnid Cabinets and will release a brand-new single in the coming weeks. Stay alert!
UNIDAD TRAUMA:
Dr. Padilla – vocals, guitars
Dr. Murillo – drums
Dr. Davis – guitars
Dr. Morales – bass
http://www.facebook.com/unidadtrauma
http://www.instagram.com/unidad_trauma
http://unidadtrauma.bandcamp.com
http://www.concretorecs.com/
http://www.facebook.com/concretorecs
http://www.instagram.com/concretorecs