Selfmadegod Records is proud to announce the signing of Poland's UNBORN SUFFER, and is preparing for the release of the band's new full-length, Nihilist, this week unloading a track from the album.
The follow-up to 2012's Unborn Suffer, and UNBORN SUFFER's overall fifth full album, Nihilist was recorded in late 2014 and early 2015 in local Post Abortum Studio while mixing and mastering duties were taken care of by Szymon Grodzki (Invent Sound). The record surges with seventeen tracks of ultra-brutal death metal with heavy grindcore influences, a relentless sound that will definitely appeal to those who worship the works of Dying Fetus, Internal Bleeding, Mortician, and Napalm Death.
"Life Is A Lie" is the first track to be leaked, now playing at Selfmadegod Records SoundCloud HERE and YouTube channel HERE.
Nihilist is set for release via Selfmadegod Records, in Europe on February 1st; preorders for the deluxe CD (limited to 100 copies), regular CD, t-shirts, and bundles are available via SMG HERE and digital download HERE. The standard version CD will be available in the US via Earsplit Distro February 19th; stateside preorders are live HERE.
UNBORN SUFFER was formed in November 2001 in Bydgoszcz, Poland. Two years later the band recorded their debut full-length entitled Procreated Suffering and self-released it. The second album Is This What We've Created? was released in November 2006 by Russian label Souflesh Collector. After recording the third one called Desecrate / Retaliate / Obliterate at the end of June 2007 the band went on a five-month hiatus when UNBORN SUFFER went through numerous lineup changes. Desecrate / Retaliate / Obliterate was released in the second half of 2008 once again by Soulflesh Collector. In 2009 the band released the I Am Your Nemesis EP, and started touring intensively The fourth full album Unborn Suffer was released in 2012 by Japanese Ghastly Music, a sub-label of famous death metal Amputated Vein Records. After two years of promoting the album, including shows with Suffocation, the band released its first live album titled Live Suffering which was recorded during the show supporting Spasm (Czech Rep.) and Parricide (Poland). At the end of 2015, the trio released their first "best-of" album entitled Revisited Suffering, and completed their impending fifth album, Nihilist, now lined up for release via Selfmadegod Records.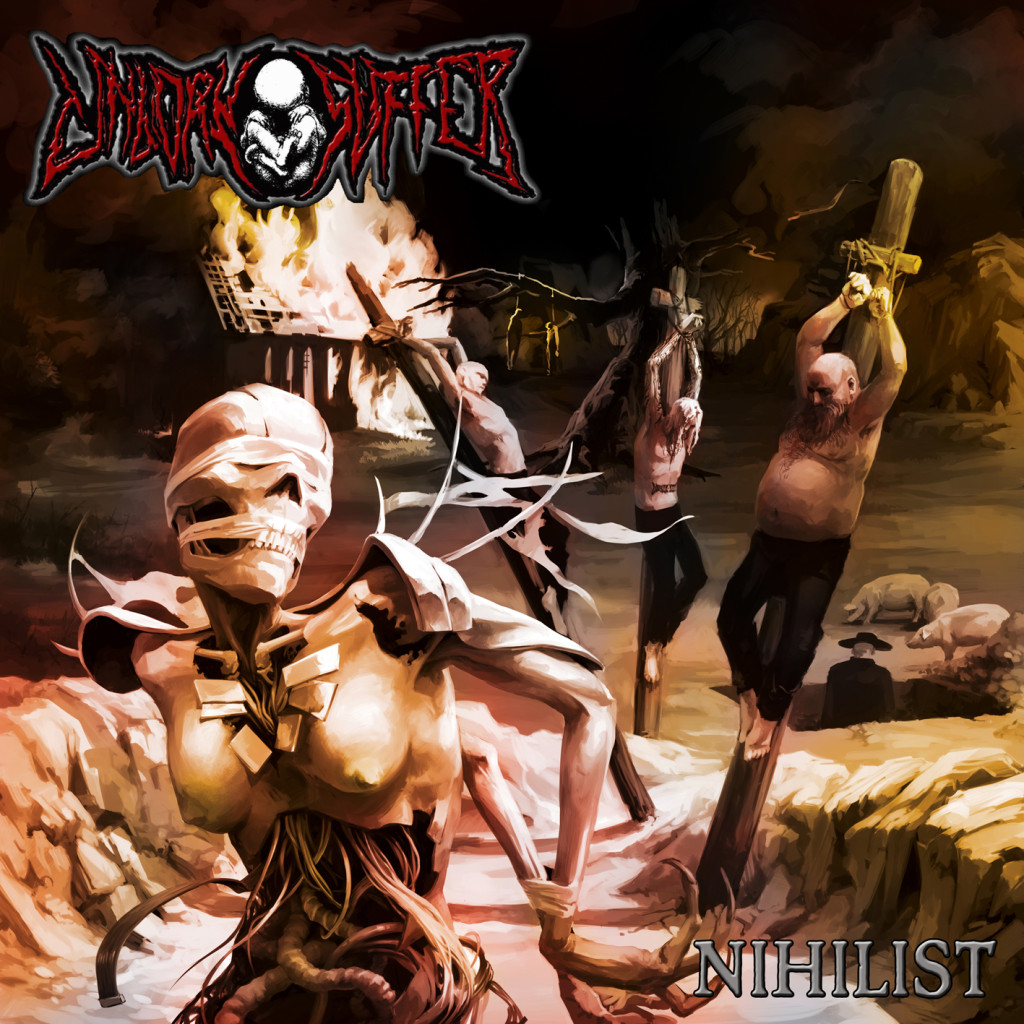 Nihilist Track Listing:
1. Obscurity
2. Open Defiance
3. Tyler Durden
4. Life Is A Lie
5. Extorted Humanity
6. Post Abortum Pt 3
7. 08.09.1968
8. Vain In Cage
9. Hopebreaker
10. Dance Like They Want
11. Existence Dies
12. Destroy What Destroys Us
13. Self Purification
14. Filthy Liars
15. Grind Until I Die
16. L.A.W. (Lost All Worth)
17. Nervous Breakdown Of The System
UNBORN SUFFER:
Damian "Sfenson" Bednarski – vocals and guitars
Piotr "Bezdreadrock" WiÅ›niewski – vocals and bass
Łukasz "Lukass" Ziółkowski – drums
http://www.facebook.com/unbornsuffer
http://www.selfmadegod.com
http://www.youtube.com/user/SelfmadegodRecords
http://www.facebook.com/selfmadegod
http://selfmadegod.bandcamp.com