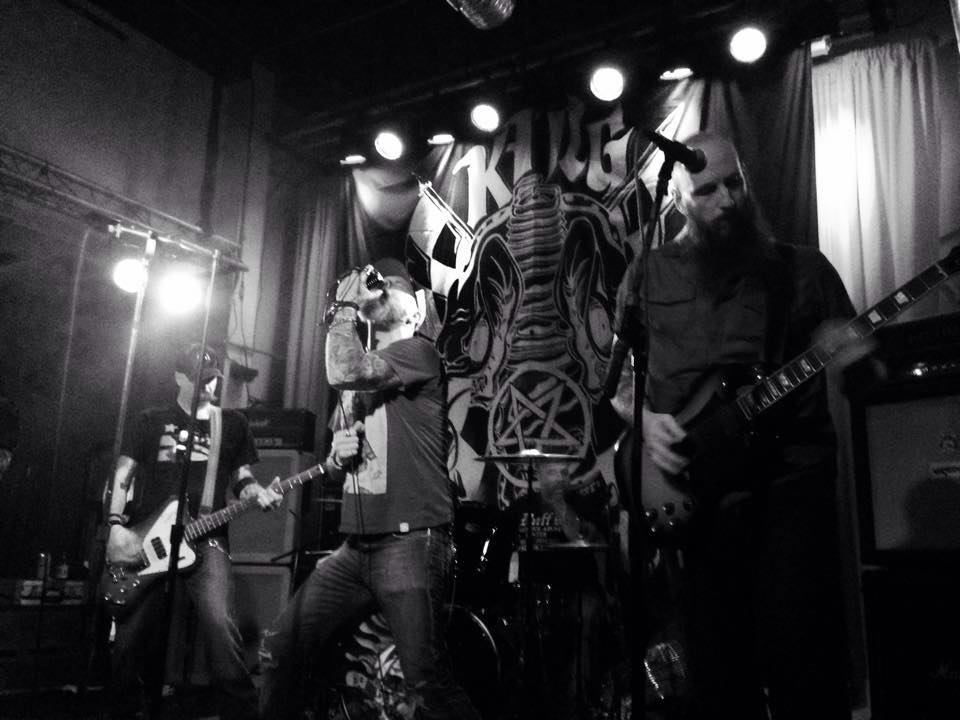 [photo by Rev. Jim Forrester]
Northern Virginia's doom metal marauders, KING GIANT, have been confirmed to support the mighty Pentagram on a run of live dates in March, while also announcing that the vinyl version of their latest album, Black Ocean Waves, is being prepared for release.
KING GIANT's third LP, Black Ocean Waves, thunders with forty-five minutes of the band's brooding, doom-drenched take on Southern metal, once again delivering gritty tales of regret, shame, revenge, and resolution. Recorded at Magpie Cage Studios in Baltimore, Maryland, the album was engineered by Jawbox architect, J. Robbins (Clutch, The Sword, Wino) who later mixed the album and supplied Hammond organ on the track "Blood Of The Lamb" and background vocals on "Trail Of Thorns."
Following its initial CD and digital release in June 2015 through an alliance with the band and distributor The Path Less Traveled Records, Black Ocean Waves is now being prepared for release on vinyl. The wax is being handled by Greece-based Dia De Los Muertos Records – a subdivision of Smash Records – in a run of 300 copies; 100 copies each on black, beer, and purple/red color schemes. The album will see release in early Spring, with a final release date and order links to be available in the coming weeks.
Ahead of its vinyl release, March will see KING GIANT providing direct support for legendary doom kingpins, Pentagram. These performances are confirmed to take place in Virginia Beach, Richmond, Carborro and Knoxville, March 10th through 13th.
Stream KING GIANT's Black Ocean Waves in its entirety at THIS LOCATION, and see the lyric videos for "Trail Of Thorns" HERE and "Red Skies" HERE.
Black Ocean Waves can be ordered through Amazon HERE and the KING GIANT webstore where a small supply of the LP will also be made available shortly right HERE.
KING GIANT w/ Pentagram:
3/10/2016 Shaka's Live­ – Virginia Beach, VA
3/11/2016 The Broadberry – Richmond, VA
3/12/2016 Cats Cradle – Carborro, NC
3/13/2016 The International – Knoxville, TN
Of the triumphant Black Ocean Waves, Invisible Oranges reported, "I have no idea why KING GIANT still hasn't been signed… Their sound is big, straightforward and bluesy, recalling Corrosion of Conformity circa Deliverance – my favorite record of theirs – as well as Down and Kyuss. KING GIANT's approach is 'meat and potatoes' in the sense that Argentine Filet Mignon and rosemary roasted fingerlings is 'meat and potatoes'." Skulls N Bones crowned the album with a 5/5, praising, "Black Ocean Waves is a bold and limitless release containing eight tracks that just flow one into the other in a hugely satisfying way. Listen to it, and set sail on seas of pain, regret, life, death and rebirth. This is one voyage that can't be missed." The Sludgelord's review included, "All in all, I haven't heard a record of this type that is this good for a long time. If you enjoy Monster Magnet, Mastodon, Danzig, The Doors, Scissorfight and so on, you will find a lot to enjoy here. This is fantastic heavy rock music with a dark vibe and a metal heart… One more thing: it is relentlessly, unbelievably, deliciously, catchy." Teeth Of The Divine boasts, "KING GIANT play a big, fat boozy style of stoner doom meets southern metal, drawing influence from the likes of Down, Clutch, Mastodon and Orange Goblin. Influences aside KING GIANT cultivates a sound that is warmly familiar but unmistakably their own."
http://www.kinggiant.com
http://kinggiant.bandcamp.com
http://www.facebook.com/kinggiantband
http://twitter.com/kinggiantrocks