Italy's masters of torrential, psychedelic, audio/visual, doom metal decimation, UFOMAMMUT, will see the release of their seventh LP, Ecate, through the gates from their plane of existence into ours — through Neurosis' mighty label cult, Neurot Recordings, in conjunction with the band's own Supernatural Cat Records — on Tuesday, March 31st.
Mere days after the official unveiling of Ecate, UFOMAMMUT begins a European tour with Conan in support of the album for nearly the entire month of April, including appearances at both of this year's Desertfest events in London and Berlin. Several days later, the band will traverse the globe to embark on their first North American tour, with direct support from Usnea, including the band's debut at Maryland Deathfest.
Decibel Magazine has found a wormhole into UFOMAMMUT's otherworldly dimension, and is showcasing a glimpse into Ecate's confounding passages early, the album unloading a denser and more upbeat attack, taking the band's cosmic, psychedelic tones to some of their most devastating capabilities yet. Additionally, the sixth of seven video episodes capturing these tacticians corralling their powers into a recordable format is also released.
Open the gates to UFOMAMMUT's Ecate at Decibel Magazine at THIS LOCATION.
View the sixth Ecate making-of video RIGHT HERE.
Preorders for Ecate including limited edition vinyl, CD, shirt, and bundle deals are now available. In North America stop by the Neurot Recordings store HERE and internationally click to Supernatural Cat's store HERE.
UFOMAMMUT Ecate European Tour Dates:
4/04/2015 e20 Underground – Montecchio Maggiore IT
4/10/2015 Bloom – Mezzago IT
4/18/2015 Impetus festival – Delemont CH
4/19/2015 Glazart – Paris FR w/ Conan
4/21/2015 Forum – Bielefeld DE w/Conan
4/22/2015 Schlachthof – Wiesbaden DE w/ Conan
4/23/2015 Feierwerk – Munich DE w/ Conan
4/24/2015 Desertfest – Berlin DE w/ Conan
4/25/2015 AB – Brussels BE w/ Conan
4/26/2015 Desertfest – London UK w/ Conan
4/28/2015 Vortex – Siegen DE w/ Conan
4/29/2015 Kellerclub – Stuttgart DE
4/30/2015 Weekender Club – Innsbruck AT
UFOMAMMUT North America Spring 2015 w/ Usnea:
5/13/2015 Reggies – Chicago, IL
5/14/2015 Now That's Class – Cleveland, OH
5/15/2015 Bug Jar – Rochester, NY
5/16/2015 Mod Club – Toronto, ON
5/17/2015 Le Ritz – Montreal, QC
5/19/2015 Saint Vitus Bar – Brooklyn, NY
5/20/2015 Johnny Brenda's – Philadelphia, PA
5/21/2015 Maryland Death Fest – Baltimore, MD [no Usnea]
5/22/2015 King's – Raleigh, NC
5/23/2015 Drunken Unicorn – Atlanta, GA
5/25/2015 Siberia – New Orleans, LA
5/26/2015 Walter's – Houston, TX
5/27/2015 Red 7 – Austin, TX
5/29/2015 Sister – Albuquerque, NM
5/30/2015 Flycatcher – Tucson, AZ
5/31/2015 Complex – Los Angeles, CA
6/02/2015 Catalyst – Santa Cruz, CA
6/03/2015 Elbo Room – San Francisco, CA
6/04/2015 Press Club – Sacramento, CA
6/05/2015 WOW Hall – Eugene, OR [no Usnea]
6/06/2015 Rotture – Portland, OR
6/07/2015 Chop Suey – Seattle, WA
6/08/2015 Neurolux – Boise, ID
6/09/2015 Bar Deluxe – Salt Lake City, UT
6/10/2015 Hi-Dive – Denver, CO
6/12/2015 Turf Club – St Paul, MN
6/13/2015 Metal Grill – Milwaukee, WI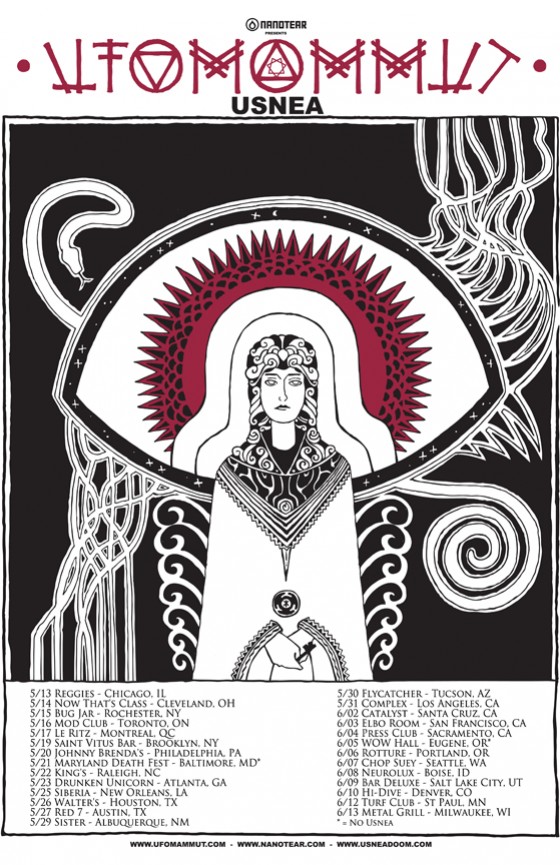 http://www.ufomammut.com
http://www.facebook.com/pages/UFOMAMMUT/83336386071
http://www.supernaturalcat.com
http://www.malleusdelic.com
http://www.neurotrecordings.com
http://www.facebook.com/neurotrecordings