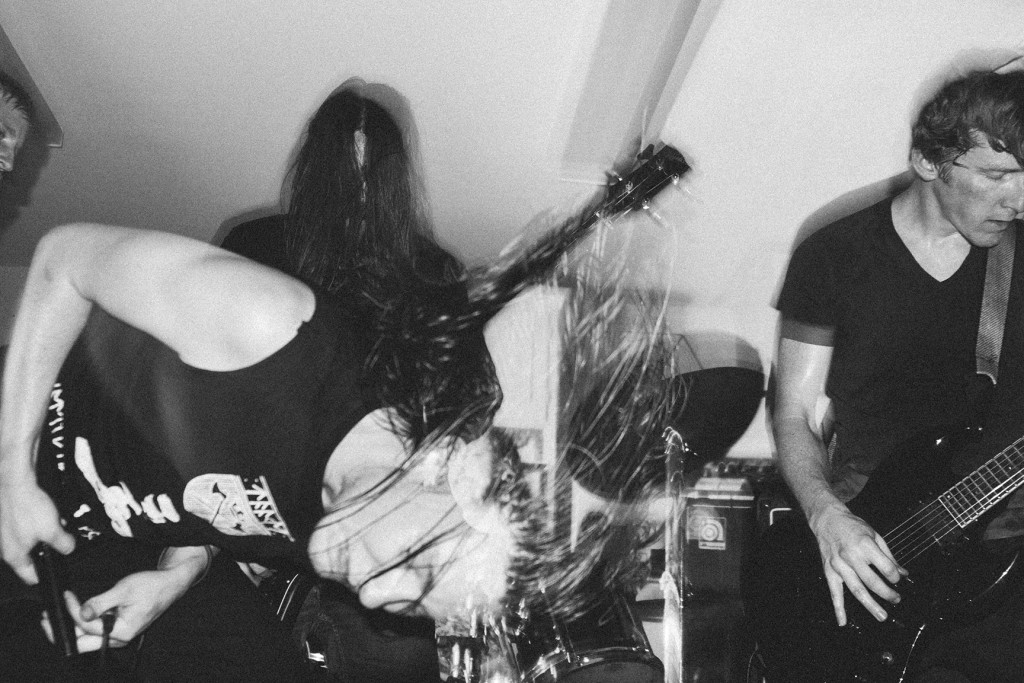 [photo by Kathleen Kennedy]
"Haunting Black Infinity" is the name of the tormented new blackened assault by Dallas-based TYRANNOSORCERESS and the band's Tofu Carnage Records-bound Shattering Light's Creation debut LP, as the track is premiered at Decibel Magazine.
Offers Decibel with their exclusive premiere of the new song, "'Haunting Black Infinity' hails from TYRANNOSORCERESS' thoroughly impressive album. Stretches of blast beats and tremolo picking flow together with large, expansive respites. Fans of modern black metal will find plenty to love about TYRANNOSORCERESS…"
Issues the band of the single, "From the ends of the primordial darkness of the womb. The only absolute is chaos. Forever the red dragon coils within and without, beyond and in between, as everything and as nothing. Unborn Uncreated Haunting Black Infinity! Tehom, Leviathan."
Stream "Haunting Black Infinity" only at THIS LOCATION.
An album trailer by Chariot Of Black Moth is also playing HERE.
Featuring two slabs of 180-gram vinyl including a D-side etching by Ruggierei and layout by Zach Jobin and Sean Mehl, Shattering Light's Creation will see release through Tofu Carnage Records on June 23rd; preorders are now available RIGHT HERE.
Additional audio samples and more on TYRANNOSORCERESS and their debut album will be issued in the weeks ahead.
Formed in 2010 by members of Dallas-based Cleric, TYRANNOSORCERESS laid the foundation for their unique take on black metal with their 2011 demo. Gestating in the years since, Shattering Light's Creation documents the band's transformation into a chthonic force. Labyrinthine, weaving riffs draw the listener into dimensions beyond death. Invocations bellow towards black infinity. Chaos reigns. Recorded and mixed by Irving Lopez, and mastered by Brad Boatright, Shattering Light's Creation captures the band's intricate songwriting with sonic precision. Lucas Ruggieri's monstrous front cover drawing provides a window into a haunting abyss.
https://www.facebook.com/Tyrannosorceress
http://tyrannosorceress.com
https://soundcloud.com/tyrannosorceress
http://www.tofucarnage.com
https://twitter.com/tofucarnage
https://www.facebook.com/TofuCarnage
https://tofucarnagerecords.bandcamp.com