Today we are pleased to share another audible insight into the debut album Hydrogen, by BARDSPEC, the ambient project/band featuring Enslaved composer/guitarist Ivar Bjørnson and Today Is The Day's Steve Austin. "Bone" in Bjørnson's words is "a song that is a meditation upon the concepts of strength and endurance, in the micro and the macro. How evolution has made us upright and made to be on the move – and how hard it can be to adapt those features into the realms of our psyche – so that we can undergo the mental evolution that is dormant within us."
This idea of micro and macro represents the very essence of BARDSPEC, which is thematically and sonically about minimizing, subtracting and meditating upon the simplest essence of "things"; the single points, exemplified through the song titles like "Bone," "Salt" and so on; the basic elements and foundations that make up the whole. There is an element of "space" in the music and the artwork, as a representation of the inner workings of the mind and the subconscious.
Listen To "Bone" From BARDSPEC's Hydrogen debut below:
And if you missed it, check out BARDSPEC's "Fire Tongue" video, initially premiered at Decibel Magazine, also below:
Hydrogen will be released on June 23rd across all formats. The six-panel CD digipak is available as limited first pressing of 1000 and includes bonus track "Teeth." The double gatefold LP is limited to 500 on black vinyl, CD to 1000, while the digital format will also include the bonus track. Access the "Fire Tongue" radio edits now via iTunes and Apple Music.
Preorder the limited CD, LP, and shirt here: http://bardspec.aisamerch.com/ (US) and http://aisamerch.de/bardspec/en/ (EU). Digital orders are available here: http://radi.al/BardSpecHydrogenAlbum.
BARDSPEC combines stirring, hallucinatory synth-sounds with mercurial guitar effects and hypnotic rhythms that navigate illusory landscapes. Field recordings, and other found-sounds also drift and evaporate into the ether. Working intuitively with these elements and with sharpened senses, attuned to inner impulses, this is immersive music, that can exist anywhere, and anytime within the minds of the listener.
BARDSPEC is inspired by the German masters Tangerine Dream, Klaus Schultze, and Conrad Schnitzler in addition to contemporary ambient music like Norwegian one-man-band Biosphere and abstract modern electronic music like When, as well as the electronic/industrial-driven metal like Godflesh.
Additionally, there will be a very special record release show in association with AISA and By Norse to showcase BARDSPEC, Josh Graham's IIVII and recent additions, Gnaw. Set to take place on June 29th at Saint Vitus Bar in Brooklyn, New York, tickets are on sale now and currently available at THIS LOCATION.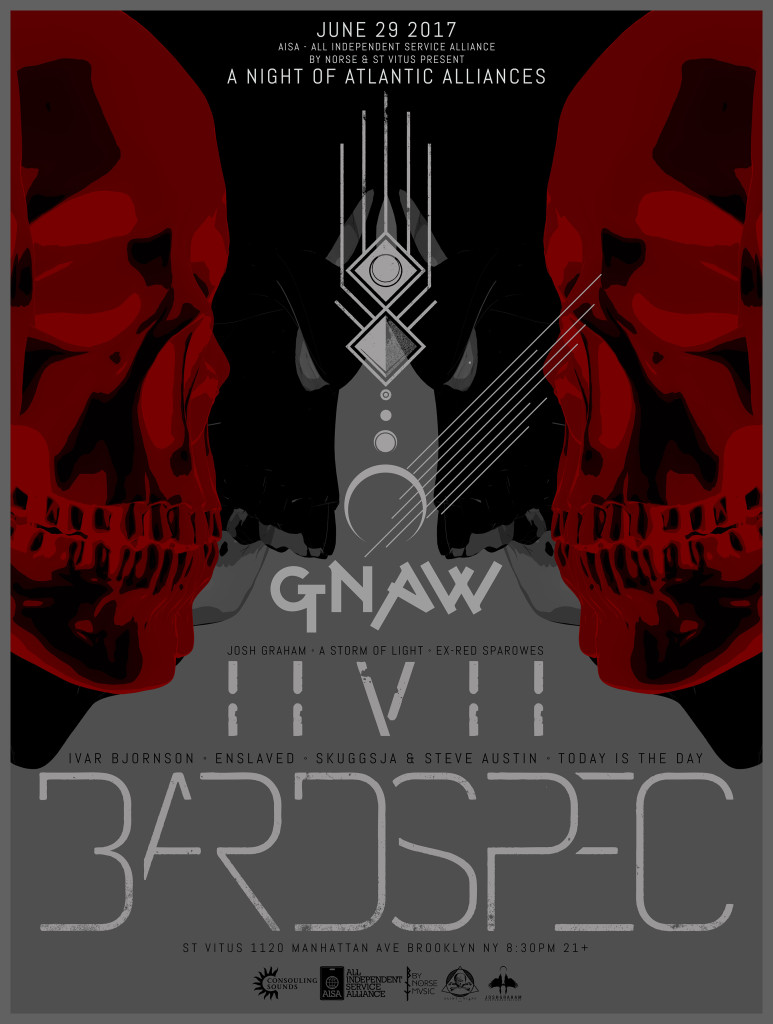 BARDSPEC w/ IIVII, Gnaw:
6/29/2017 Saint Vitus Bar – Brooklyn, NY [info]
BARDSPEC:
Ivar Bjørnson
Steve Austin
David Hall
Josh Graha
http://www.bardspec.com
http://www.facebook.com/BardSpec
http://www.instagram.com/bardspec
http://www.bynorse.com
http://www.facebook.com/bynorse