[photo by Kathleen Kennedy]
Boiling forth from the inner depths of the Portland punk/metal scene, manic duo formed by two former members of Spectral Tombs, SATANARCHIST, arises with the band's second album, First Against The Wall, set for independent release as the band sets out on a cross-Canada tour.
Writing music that embodies the band's philosophies of atheism, Satanism and anarchism reflected in a sound that fuses black metal, anarcho-punk and thrash, SATANARCHIST creates unrelentingly fast riffs and rhythms in response to the proliferation and popularity of insufferably slow doom metal and a rejection of the reliance on gear and effects pedals to create weight and atmosphere at the expense of complex, interesting and engaging songwriting, using no effects or pedals beyond head distortion on a pair of ENGL Powerball guitar amps and a distorted Ampeg SVT bass rig.
The follow-up to their 2014-released Making Threats At Punks Again debut, on SATANARCHIST's First Against The Wall brutalizer, drummer/lyricist Mark Nunziata and guitarist/vocalist John Edwards maintain a similar hybrid of rabid metal/punk styles as before, but the material exhibits a progression in the intricacy and complexity of the songwriting. The lyrics deepen into a more straightforwardly political realm addressing environmental devastation and ecological sustainability, the rise of fascism in US politics, the damage wrought by the institution of religion, and the weight of death and loss. In addition to nine searing SATANARCHIST anthems, First Against The Wall comes to a finale with a cover of the macabre ballad "Silver Ships Of Andilar" by Texas country legend Townes Van Zandt.
Recorded and mixed by Fester at Haywire Studios (Usnea, Rabbits, Stoneburner) and mastered by Brad Boatright at Audiosiege (Obituary, Integrity, Nails), First Against The Wall is completed with artwork and design by FTG Illustrations based on a concept by SATANARCHIST. The unrelenting album will entice diehard death/blackthrash worshippers as well as devotees of unrelenting crust/d-beat punk and social activism.
SATANARCHIST will independently release First Against The Wall digitally and on CD on June 2nd.
Preorders for First Against The Wall and a stream of the opening track "Paradox" are now live at THIS LOCATION.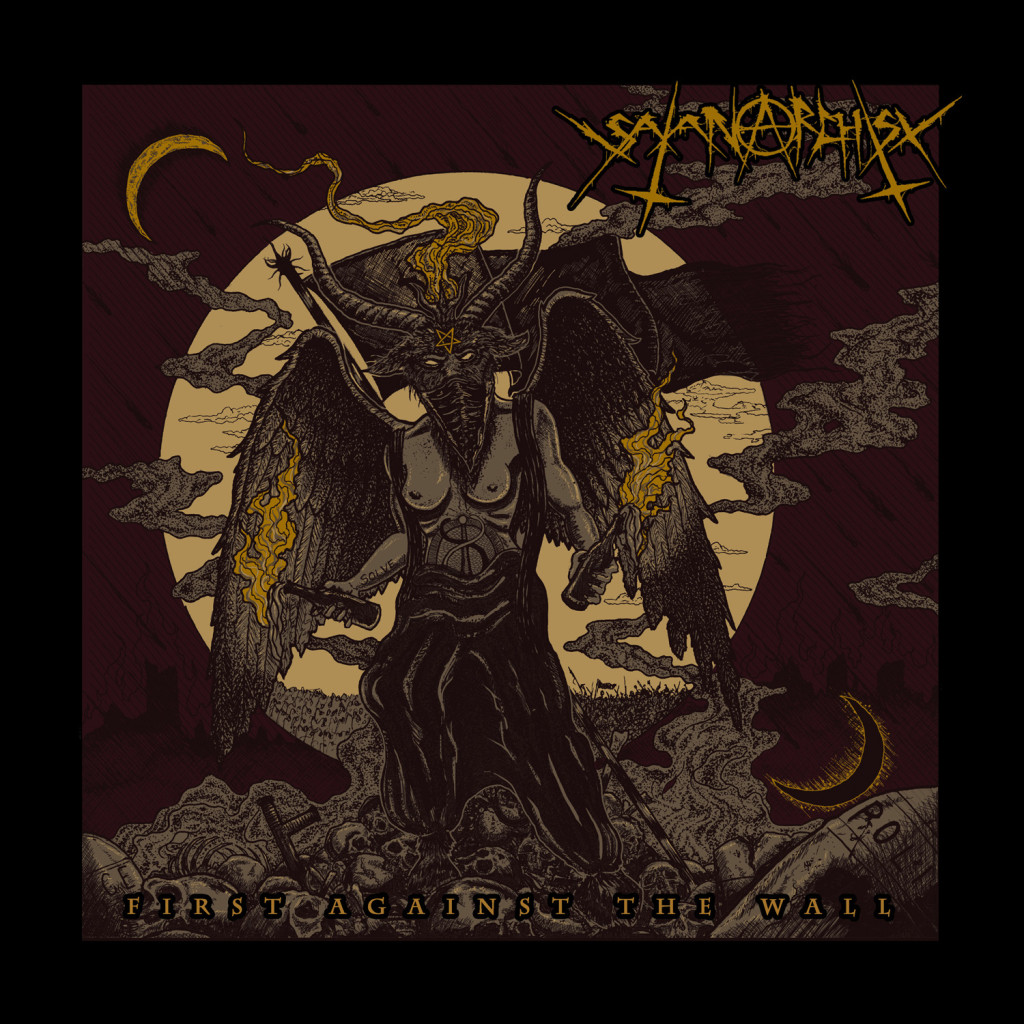 First Against The Wall Track Listing:
1. Paradox
2. Boil Alive
3. Tempest Of Sorrow
4. Be At Peace
5. Feast
6. Unknown
7. Triumph
8. Lent Is Theft
9. Suffer
10. Silver Ships Of Andilar
Directly in conjunction with the release of First Against The Wall, SATANARCHIST will embark on the first of several tours supporting the album. This Canada-only trek sees the band hitting cities across the majority of the country. The first leg of the tour sees SATANARCHIST alongside Spinesplitter, and the rest of the dates see them paired with Hard Charger. Watch for additional tour dates to be announced in the coming weeks.
SATANARCHIST Canada Tour 2017:
5/26/2017 The Beer Gardens – Charlottetown, PEI w/ Spinesplitter, Busted Skulls
5/27/2017 Gus Pub – Halifax, NS w/ Spinesplitter, CrotchRot, Versifist
5/28/2017 Claudes House – Moncton, NB w/ Spinesplitter. Diner Drugs
5/29/2017 The Capital – Fredericton, NB w/ Spinesplitter, Mangler
6/01/2017 Maniac Mansion – Fredericton, NB w/ Hard Charger
6/02/2017 Scanner Bistro – Quebec City, QC w/ Hard Charger
6/03/2017 House Of Targ – Ottawa, ON w/ Hard Charger
6/0/2017 The Garnet – Peterborough, ON w/ Hard Charger
6/05/2017 Doors Pub – Hamilton, ON w/ Hard Charger, Greber, Thick Piss
6/06/2017 The Windsor Beer Exchange – Windsor, ON w/ Hard Charger
6/07/2017 The Temple – St. Catherines, ON w/ Hard Charger
6/08/2017 Coalition – Toronto, ON w/ Hard Charger, F*ckhawk, Black Tar
6/09/2017 Fattal – Montreal, QC w/ Hard Charger
6/10/2017 Rock Le Stage – Trois Rivieres, QC w/ Hard Charger
SATANARCHIST members John Edwards and Mark Nunziata began playing together in four-piece Northwest black metal band Spectral Tombs in 2010, and began writing as a two-piece in 2013, while Spectral Tombs was still active. When Spectral Tombs broke up after two records and a US tour, the two decided to focus solely on building SATANARCHIST from a casual side project to a more serious and productive main project.
SATANARCHIST recorded their first album, Making Threats At Punks Again, in 2014, proving through pun-riddled song titles that they don't take themselves too seriously but lyrically weaving radically charged political content about important social issues with satanic imagery and more than a few inside jokes. No Clean Singing describes the album as a, "hell of a vicious racket with a boiling cauldron of ingredients that include elements of thrash, black metal, and crust, with a punk attitude that gives no fucks," and as having a, "crusty quality that well suits the kind of raw, feral energy of the music… but on a second listen, you realize there's a lot of technical flash on display." And Maximum Rock'N'Roll called the album, "very serious… the musical bar is set really high." This first record was released in 2014 as a CD and in 2015 on our own Ritual Satanarchism Records as a split LP with previously unreleased material from Edwards' former band, late Texas crust metal rippers Resigned To Fate.
Since then, SATANARCHIST has been on three tours of the US including an appearance at No Thanks Fest 8 in Emory, Texas in 2014, and were flown back for No Thanks Fest 9 in 2015. The band has remained completely DIY and done all of their own tour booking and album releases independently, and they now continue to remain motivated to continue touring to support the release of First Against The Wall.
SATANARCHIST:
John Edwards – guitar, vocals
Mark Nunziata – drums
https://www.facebook.com/Satanarchistpdx
http://www.satanarchist.bandcamp.com