Revolver Magazine is now streaming "Secret Finger," the new single by Portland, Oregon grindcore squad TRANSIENT and their incoming second LP, Sources Of Human Satisfaction — which sees the band joined by infamous noise architect Eric Wood of BASTARD NOISE — ahead of the album's August release through Six Weeks Records. TRANSIENT has also announced their European tour which begins mid-August and runs into the start of September. Eric Wood has also issued a statement about working on the LP.
Sources Of Human Satisfaction was recorded, mixed, and mastered by Greg Wilkinson at Earhammer Studios Oakland, California, with additional recording by Dylan Ludwig at Raven Sound Studio Prescott, Arizona, after which Wood's noise elements were recorded by Michael Rozon at Speed Semen Clove Factory Sun City, California. The album is completed with artwork by S. Jordan Palmer and Alexa R. Simpson and layout/photos by TRANSIENT.
With the release of "Secret Finger" TRANSIENT vocalist Krysta Martinez discloses, "First, it feels bizarre to segment and feature one track as we definitely designed the album to be listened to as a whole, but this particular section and song is about secret judgment and two-faced-ness. It begins explosively – manic, and reactive. Then the demeanor slips into something more relaxed and fun. It's both an intentional metaphor, in that the sound flows how one's feelings might if they discover that someone might be pointing a secret finger them, and it's also an homage to our Northwest roots (i.e. maybe we like the Melvins?). When someone is two faced it might at first insight anger, but in the end, who cares? They're false — better to move on. Wood cleverly crafted noise when the song shifts to the groove that almost sounds like a little laugh — I love that detail — he did such a great job interpreting our lyrics, notes, conversations – we are stoked to be working with him."
Revolver offers in part, "The cut begins with a whirlwind of noise before settling into a nihilistic grinding hate groove. From there, Wood peppers in his noise attacks, frequently dropping bombs in moments of calm for TRANSIENT, who keep things cut throat for virtually the entire duration of the track. It's extreme upon extreme, brutal and oh-so interesting."
Hear TRANSIENT WITH BASTARD NOISE deliver "Secret Finger" via Revolver at THIS LOCATION.
Six Weeks Records will release Sources Of Human Satisfaction on LP and digital formats on August 10th; find digital preorders at Bandcamp HERE and watch for vinyl preorders to be issued shortly. Also stream the previously-released "Cave Mouth" at Cvlt Nation HERE.
Following a short run of shows which concluded with a live collaboration with Bastard Noise at 71Grind, TRANSIENT continues to book shows in support of Sources Of Human Satisfaction. The band has announced their upcoming European tour with Germany-based Trigger for the second half of August into September. The tour leads with a record release show tour kickoff in Seattle on August 14th, the tour then running from August 16th through September 1st. See all confirmed dates below and watch for further updates to be issued in the coming days.
TRANSIENT Tour Dates:
8/14/2018 Highline – Seattle, WA @ Highline – record release show w/ Zeta, Nox Novacula [info]
w/ Trigger:
8/16/2018 T-Keller – Göttingen, DE [info]
8/17/2018 Den Bristol – Ghent, BE [info]
8/18/2018 The Dev – London, UK [info]
8/19/2018 TBA
8/20/2018 Meatlocker – Leeds, UK
8/21/2018 Paradidles Café – Worcester, UK [info]
8/22/2018 Petroleuse – Caen, FR
8/23/2018 Les Passagers du Zinc РBesan̤on, FR [info]
8/24/2018 Whanhof – Biel, CH
8/25/2018 TBA
8/26/2018 Projekt 31 – Nürnberg, DE [info]
8/27/2018 Café Na Půl Cesty – Prague, CZ [info]
8/28/2018 Jeřáb – Liberec, CZ [info]
8/29/2018 Industriestraße – Leipzig, DE [info] *
8/30/2018 Zukunft – Chemnitz, DE [info]
8/31/2018 Arschcholio – Neubrandenburg, DE *
9/01/2018 Noteingang – Radebeul, DE [info] *
* no Trigger
Sources Of Human Satisfaction comes nearly five years after the self-titled debut LP from TRANSIENT, which unites members of Landmine Marathon, Endorphins Lost, and more. The new album captures the band's revamped lineup on record for the first time and showcases their honed and more bludgeoning sound. Paired with TRANSIENT's unrelenting whirlwind grindcore, Eric Wood (Man Is The Bastard, Bastard Noise) adds tormented frequencies of noise and effects to the entire record, these caustic elements coalescing into a wild and demented release which packs eleven tracks into twenty minutes of pure auditory discontent.
BASTARD NOISE creator Eric Wood discloses about working on the album, "For me personally, I always had a desire to work with a strong band with core, similar and like-minded values that really saw in their own potential the same desire to work with a noise/electronics artist. I had been doing BASTARD NOISE by myself for the past three years before suddenly receiving communication from the band TRANSIENT (who I had seen a few times before) and was surprised to say the least. It wasn't very long after speaking in detail to Martinez and Hayden that I knew this an offer that would prove to be 'fruit bearing.' Needless to say, the process of working on Sources Of Human Satisfaction was grueling yet glorious. In the twenty-seven years BASTARD NOISE has existed, I can safely say this album is one of the most rewarding things I've ever been involved and is a result of clinical thinking, impassioned lyrical content, and mercilessly honed musicianship. A lot of work went into carefully 'fusing' the 'insect war electronics' in, around and within TRANSIENT's compositions. This is true, organic 'grind/noise fusion' capturing all the essence of desperation, driving force, and intricate full spectrum arrangements. I am moved by the end result. I know others will be too. Eleven tracks, that trailblaze a new direction in consciousness and musical execution. This album moves hard! I believe in Sources Of Human Satisfaction with everything I've got because I'm playing with best musicians around."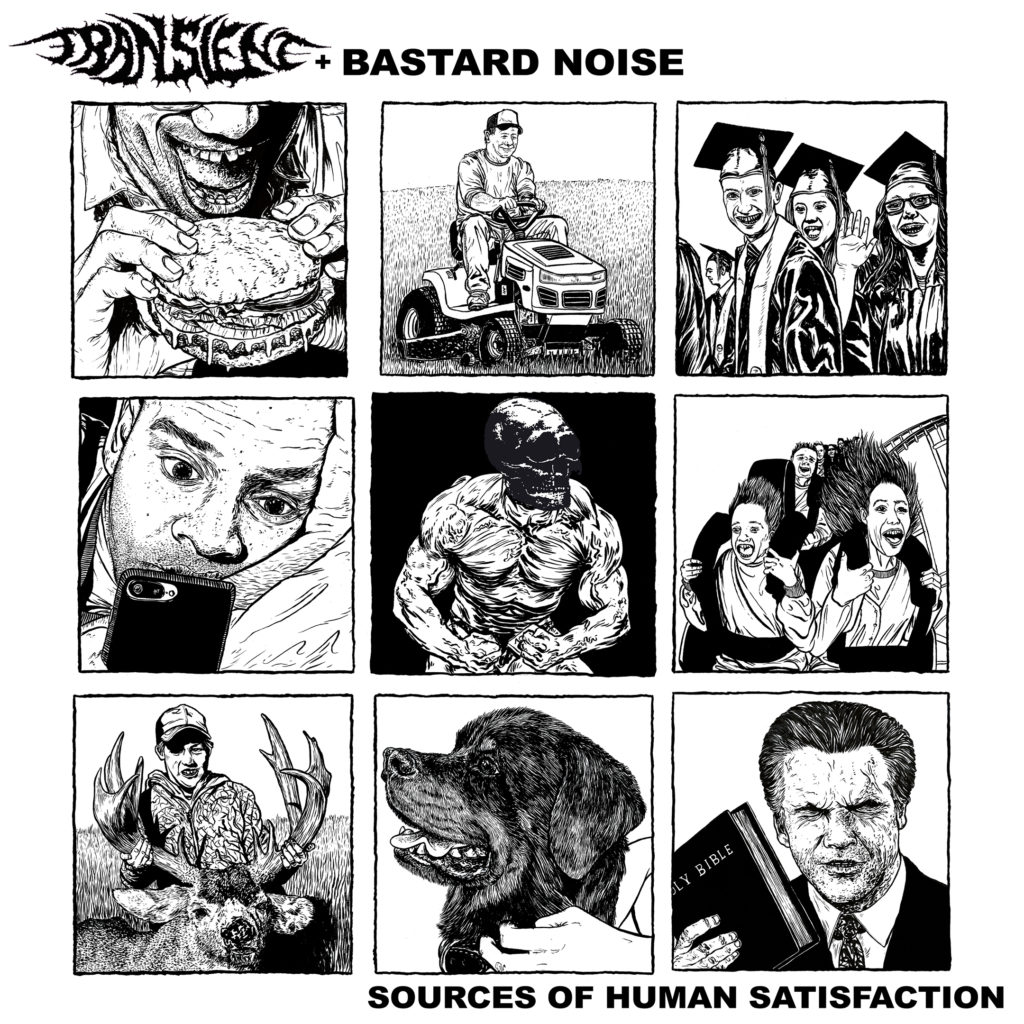 http://www.transientbrutality.com
http://transientbrutality.bandcamp.com
http://www.facebook.com/transientbrutality
https://www.bastardnoiseskullvault.com
https://www.facebook.com/Six-Weeks-Records-331142556494
https://twitter.com/sixweeksrecords