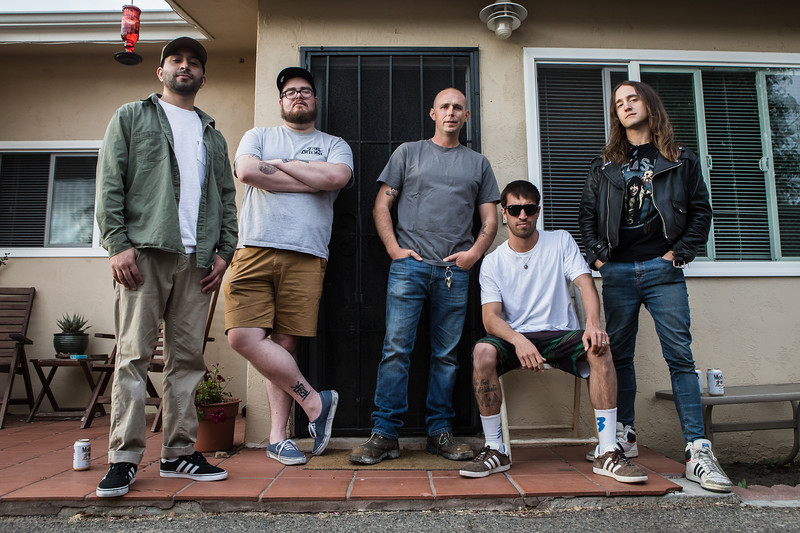 [photo by Veronika Reinert]
As Southern California hardcore/crossover outfit TAKE OFFENSE prepares to embark on their European summer tour next week, the band has been announced as part of the Persistence Tour 2019 booked for early next year.
Drawing from Suicidal Tendencies, Agnostic Front, DRI, and the '80s hardcore visionaries who pioneered hardcore and metal's earliest experiments, TAKE OFFENSE pushes their sound to dizzying heights on their Tensions On High EP, released earlier this year through Flatspot Records. Forging a sound that's as familiar as it is fresh, Tensions On High was recorded at Jet To Mars Studios by Nick Jett (Terror), mixed and mastered at Casa Sonido by Jett, and finished with cover art by Gera Vega with layout and design by Jose Gonzales.
Following short bursts of East and West Coast US tours earlier this year, TAKE OFFENSE now takes the new tunes to European fans, touring across the continent. Running from August 9th through 27th, the tour includes sets at Ieper Fest in Ieper, Belgium alongside Converge, Ramallah, Death Threat, Conflict, and many others, and Still Cold BBQ in Hannover, Germany with Risk, Harm/Shelter, Scope, and more.
TAKE OFFENSE has also just been confirmed to take part in The Persistence Tour 2019 with Sick Of It All, Municipal Waste, Walls Of Jericho, and others. New East Coast tour dates are also in the works; watch for updates in the coming weeks.
Tensions On High is available on cassette and digital platforms via Flatspot Records; stream the EP at Bandcamp HERE and find physical options HERE.
TAKE OFFENSE:
European Summer Tour 2018:
8/09/2018 Endless Summer – Torgau, DE
8/10/2018 Ieper Fest – Ieper, BE w/ Converge, Ramallah, Death Threat, Conflict
8/11/2018 Cinetol – Amsterdam, NL
8/12/2018 Kulturzentrum Faust – Hannover, DE @ Still Cold BBQ w/ Risk, Harm/Shelter, Scope
8/13/2018 Mad Club – Hameln, DE
8/15/2018 No Panic – Essen, DE
8/16/2018 Backstage – München, DE
8/17/2018 Juz – Saarlouis, DE
8/18/2018 Chemniefabrik – Dresden, DE
8/19/2018 Mau Club – Rostock, DE
8/20/2018 Underwerket – Copenhagen, DK
8/21/2018 Monkeys – Hamburg, DE
8/22/2018 Factory – Magedeburg, DE
8/23/2018 Casio – Berlin, DE
8/24/2018 Pub Variete – Zdunska Wola, PL
8/25/2018 AJZ – Erfuhrt, DE
8/26/2018 New Cross Inn Festival – London, UK
8/27/2018 Het Bos – Antwerpen, BE
The Persistence Tour 2019 w/ Sick Of It All, Municipal Waste, Walls Of Jericho:
1/17/2019 Astra – Berlin, DE
1/18/2019 Grosse Freiheit 36 – Hamburg, DE
1/19/2019 Krafwerk Mitte – Dresden, DE
1/20/2019 Sono Music Club – Brno, CZ
1/21/2019 Backstage Werk – München, DE
1/22/2019 Inselhalle – Lindau, DE
1/23/2019 Les Docks – Lausanne, CH
1/24/2019 Schlachtof – Wiesbaden, DE
1/25/2019 De Brielpoort – Deinze, BE
1/26/2019 Turbinenhalle – Oberhausen, DE
1/27/2019 02 Forum Kentish Town – London, UK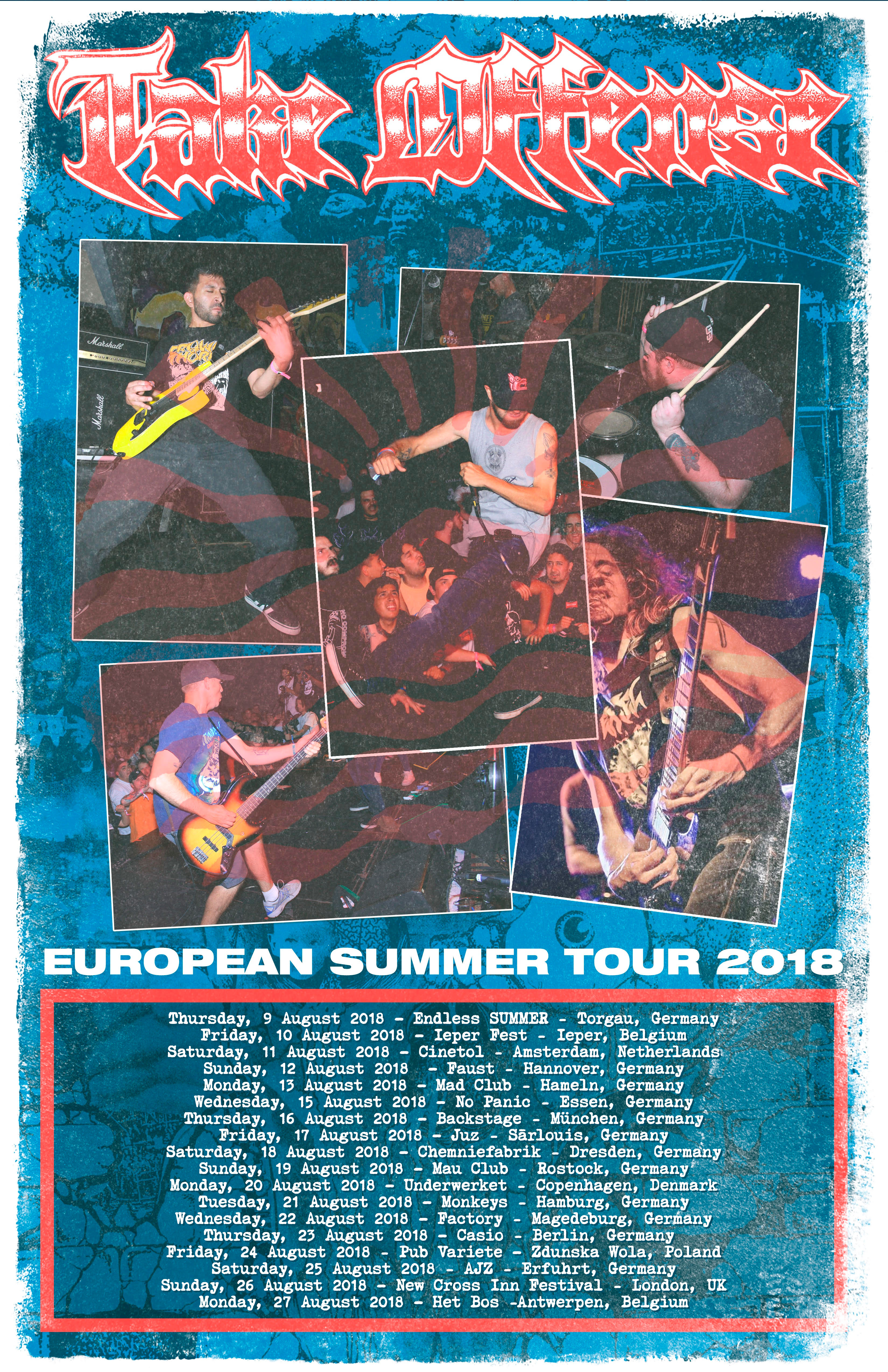 https://twitter.com/takeoffensecvhc
https://www.instagram.com/takeoffensecvhc
https://www.facebook.com/takeoffensecvhc
https://takeoffensecvhc.bandcamp.com
http://www.flatspotrecords.com
http://www.facebook.com/flatspotrecords
https://flatspotrecords.bandcamp.com