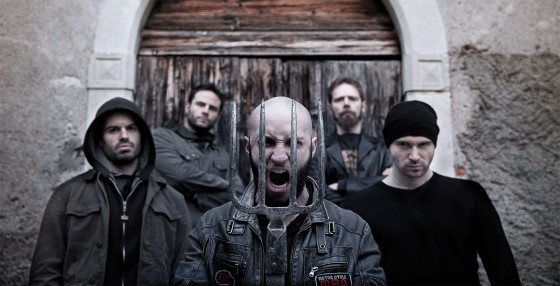 This week Brescia, Italy-based progressive metal quintet, TRAGODIA, has released the first of two video diaries capturing the inception of their third full-length, Mythmaker. The intense album was recorded this Spring at Elfo Studio in Piacenza with producer Daniele Mandelli (Forgotten Tomb) and mastered at Sterling Sound in New York City by UE Nastasi (Lamb Of God, Gojira, Paradise Lost), and is set for release in North America on November 5th via Kolony Records.
Watch Mythmaker become a reality RIGHT HERE.
Also watch the band's lyric video for "A Temple In Time" HERE.
On Mythmaker, TRAGODIA employs their skilled songwriting tactics and creates their most challenging album yet, the record unloading a wealth of brilliant musicianship with nearly fifty minutes of new material. Italian metal label Kolony Records will release Mythmaker in North America on November 5th. Watch for more music from the album as well as the second installment of the studio diary to be posted in the coming weeks preceding the album's release.
https://www.facebook.com/tragodia
http://www.twitter.com/tragodiaband
http://tragodia.bandcamp.com
http://www.kolonyrecords.com
http://www.facebook.com/kolonyrecords
http://twitter.com/kolonyrecords