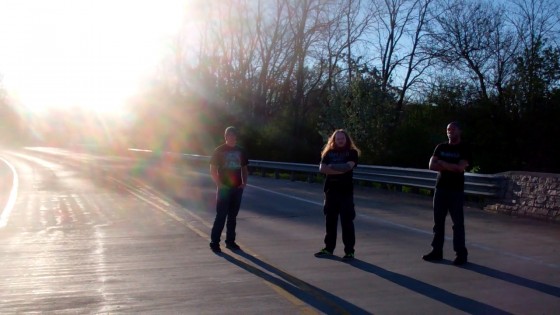 In honor of its impending street date, now less than two weeks away, today the noise merchants at Stereokiller hurl forth a full stream of GIGAN's Multi-Dimensional Fractal Sorcery and Super Science. The latest full-length from the Chicago-by-way-of-Florida progressive tech metallers is a mammoth multi-textured audio adventure. Instrumentally dense, meticulously concise, conceptually absorbing and physically taxing, Multi-Dimensional Fractal Sorcery and Super Science was recorded with renowned sound-weaver Sanford Parker (Minsk, Buried At Sea, Yakuza) at Earth Analog Studios in Chicago and commands its listener's attention upon first note.
Relays band founder Eric Hersemann: "Multi-Dimensional Fractal Sorcery and Super Science will materialize here on Earth on October 15th and this newest recording is just one more piece in the ever-evolving GIGAN puzzle of audible, extreme psychedelia. As you experience your first listen, sit back and let the sounds wash over you…the music should take you to many places if you allow it to do so. There are many subtleties and colors to explore. Enjoy all of the terrible beauty and focused aggression."
Scroll on over to Stereokiller and vaporize your brain RIGHT HERE.
Other confirmed intelligence states that team GIGAN will embark upon the Ritualistic Projection headlining trek later this month. Scheduled for departure on October 18th in Appleton, Wisconsin, the short but threatening expedition will squash seven metropolises and includes an in-store matinee performance at Reckless Records in Chicago with additional shows to be announced in the coming weeks.
Notes Hersemann: "We are also incredibly pleased and excited to start the Ritualistic Projection Tour in two weeks and are preparing our most seething GIGAN set yet! There will be songs performed from all four GIGAN releases including at least half of Multi-Dimensional Fractal Sorcery and Super Science! Come on out and transcend reality!"
GIGAN Ritualistic Projection Tour 2013:
10/18/2013 The Maritime – Appleton, WI
10/19/2013 Reckless Records (In-Store Matinee) – Chicago, IL
10/19/2013 Frank's Power Plant – Milwaukee, WI
10/20/2013 The Cobra Lounge – Chicago, IL
10/23/2013 St, Vitus – Brooklyn, NY
10/24/2013 Roggie's – Boston, MA
10/25/2013 The Boneyard – Atlantic City, NJ
10/26/2013 Trickshots – Albany, NY
The brainchild of left-handed lead guitarist and founding member Eric Hersemann, GIGAN has been challenging the mortal laws of extreme music and creativity since early 2006. Forged around the simple notion that the imagination should be art's only limit, GIGAN's style of creative delivery has simultaneously invoked reactions of amazement, disbelief, shock, awe and ultimately, respect.
Multi-Dimensional Fractal Sorcery And Super Science will be released in North America via Willowtip Records October 15, 2013. For preorders point your browser HERE.
"…the next logical step in Gigan's evolution. If Order of the False Eye saw the band in its 'human' incarnation, then Quasi-Hallucinogenic Sonic Landscapes began the process of full mechanization. Multi-Dimensional Fractal Sorcery and Super Science is the machine those efforts built. There is certainly some visible damage on its hulking frame, but it's not here for a beauty contest. It's here to remind you that the end is coming, and it's as bleak and hopeless as your tiny little mind will allow you to imagine. 8/10″ – Last Rites
"…Multi-Dimensional Fractal-Sorcery And Super Science (some title huh?) bridges the gap between early '70s Hawkwind and the dense, crushing death metal of acts like Nile and Immolation. If that sounds like an intriguing combination, it certainly is, as wooshy synths blip and bleep over waves of pummeling extreme metal riffs, drum blasts, and snarling, evil vocal growls… It's safe to say that GIGAN have really been onto something unique these last few years, and Multi-Dimensional Fractal-Sorcery And Super Science just sees the band continuing on with their brand of death metal/space rock in a big way. 3.5/5″ – Sea Of Tranquility
"…a damn good album… Eric Hersemann ups his game to titanic levels of both technicality and creativity and the rank of Godhood might be bestowed upon him for his work on Multi-Dimensional Fractal Sorcery and Super Science. 8/10″ – Crown Of Viserys
http://www.facebook.com/Giganmusic
http://www.willowtip.com
http://www.facebook.com/willowtip
http://www.twitter.com/willowtip
http://willowtip.bandcamp.com