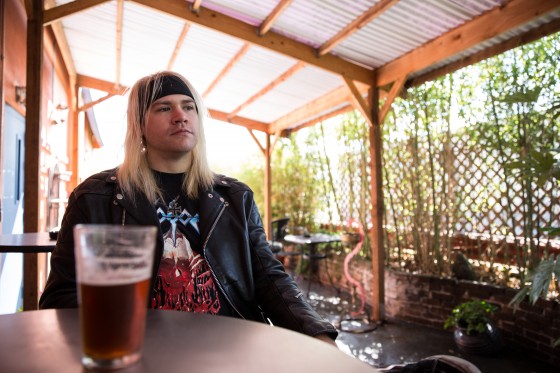 Portland punk metal day-ruiners, TOXIC HOLOCAUST, will join forces with Savannah, Georgia sludge warriors/labelmates, Black Tusk, for a European campaign of live destruction this Summer. The mayhem begins in Denmark where the trio will systematically devastate Copenhagen before joining team Black Tusk, along with Hamburg doom-sludge quartet Downfall Of Gaia, to ravage eight cities through Germany, Belgium and France including an appearance at this year's Hellfest.
TOXIC HOLOCAUST recently wrapped up a European tour with labelmates/death metal gore tacticians, Exhumed. In two weeks' time, the band will be embarking on another lawless journey with blackened thrash powerhouse, Skeletonwitch, through Australia and New Zealand in support of their crushing Chemistry Of Consciousness full-length, released last year to the riotous approval of fans and media stateside and abroad.
Crowned, "…one of thrash's most exciting modern bands," by Loudwire, "…the aural equivalent of a cobra with a chest tattoo of a double helix and syringes for fangs getting ready to strike amidst two flesh-like walls of anxious, bloodshot eyes…," by MetalSucks, " "a bottled up riot distilled into musical form," by Metal Injection, " and, "….hands down one of the coolest crossover albums put to tape," by Apeshit, Chemistry Of Consciousness continues to dehydrate the masses with a platter that pays tribute to the likes of Anti-Cimex, Warfare, Infernal Majesty, GBH, Discharge, Autopsy and Chaos UK without replicating them. The band appeared on the cover of Decibel's December 2013 issue and earned the #12 position on the magazine's Top 40 Albums of 2013. Additionally, TOXIC HOLOCAUST ranked in at #5 on Noisecreep's 10 Best Vinyl Releases of 2013.
TOXIC HOLOCAUST
w/ Skeletonwitch:
4/16/2014 The Kings Arms – Auckland, NZ
4/17/2014 Bodega Bar – Wellington, NZ
4/18/2014 The Rosemont Hotel – Perth, AU
4/19/2014 Fowlers Live – Adelaide, AU
4/20/2014 Espy Gershwin Room – Melbourne, AU
4/21/2014 TBD – Byron Bay, AU
4/22/2014 The Basement – Canberra, AU
4/24/2014 The Hi Fi – Brisbane, AU
4/25/2014 Cambridge Hotel – Newcastle, AU
4/26/2014 The Hi Fi – Sydney, AU
4/27/2014 The Hi Fi – Melbourne, AU
TOXIC HOLOCAUST:
6/13/2104 Copenhell – Copenhagen, DK
w/ Black Tusk, Downfall Of Gaia
6/14/2104 Underground – Köln, DE
6/15/2104 Chez Heinz – Hannover, DE
6/16/2104 Bastard Club – Osnabrück ,DE
6/17/2104 Chemiefabrik – Dresden, DE
6/18/2104 Garage – Saarbrücken, DE
6/19/2104 De Centrale – Gent, BE
6/20/2104 Hellfest – Clisson, FR
6/21/2104 SkullFest – Wervik, BE
TOXIC HOLOCAUST mutated into existence in 1999, when Joel Grind merged his love for classic punk and metal into his ideal band. Like his influences – Bathory, Venom, English Dogs, Possessed, Broken Bones – TOXIC HOLOCAUST offers up blazing riffs, gravel-throated vocals, and a deadly fixation on the evil in man and a post-apocalyptic world wrapped in a DIY attitude.
Check out a full stream of Chemistry of Consciousness at the official Relapse Records BandCamp page HERE. Chemistry Of Consciousness is available worldwide on CD, LP and digitally. Order your copy HERE. For iTunes orders, point your browser HERE.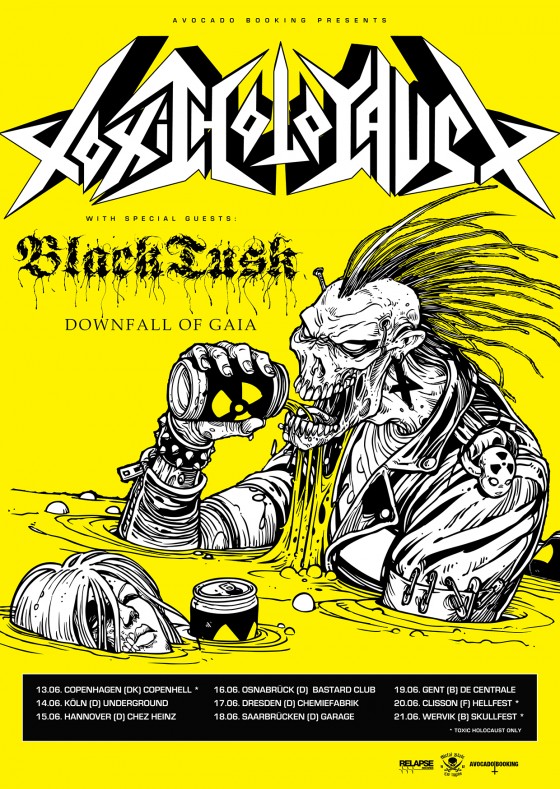 http://www.facebook.com/ToxicHolocaust
http://www.relapse.com