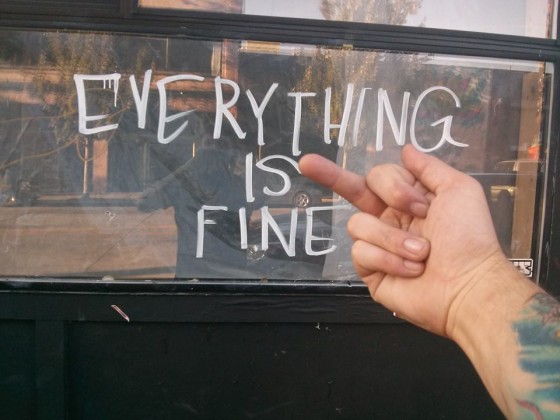 The latest heavy vibes from Eolian Empire, now nearly one year into the re-launch… Everything is fine, or so it seems.
Fuck-you-all-wavers, DRUNK DAD, just finished up Ripper Killer, their first full-length record. Due out July 1st, the new LP makes good on the promise on their Morbid Reality EP with an all-out assault on rock and convention. More filth, more speed, more gonzo, and more noise, aided by horrowshow harsh noiser REDNECK, who has joined the band on stage throughout this past winter. It rips, it kills.
The new self-titled LP from extragalactic drum-synths-and-samples duo HOT VICTORY comes out April 22nd. A man and woman, joined at the drums, intersect electronic, industrial, prog, and krautrock to create sonic keys to unlock the hidden doors of perception or soundtracks to your pending alien abduction. Catch them on tour with Floor in May and in July with PRIZEHOG and find out how much two people can do while sitting down.
After a long break, a new rhythm section, and a new home, GRAVES AT SEA is back at it. The underground doom desperados hit Roadburn next week and then kick off a month with Sourvein in Europe and the UK. Their new 12″ officially drops April 15th (though they'll have it at Roadburn) with the crusty "This Place Is Poison" backed by bold re-imaginings of Black Sabbath's "Orchid" and "Lord of This World," tracks featured on CVLT Nation's recent Master of Reality covers compilation.
The latest PRIZEHOG LP, Re-Unvent the Whool, is getting love from all over, with especial gushing from Aquarius Records who made it "record of the week" and called it "ridiculously, mindblowingly next level doom-sludge genius" and the trio itself "the sludge saviors we've been waiting for." Wow. See trve celestial space sludge for yourself on their full US tour in May, including a short run with friends and faves Vaz on the East Coast, and again in July with HOT VICTORY.
Quite a few unsuspecting music lovers are still reeling from II, the second album from wasteland bass-and-drums duo TOWERS. The Quietus praises the four primitive-meets-futurist movements on II as "an industrial-heavy, dubby, doomy, psychedelic, beautifully ill-proportioned aural apocalypse of the highest order," making the author's "album of the year thus far." A few sightings on the West Coast can be expected when they can break away from hammering away on their next disturbing phase.
The quick and the dirty on the remaining roster and affiliates: WHORES is almost back home after a successful whirlwind tour, RABBITS just finished a new record (out this Summer) and is sorting a return trip to Europe and UK in October with ÅRABROT, ÅRABROT will be hitting the West Coast with Black Cobra in May and is working on material for an EP on Eolian, DEAD is working on a new (double?) record and return to the States, DIESTO has been confirmed for Crucial Fest and a few dates with DRUNK DAD, HONDURAN is working on an East Coast US tour, BIG BLACK CLOUD is demoing their next record, ORDER OF THE GASH is playing a lot, and REDNECK is doing that scary thing he does. Live audio from the KEEP OUR HEADS cassette release show are also coming out for the one-year anniversary (May 1st) of the not-quite sold-out cassette.
That's what we got. A few more releases lined up for later in the year, but you'll hear about those some other time.
Order and preorder all Eolian goods HERE; listen and download the damage HERE.
http://www.eolianempire.com
http://goods.eolianempire.com
https://www.facebook.com/eolianempire