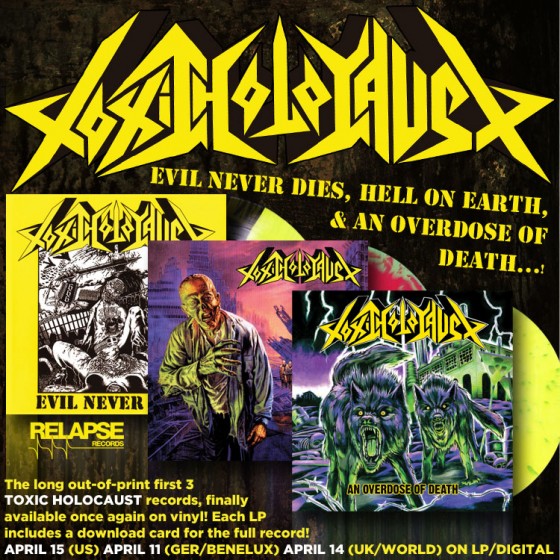 In celebration of their ongoing global conquest with Exhumed and Skeletonwitch, Relapse Records will be reissuing three long out-of-print LPs from Portland, Oregon thrash metal merchants, TOXIC HOLOCAUST. The group's now classic albums, Evil Never Dies, Hell On Earth, and An Overdose Of Death, will all be available on deluxe vinyl on April 15th, 2014 and can be preordered from Relapse mailorder HERE. A trailer with detailed shots of the vinyl colors can be viewed HERE.
The album that started it all, 2003's Evil Never Dies, will be available on vinyl for the first time in six years. Hell On Earth, 2005's long out-of-print thrash-punk crossover masterpiece, will be reissued with the original artwork from Ed Repka (Megadeth, Death, Venom). Finally, 2008's An Overdose Of Death will be repressed with gatefold packaging and contains some of the finest metal this side of the 21st century.
These titles, along with other TOXIC HOLOCAUST releases are available for streaming via Bandcamp HERE.
The trio are currently in the midst of their European takeover with fellow metal lifers Exhumed. From there TOXIC HOLOCAUST will team up with blackened thrashers, Skeletonwitch, for a tour of Australia and New Zealand in April.

TOXIC HOLOCAUST released their latest record, Chemistry Of Consciousness, last October, garnering praise from fans and critics globally. Decibel Magazine placed the record at #12 on their Best of 2013 list, featured Joel Grind on the cover of the December issue, and dubbed the record "Metal with a capital M." Stream the record in full HERE and watch the psychedelic video for "Acid Fuzz" HERE.
TOXIC HOLOCAUST w/ Exhumed [remaining dates]:
3/19/2014 Nosturi – Helsinki, FI
3/21/2014 Püssy a Go Go / The Liffey – Stockholm, SE
3/22/2014 Revolver – Oslo, NO
3/23/2014 Truckstop – Gothenburg, SE
3/24/2014 Hafenklang – Hamburg, DE
3/25/2014 Schlachthof – Wiesbaden, DE
w/ Skeletonwitch:
4/16/2014 The Kings Arms – Auckland, NZ
4/17/2014 Bodega Bar – Wellington, NZ
4/18/2014 The Rosemont Hotel – Perth, AU
4/19/2014 Fowlers Live – Adelaide, AU
4/20/2014 Espy Gershwin Room – Melbourne, AU
4/21/2014 TBD – Byron Bay, AU
4/22/2014 The Basement – Canberra, AU
4/24/2014 The Hi Fi – Brisbane, AU
4/25/2014 Cambridge Hotel – Newcastle, AU
4/26/2014 The Hi Fi – Sydney, AU
4/27/2014 The Hi Fi – Melbourne, AU
6/20/2014 Hellfest – Clisson, FR
http://www.facebook.com/ToxicHolocaust
http://www.relapse.com