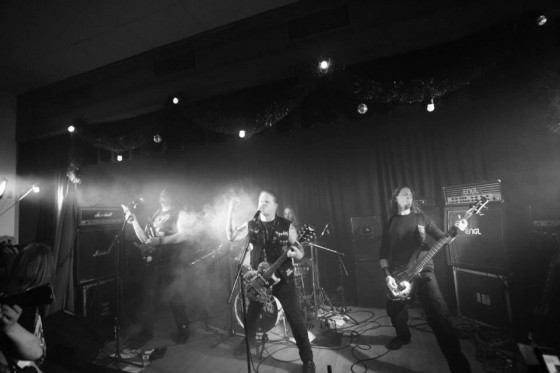 Sweden's contemporary death metal tyrants, VANHELGD, have completed their third crushing full-length release and are preparing to inflict their smoldering, riff-fueled, warfare upon the religious sects of the human population this May.
Much in the way that the first wave of Swedish death metal bands began to wildly diverge stylistically by the time of their second and third LPs, so too has the current crop of the country's extreme acts, polarizing critics and fans alike. Fortunately, some bands simply proceed logically forward, advancing their sound without abandoning what made them appealing to begin with. VANHELGD stands towering among those few with their crushing third LP, Relics Of Sulphur Salvation. Having released two well-received LPs through Nuclear War Now, on this new chapter the band has taken a big leap in production quality, having constructed eight complex and memorable songs that strike with an urgent ferocity not seen in today's crop of "boundary-pushing" or "progressive" death metal acts. This is pure death, played with relentless and nuanced savagery. VANHELGD's natural skill for crafting monumental songs suggests early At The Gates, Entombed and even elements of My Dying Bride, and the raw, mutilated vocals of Mattias Frisk as vital an instrument as the similarly voiced Tompa Lindberg and Martin Van Drunen. The album was finalized with crushing production courtesy of the infamous Necromorbus by Tore Stjerna (Repugnant, Watain, Tribulation).
A thousand records will be released this year for the average death metal fan. Only a handful will warrant more than a spin or two and even less will make it off the shelf and onto the turntable after a year or more. Relics Of Sulphur Salvation is that record; a striking new precedent for real death metal in 2014.
The American purveyors of underworld music at 20 Buck Spin have declared May 27th as the date VANHELGD's mandatory new album will inundate North American audiences via LP, CD and digital formats, preceded by Singapore-based death merchants Pulverised decimating the international territories with the CD and digital versions on the 26th. The LP edition will be released worldwide by 20 Buck Spin, including limited colored vinyl for mailorder customers.
Stay tuned for new tracks and additional info on Relics Of Sulphur Salvation and VANHELGD over the coming weeks.
Relics Of Sulphur Salvation Track Listing:
1. Dödens Maskätna Anlete
2. The Salt In My Hands
3. Where All Flesh Is Soil
4. Ett Liv I Träldom
5. May The Worms Have Mercy On My Flesh
6. Relics Of Sulphur Salvation
7. Sirens Of Lampedusa
8. Cure Us From Life
http://www.mattiasfrisk.com/vanhelgd.html
https://www.facebook.com/vanhelgd
http://www.20buckspin.com
http://www.facebook.com/20buckspin
http://twitter.com/20buckspinlabel