[photo by Nathaniel Shannon]
Visionary metal outfit TODAY IS THE DAY presents "You're All Gonna Die," the new single from the band's impending eleventh studio full-length, No Good To Anyone, which is their first album through new label home BMG. As the album is now confirmed for release on February 28th, the new single is now playing at Revolver Magazine as preorders and new tour dates with The Obsessed, Child Bite, -16-, and more are also posted.
No Good To Anyone was recorded and mastered by TODAY IS THE DAY's Steve Austin at his Austin Enterprises in Orland, Maine, and completed with artwork by Jef Whitehead (Leviathan, Lurker Of Chalice). The album is a crushing display of the band's singular psychedelic-yet-scathing sound and stands as a symbol of overcoming pain and adversity of the most extreme nature. The album was created over several years of Austin's battle with several major surgeries and treatments on a myriad of levels including a vicious battle with Lyme Disease.
Austin proclaims with the pummeling new "You're All Gonna Die" single, "When you beat a person down and nothing let's up, you need to fight back. The only person that is going to fight for you, is you. 'You're All Gonna Die' paints a picture of what happens you when you push someone way too far."
Revolver writes of the track, "The fury within the song is intimidatingly controlled, like a festering rage that boils just below the surface. Cyclical melody climbs through heavy, noise-oriented distortion, as a driving backbeat pulses underneath, combining with the musician's haunting voice and sparsely placed synth samples. Dripping with anguish from every note, 'You're All Gonna Die' is short, two-minute window into the psyche of a man pushed to his limits and clawing to hold on."
Experience TODAY IS THE DAY's "You're All Gonna Die" at Revolver Magazine RIGHT HERE.
No Good To Anyone will be released on LP, CD, and digital platforms through BMG on February 28th. Preorders for all formats are now live where "You're All Gonna Die" as well as the title track are streaming and downloadable at THIS LOCATION.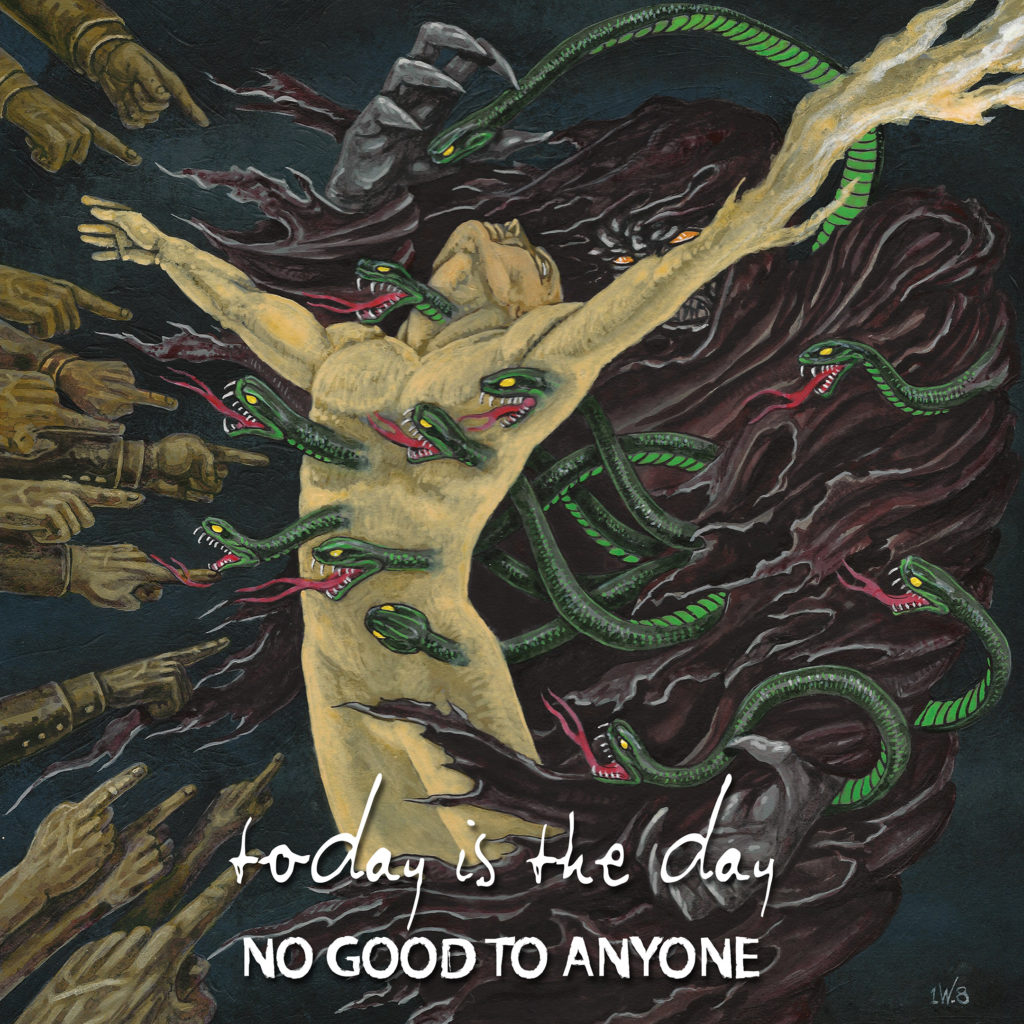 No Good To Anyone Track Listing:
1. No Good To Anyone
2. Attacked By An Angel
3. Son Of Man
4. Burn In Hell
5. You're All Gonna Die
6. Orland
7. Cocobolo
8. Agate
9. Callie
10. OJ Kush
11. Mercy
12. Born In Blood
13. Mexico
14. Rockets And Dreams
No Good To Anyone will see release in direct conjunction with a major US tour supporting the album. Beginning February 26th in Portland, Maine, the tour will rip through nearly forty cities across the country including dates with The Obsessed, Child Bite, -16-, and others through April 5th. See all confirmed dates below and watch for updates with additional North American and European tour dates to be posted in the weeks ahead.
TODAY IS THE DAY Tour Dates:
2/26/2020 Geno's – Portland, ME
2/27/2020 Alchemy – Providence, RI
2/28/2020 Market Hotel – Brooklyn, NY
2/29/2020 Meatlocker – Montclair, NJ
3/01/2020 Café 611 – Frederick, MD
3/02/2020 Howard's Club H – Bowling Green, OH
3/03/2020 Northside Yacht Club – Cincinnati, OH
3/04/2020 Growler's – Memphis, TN
3/05/2020 Ziggy's – Chattanooga, TN
3/06/2020 Reggies 42nd Street Tavern – Wilmington, NC
3/07/2020 Little Harpeth Brewing – Nashville, TN
3/08/2020 The Earl – Atlanta, GA
3/09/2020 Poor Boys – New Orleans, LA
3/11/2020 Bears – Shreveport, LA
3/12/2020 Reptilez – San Antonio, TX
3/13/2020 The Lost Well – Austin, TX
3/14/2020 Ridglea Room – Fort Worth, TX
3/15/2020 Launchpad – Albuquerque, NM
3/17/2020 Dive Bar – Las Vegas, NV
3/18/2020 TBA
3/19/2020 Brick By Brick – San Diego, CA
3/20/2020 Holy Diver – Los Angeles, CA
3/21/2020 Alex's Bar – Long Beach, CA
3/22/2020 Oakland Metro Operahouse – Oakland, CA
3/23/2020 TBA
3/24/2020 Funhouse – Seattle, WA
3/27/2020 Ernie November – Cheyenne, WY
3/28/2020 Zodiac – Colorado Springs, CO
3/29/2020 Streets – Denver, CO
3/30/2020 Vaudeville Mews – Des Moines, IA
3/31/2020 Fubar – St. Louis, MO
4/01/2020 Live Wire – Chicago, IL
4/02/2020 Black Circle Brewing – Indianapolis, IN
4/03/2020 Sanctuary – Detroit, MI
4/04/2020 Montage Music Hall – Rochester, NY
4/05/2020 Jewel – Manchester, NH
w/ The Obsessed 2/27-3/08
w/ Child Bite 3/09-4/05
w/ -16- 3/17-3/23
TODAY IS THE DAY has been one of the most groundbreaking and unclassifiable entities in experimental music for nearly thirty years, achieving notoriety on fabled bastions of both noise-rock (Amphetamine Reptile) and metal (Relapse, Southern Lord). For such a bold and uncompromising artist, frontman Steve Austin has been a reliably prolific fixture both on wax and the live stage. The band's prior album, Animal Mother, released in 2014, proved once again that Steve Austin and TODAY IS THE DAY are simply one of the heaviest bands on earth. Tours with Nailbomb, Kayo Dot, Weedeater, Abigail Williams, and more made it even more clear that live, Austin and company are at the top of their game. Jaw-dropping appearances at Psycho Las Vegas, Maryland Deathfest, and more showcased the band continuing to create a new kind of heavy metal noise that is delivered with frightening conviction.
Album number eleven was taking a while, sure, but fans probably assumed the machine was running as smoothly as ever. It turns out that Austin was touring in chronic pain that was getting worse every day. In late 2014, his van was struck on the highway by a driver that had lost control of his vehicle. Austin's van rolled over and slid upside down at 65 MPH for 120 yards. He initially thought he escaped with "some broken ribs and destroyed equipment." But soon after, he developed agonizing episodic inflammation that various doctors misdiagnosed as everything from rheumatoid arthritis to fibromyalgia, going so far as to prescribe "a heavy anti-epileptic seizure medicine that nearly killed me."
"I later learned that I had Lyme disease after my dog Callie contracted Lyme, suddenly became ill and had to be put down," Austin reveals.
It's little surprise, then, that No Good To Anyone's leadoff title track is the album's most inflammatory. Anchored by a creeping Moog Sub37 synth line and death march percussion, the song offers not a glimpse, but a brutal spotlight into Austin's mindset at his nadir ("You can't beat the devil / hard as you try / I'm made out of metal / willing to die"). The early stages of Lyme conspired with the van accident to gnaw away at both of Austin's already shattered and dislocated hips, requiring expensive replacements and substantial time off for surgeries. "I felt like I had no value and no worth, and I'm most likely going to die," he admits.
But the family he was so worried about failing was unfailingly present to turn the tide, and that is artfully reflected on the record. Austin's fifteen-year-old son Willi performs not only the final passage of NGTA's concluding epic "Rockets And Dreams" (a tender, broken interpretation of "America The Beautiful"), but piano interlude "Orland," a Claude Debussy interpretation. "In the quiet of the afternoon, Willi would be upstairs and all of a sudden start playing that piece," Austin remembers. "It had this calming effect on me in my throes of feeling like I'm about to die. The sound of him playing that tune immediately made me feel better because he means the world to me. No matter how bad I feel, I knew there was love all around me."
After getting both hips replaced, learning how to walk again, and beating Lyme. Austin feels "stronger and healthier than ever now, ready to destroy." No Good To Anyone, more so than any record in Austin's staggering oeuvre, is subtly – and beautifully – preoccupied with hatred's polar opposite: love.
http://www.todayistheday.us
http://www.todayistheday.bigcartel.com
http://www.todayistheday.bandcamp.com
https://twitter.com/todayistheday66
http://www.facebook.com/todayisthedayofficial
https://www.bmg.com