Infamously unclassifiable and visionary metal cult, TODAY IS THE DAY, has unchained a manic, animated video for the track, "Heathen," culled from their debut Southern Lord LP, Animal Mother, through an exclusive premiere through horror/media portal, Bloody Disgusting.
Animal Mother brings forth some of the most incomprehensibly violent anthems from TODAY IS THE DAY in recent times, a personal exorcism of inner demons swirling through the depths of cult leader, Steve Austin's, mind deployed through a stiflingly broad range of tactics. "Heathen" boils with some of the most archetypical insane TITD psychosis, recalling elements of the band's seminal titles of the Y2K era with choking, layered vocals and doom-dredged mid-paced passages pouring forth from rabid aggression, with a drop-out segue that takes the band's rage to full force with an ill-timed hardcore stomp, sending listeners into pure berzerker mode instantly. The video for said anthem comes courtesy of Novel Concept TV, whose architects share an equally mad vision of the world as the band, bringing the song to visual fruition through an intense, animated self/outward mutilation spree.
Issues Austin of the "Heathen" video's inception, "I was on tour last fall and stayed at my long time friend, Neil Barrett's house. While I was there he showed some of the video work he had been doing and my mind was blown. Neil and Marco Morales are super creative dudes and Neil has been into TITD since the band began. Together, they make some really psychedelic mind expanding films; it's really cool to finally get to work on something together." The video's creators themselves offer, "We've been in the dungeon at the Austin Enterprise compound for several weeks with no food, water or sleep creating this visual nightmare. We're just happy it's over. Steve Austin is a genius and a madman. We hope you enjoy the fruits of our suffering."
Shred your arch nemesis to mulch with TODAY IS THE DAY's "Heathen" video via online horror sect, Bloody Disgusting, RIGHT HERE.
TODAY IS THE DAY's "Masada" video, created by David Hall/Handshake Inc., is also playing HERE. Hall is also completing a video for the LP's title track which will be released in the bleak, near future.
Following several months off the road, subsequent to a brutal highway accident in late November, which destroyed their van, merch, equipment and seriously injured some of the members, TODAY IS THE DAY returns to the road in two weeks. Currently comprised of bassist Trevor Thomas, drummer Douglas Andrae, and founding guitarist/vocalist, Steve Austin, the band's new trek will trudge through nearly thirty North American cities in a clockwise massacre, beginning in Portland, Maine on April 24th and finishing on May 24th in Rochester, New York, with direct support being supplied by Lazer/Wulf. More US tour dates and European shows coinciding with the band's set at Temples Festival in Bristol, England in May will be declared soon.
TODAY IS THE DAY's Animal Mother is available on CD colored vinyl LP HERE and via BandCamp HERE.
TODAY IS THE DAY w/ Lazer/Wulf:
4/24/2015 Space – Portland, ME
4/25/2015 Cambridge Elks Lodge – Boston, MA
4/26/2015 The Paper Box – Brooklyn, NY
4/27/2015 Kung Fu Necktie – Philadelphia, PA
4/28/2015 Cafe 611 – Frederick, MD
4/29/2015 Strange Matter – Richmond, VA
5/01/2015 Hideaway – Johnson City, TN
5/02/2015 New Mountain – Asheville, NC
5/03/2015 Siberia – New Orleans, LA
5/04/2015 Ole Tavern – Jackson, MS
5/05/2015 Fitzgeralds – Houston, TX
5/06/2015 Lost Well – Austin, TX
5/07/2015 Doublewide – Dallas, TX
5/08/2015 Sister – Albuquerque, NM
5/09/2015 Pub Rock – Tempe, AZ
5/10/2015 Complex – Los Angeles, CA
5/11/2015 Opera House – Oakland, CA
5/12/2015 Dantes – Portland, OR
5/13/2015 El Corazon – Seattle, WA
5/14/2015 Astoria – Vancouver, BC
5/15/2015 The Pin – Spokane, WA
5/16/2015 Hesh House – Boise, ID
5/18/2015 Larimer Lounge – Denver, CO
5/19/2015 Record Bar – Kansas City, MO
5/20/2015 Nether Bar – Minneapolis, MN
5/21/2015 Double Door – Chicago, IL
5/22/2015 Outpost – Kent, OH
5/23/2015 The Rock Room – Pittsburgh, PA
5/24/2015 Bug Jar – Rochester, NY
* = no Lazer/Wulf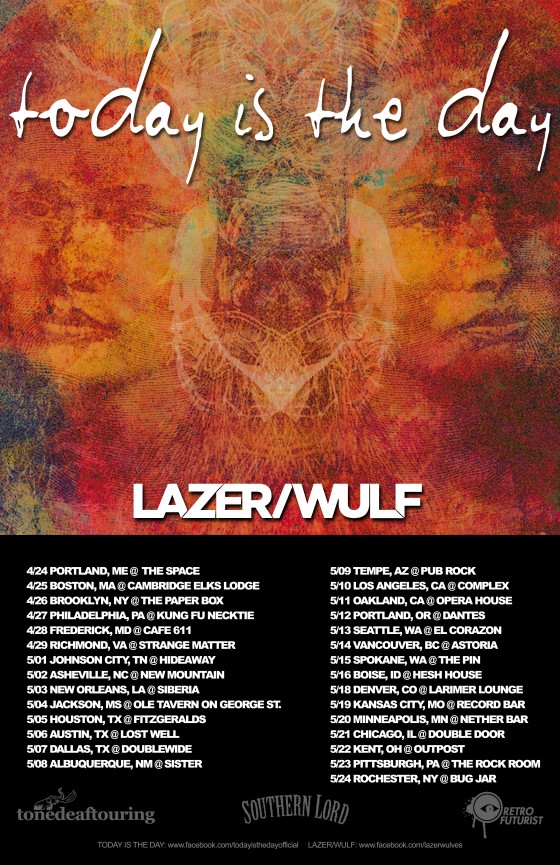 http://www.todayistheday.us
http://todayistheday.bandcamp.com
http://www.facebook.com/todayisthedayofficial
http://www.southernlord.com
http://southernlord.bandcamp.com
http://www.facebook.com/SLadmin
http://twitter.com/twatterlord