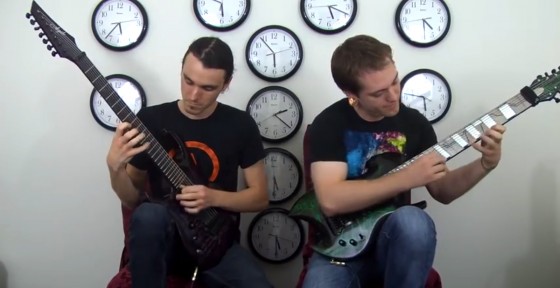 RINGS OF SATURN has posted a new dual-guitarist playthrough video for their technically ferocious track, "Godless Times," hailing from last year's flooring Lugal Ki En LP. The single take live instructional shows both Lucas Mann and Miles Dimitri Baker lightheartedly executing the brutalizing movement side-by-side, and includes a bit of info on the band's upcoming tablature book for Lugal Ki En.
View the "Godless Times" playthrough video at THIS LOCATION.
Amidst heavy bouts of touring, in October, Bay Area alien death metal outfit RINGS OF SATURN released their Lugal Ki En sophomore album through Unique Leader Records, the record's over-the-top blistering proficiency and uniquely bizarre output literally vaporizing nearly any other technical metal release of the year. Lugal Ki En's relentless, cyber-infused deathcore destruction is based on a lyrical concept in which the Aliens wage war on the angels and demons of the universe after having conquered humanity.
Metal Injection crowned the album with a 9/10 review, proclaiming, "Lugal Ki En is a refined and mature sounding Dingir. Speedy catchy riffs, fast beats, choppy transitions, and even some expressive timing is thrown in small segments enhancing specific qualities and making the entire album a rich experience… If technical extreme metal is a genre that you enjoy, there is no doubt Lugal Ki En will satisfy." Another 9/10 write-up from TechnicalDeathMetal.com adds, "This time around RINGS OF SATURN let the songs evolve more naturally, and while the spastic bursts of jabbing high notes still exist, listeners can hear a variety of influences and new elements as well." MetalSucks issued, "… it might be the heaviest thing laid down in years," and Headbang Or GTFO's 4.5/5 review states, "The band add a lot more to this album with background noise and technical guitar playing that actually feels natural this time around and not random wild guitar playing. Lugal Ki En is one of the better technical death metal albums of 2014 and their best album yet."
While no new tour plans are in RINGS OF SATURN's immediate future, you can rest assured that additional propaganda and performances are in the works. Stand by for future broadcasts on the band's ever-morphing invasion.
RINGS OF SATURN's official video for "Senseless Massacre" is viewable HERE, and the entire album available for gratis streaming HERE. The CD, LP and a plethora of merch options are available via Unique Leader Records right HERE.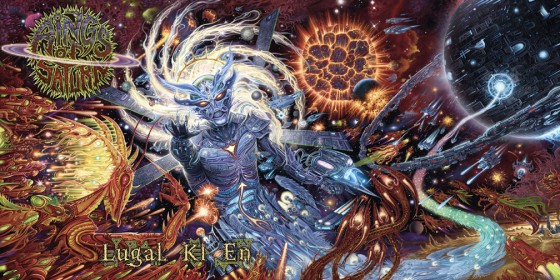 http://www.facebook.com/RingsofSaturnband
http://www.uniqueleader.com
http://www.facebook.com/UniqueLeaderRecords