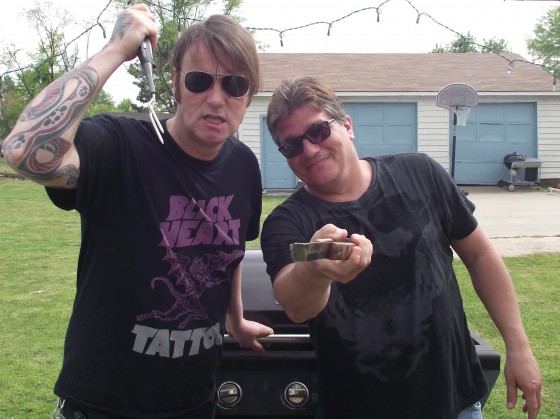 From amidst their ongoing North American tour, TODAY IS THE DAY hit Richmond, Virginia early for a pre-show filming of an episode of the ongoing "Brutally Delicious" video series for PureGrainAudio.
Leading off with an extensive interview with iconic TODAY IS THE DAY cult leader, Steve Austin – which includes tales of being bitten by cannibalistic fans, procuring overnight medical treatment on foreign soil, on-stage electrocution and bowel movements, and oh, so much more – the attention then shifts to the band prepping and grilling a spread of rib-eye steaks, lamb chops and potatoes on the open flame. Among many other excellent quotes issued during the actual preparation of the provisions, Austin offers "If the food is not somewhat attacking you then you have not reached flavor nexus."
Get a tetanus shot and bring a fork and/or diaper for TODAY IS THE DAY's "Brutally Delicious" episode playing RIGHT HERE.
In support of the band's tenth LP, Animal Mother, released in October via Southern Lord Recordings, TODAY IS THE DAY is currently murdering the continent on their brutal trek with Lazer/Wulf. Now over two weeks into the month-long tour, the band raids Oakland this evening on the way to the final week-and-a-half of dates through the northern end of the country and into Canada before coming to a smoldering close on May 24th in Rochester, New York. Just several days after the North American tour closes, TODAY IS THE DAY returns to Europe for nearly another month of dates with Weedeater, the caravan beginning at Temples Fest in Bristol, UK on May 29th and coming to a close on June 21st at Hellfest in Clisson, France.
TODAY IS THE DAY's "Heathen" video is writhing RIGHT HERE, their "Masada" video playing HERE, and the entire Animal Mother LP streaming HERE.
TODAY IS THE DAY Tour Dates
North American Tour w/ Lazer/Wulf [remaining date]:
5/11/2015 Opera House – Oakland, CA
5/12/2015 Dantes – Portland, OR
5/13/2015 El Corazon – Seattle, WA
5/14/2015 Rickshaw – Vancouver, BC
5/15/2015 The Pin – Spokane, WA
5/16/2015 Hesh House – Boise, ID
5/18/2015 Larimer Lounge – Denver, CO
5/19/2015 Record Bar – Kansas City, MO
5/20/2015 Nether Bar – Minneapolis, MN
5/21/2015 Double Door – Chicago, IL
5/22/2015 Outpost – Kent, OH
5/23/2015 The Rock Room – Pittsburgh, PA
5/24/2015 Bug Jar – Rochester, NY
* = no Lazer/Wulf
European Tour w/ Weedeater:
5/29/2015 Temples Festival – Bristol UK
5/30/2015 La Paniche – Lille FR
5/31/2015 This Is Not A Love Song – Nimes FR
6/01/2015 Connexion – Toulouse FR
6/02/2015 Razzmatazz3 – Barcelona ES
6/03/2015 Boite Live – Madrid ES
6/04/2015 RCA Club – Lisboa PT
6/05/2015 Hard Club – Porto PT
6/06/2015 Sala Dabadaba – Bilbao ES
6/07/2015 Heretic – Bordeaux FR
6/08/2015 La Zone – Liege BE
6/09/2015 Hafenklang – Hamburg DE
6/10/2015 Scheune – Dresden DE
6/11/2015 Cassiopeia – Berlin DE
6/12/2015 Robustfest – Kiev UA
6/13/2015 Feierwerk – Munchen DE
6/14/2015 Durer Kert – Budapest HU
6/15/2015 Arena – Wien AU
6/16/2015 An Club – Athens GR
6/17/2015 Freakout – Bologna IT
6/18/2015 Init – Rome IT
6/19/2015 Lo Fi – Milano IT
6/21/2015 Hellfest – Clisson FR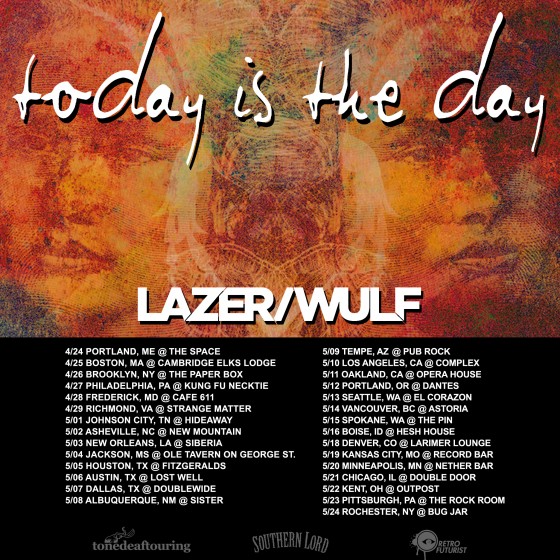 http://www.todayistheday.us
http://todayistheday.bandcamp.com
http://www.facebook.com/todayisthedayofficial
http://www.southernlord.com
http://southernlord.bandcamp.com
http://www.facebook.com/SLadmin
http://twitter.com/twatterlord