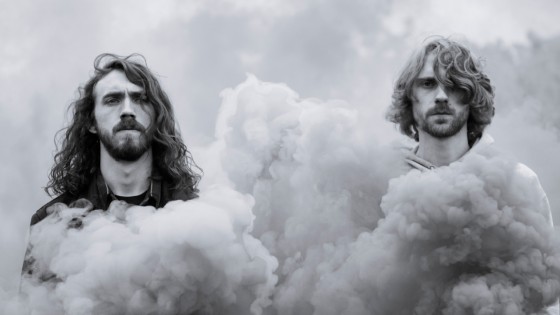 In support of their debut full-length album, Of Ruin, which was released by Ritual Productions in mid-March and met by a widespread rave critical response, South London's bass-and-drums sludge power duo, GHOLD, will make their maiden voyage to American shores on a nearly month-long tour to be headlined by Norwegian Grammy winning Ã…rabrot.
Just a few weeks subsequent to their impending performance at Temples Festival in Bristol, UK where they'll perform Sunday, May 31st with Earth, Pallbearer, Year Of No Light, Monarch!, Ohhms and Anta, GHOLD will bring their gnarly, wayward, avant sludge-crushing turmoil stateside in support of their pulverizing Of Ruin LP. With twenty cities currently established to be raided the trek is set to begin on June 24th in Boston, after which it will wind its way throughout the country and into Canada in a mangled counter-clockwise path of destruction. The final five dates will see GHOLD and Ã…rabrot also joined by Pinkish Black, through the final show in New York City on July 19th. Stand by for several additional cities to be placed on the chopping block as they're added to the itinerary in the coming days.
GHOLD Tour Dates:
5/31/2015 Temples Festival – Bristol UK [info]
North American Summer Tour w/ Ã…rabrot:
6/24/2015 O'Brien's Pub – Boston, MA
6/26/2015 The Depot – York, PA
6/27/2015 Now That's Class – Cleveland, OH
6/29/2015 The Burlington – Chicago, IL
6/30/2015 Fubar – St Louis, MO
7/01/2015 Jackpot Saloon – Lawrence, KS
7/02/2015 Hi Dive – Denver, CO
7/03/2015 Kilby Court – Salt Lake, City, UT
7/05/2015 The Highline – Seattle, WA
7/06/2015 The Hindenburg – Vancouver, BC
7/07/2015 Rotture – Portland, OR
7/08/2015 Starlight Lounge – Sacramento, CA w/ Dispirit, Lycus
7/09/2015 SF Eagle – San Francisco, CA
7/12/2015 Lowbrow Palace – El Paso, TX
7/14/2015 Holy Mountain – Austin, TX w/ Pinkish Black
7/15/2015 Siberia – New Orleans, LA w/ Pinkish Black
7/16/2015 The 529 – Atlanta, GA w/ Pinkish Black
7/17/2015 Local 506 – Chapel Hill, NC w/ Pinkish Black
7/18/2015 Strange Matter – Richmond, VA w/ Pinkish Black
7/19/2015 The Studio, Webster Hall – New York, NY w/ Pinkish Black
GHOLD's Of Ruin is a baffling and utterly ruthless nearly forty-five minute bastardization of the doom/sludge genre resembling mutant structures and mangled wreckage in the derelict vein of Melvins, Eagle Twin, Harvey Milk, Thrones, Yob, Prizehog, Towers and the more off-center innovators of the underworld. GHOLD's commanding low-end esotericism and chopped-and-screwed rhythmic capabilities bellow forth with ceaselessly enthralling grit and grime. Recorded at lss Studio with Dan Miller, Of Ruin was mastered by James Plotkin (Khanate, OLD), the components of bass and drums are bound together so tight on Of Ruin that they resemble a singular contorted entity, kneading grooves and manta-driven insanity with explosive results. Intrinsically heavy and elastically supercharged, GHOLD creates a strain of viscous rock that is as devastating as it is unpredictable, pushing down the scales in a myriad of manners to achieve an ever heavier outcome.
GHOLD's Of Ruin is playing in its entirety via Metal Hammer at THIS LOCATION.
"Of Ruin is a gargantuan begrimed album, one that will sit in your collection like a goth at a rave, exuding negative spirit and drawing all energy into the corner it has designated its own… a masterfully dark release, full of intrigue and depth and one to be lauded from the tallest turrets of the highest castles as a monument of its time and origin." – Ninehertz
"The pair's open minded approach to song writing deftly incorporates a whole host of eclectic influences, and somehow manages to sound incredibly fresh and exhilarating even when they're ploughing into some of the most ponderous dirges you'll hear this side of Corrupted. When they pick up the pace, their raucous, weirdly timed assaults sound a little bit like Lightning Bolt – well, how we imagine Lightning Bolt would sound if you locked them in a cellar for several months with nothing but a bucket of bovril and a copy of Melvin's 'Bullhead' for sustenance, that is." – Terrorizer Magazine
"Willing to be spare when needed and utterly, crushingly overpowering as their seemingly relentless assault requires, GHOLD play metal with the broadest of shoulders." – FREQ
"If, like me, you're some sort of sick drunken troll who likes diving head first into the noisiest, most brutal pools of bile you can find then I have no doubt you will take this album, clutch it to your warm bosom and cherish it like an ugly child." – The Monitors
http://www.ghold.co.uk
http://www.facebook.com/GholdBand
http://twitter.com/GholdBand
http://ghold.bandcamp.com
http://soundcloud.com/ghold
http://www.ritualproductions.net
http://www.facebook.com/ritualproductionsuk
http://ritualproductions.bandcamp.com