With TODAY IS THE DAY now just a week from embarking on their six-week headlining North American tour, today the trio releases a brand new surprise single upon the unsuspecting public.
While the next full-length will not be recorded until later in the year, the futurist metal clan wanted to offer something brand new to fans attending shows along the upcoming tour routing. "Sick Of Your Mouth" surges with an intensity TODAY IS THE DAY has continually delivered for two decades, its pummeling percussion and angular riffage as always lead by founding frontman Steve Austin's signature vocal style. The construction of the song was an inside job, engineered, mixed, and mastered by Steve Austin and bassist Ryan Jones at Austin Enterprise, where Austin has recorded and produced seminal albums for Lamb of God, Converge, Deadguy and countless others over the past twenty years.
Vile and cynical, closing with the words "Hate fills the heart / Tears it all down / Destroy / Death, my endless dream," unleash wrath on society with "Sick Of Your Mouth" at Noisey, VICE Mag's music channel, RIGHT HERE.
Led by visionary frontman Steve Austin, TODAY IS THE DAY's violent and psychedelic attack has received worldwide acclaim since their 1993 debut, Supernova. Nine studio albums have been released through Amphetamine Reptile, Relapse and others, the band's ever-morphing lineup featuring notable musicians including Brann Dailor and Bill Kelliher, who would later go on to form Mastodon. The current lineup sees Austin flanked by drummer Curran Reynolds (Wetnurse) and bassist Ryan Jones (Wetnurse, Mutilation Rites). The band's most recent Pain Is A Warning LP was issued by Blackmarket Activities in 2011, the Kurt Ballou-produced beast receiving critical acclaim worldwide.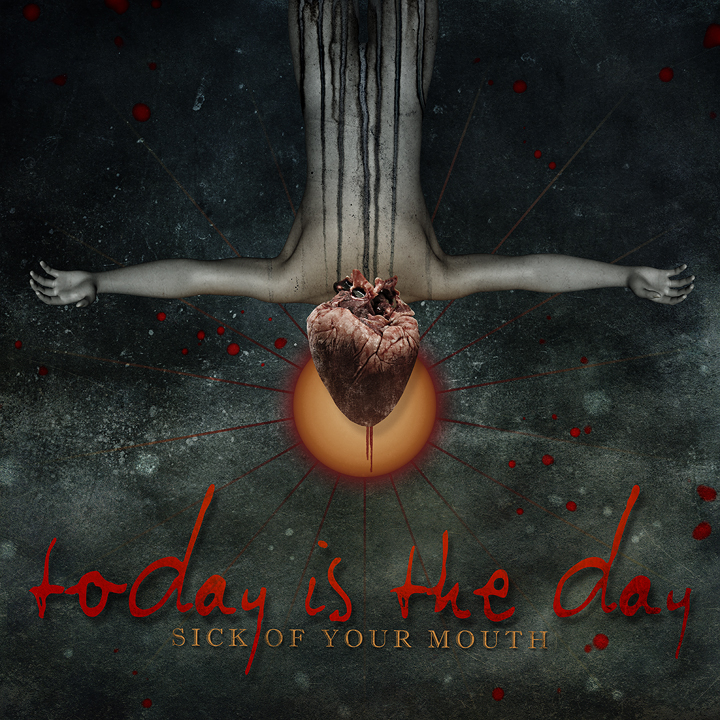 TODAY IS THE DAY Spring Tour 2013:
3/05/2013 Port City Music Hall – Portland, ME KEN mode, Livver, Fight Amp, Sylvia [tickets]
3/06/2013 Saint Vitus Bar – Brooklyn, NY w/ Black Tusk, KEN Mode, Fight Amp [tickets]
3/07/2013 Middle East Downstairs – Cambridge, MA w/ Black Tusk, KEN Mode, Fight Amp [tickets]
3/08/2013 The Studio at Webster Hall – New York, NY w/ Black Tusk, KEN Mode, Fight Amp [tickets]
3/09/2013 Rock and Roll Hotel – Washington DC w/ Black Tusk, KEN mode, Fight Amp [tickets]
3/10/2013 Mr. Smalls – Pittsburgh, PA w/ Black Tusk, KEN Mode, Fight Amp [tickets]
3/11/2013 The Masquerade – Atlanta, GA w/ Black Tusk, KEN Mode, Fight Amp [tickets]
3/12/2013 The Local 662 – Tampa, FL w/ Black Tusk, KEN Mode, Fight Amp [tickets]
3/13/2013 Siberia – New Orleans, LA w/ Black Tusk, KEN Mode, Fight Amp [tickets]
3/14/2013 Korova – San Antonio, TX @ Tone Deaf Touring Spillover Showcase [tickets]
3/15/2013 Tone Deaf Touring Official SXSW Showcase @ Red 7 – Austin, TX
3/16/2013 TBA – Austin, TX @ SXSW
3/17/2013 Spillover Fest @ Sandbar Cantina – Dallas, TX [tickets]
3/19/2013 Launchpad – Albuquerque, NM w/ Black Tusk, KEN Mode, Fight Amp
3/20/2013 Rocky Point Cantina – Tempe, AZ w/ Black Tusk, KEN Mode, Fight Amp [tickets]
3/21/2013 Brick By Brick – San Diego, CA w/ Black Tusk, KEN Mode, Fight Amp [tickets]
3/22/2013 Satellite – Los Angeles, CA w/ Black Tusk, KEN Mode, Fight Amp [tickets]
3/24/2013 The Catalyst – Santa Cruz, CA w/ Black Tusk, KEN Mode, Fight Amp [tickets]
3/25/2013 Elbo Room – San Francisco, CA w/ Black Tusk, KEN Mode, Fight Amp [tickets]
3/26/2013 Rotture – Portland, OR w/ Black Tusk, KEN Mode, Fight Amp [tickets]
3/27/2013 The Highline – Seattle, WA w/ Black Tusk, KEN Mode, Fight Amp [tickets]
3/28/2013 The Shakedown – Bellingham, WA w/ Black Tusk, KEN Mode, Fight Amp [tickets]
3/29/2013 Rickshaw Theater – Vancouver, BC w/ KEN Mode, Black Tusk, Fight Amp [tickets]
3/31/2013 Pawn Shop – Edmonton, AB w/ KEN mode, Black Tusk, Fight Amp
4/01/2013 Palomino – Calgary, AB w/ KEN Mode, Black Tusk, Fight Amp [tickets]
4/02/2013 Amigos – Saskatoon, SK w/ KEN Mode, Black Tusk, Fight Amp [tickets]
4/04/2013 Pyramid – Winnipeg, MB w/ w/ KEN Mode, Black Tusk, Fight Amp [tickets]
4/05/2013 The Aquarium – Fargo, ND w/ Black Tusk, KEN Mode, Fight Amp [tickets]
4/06/2013 Triple Rock Social Club – Minneapolis, MN w/ Black Tusk, KEN Mode, Fight Amp [tickets]
4/07/2013 Empty Bottle – Chicago, IL w/ Black Tusk, KEN Mode, Fight Amp [tickets]
4/08/2013 Pyramid Scheme – Grand Rapids, MI w/ Ringworm, KEN mode, Fight Amp [tickets]
4/09/2013 Ace Of Cups – Columbus, OH w/ Ringworm, KEN Mode, Fight Amp [tickets]
4/10/2013 Southgate House Revival – Newport, KY w/ Ringworm, KEN Mode, Fight Amp [tickets]
4/11/2013 Beachland Ballroom – Cleveland, OH w/ Keelhaul, KEN mode, Fight Amp [tickets]
4/12/2013 Magic Stick – Detroit, MI w/ Keelhaul, KEN mode, Fight Amp [tickets]
4/13/2013 Lee's Palace – Toronto, ON w/ Keelhaul, KEN mode, Fight Amp [tickets]
4/14/2013 Il Motore – Montreal, QC w/ Keelhaul, KEN Mode, Fight Amp [tickets]
4/15/2013 Maverick's – Ottawa, ON w/ Keelhaul, KEN Mode, Fight Amp [tickets]
http://www.todayistheday.us
https://www.facebook.com/todayisthedayofficial
http://www.tonedeaftouring.com