[photo by David Hall]
As visionary metal outfit TODAY IS THE DAY prepares to release their eleventh studio full-length, No Good To Anyone, through BMG at the end of February, Kerrang! is hosting a premiere of the first official video from the album. "Burn In Hell" is now playing alongside an in-depth interrogation of founder Steve Austin.
No Good To Anyone was recorded and mastered by TODAY IS THE DAY's Steve Austin at his Austin Enterprises in Orland, Maine, with contributions from DJ Cox, Tom Bennett, Marc Ablasou, and Willi Austin, and completed with artwork by Jef Whitehead (Leviathan, Lurker Of Chalice). The album is a crushing display of the band's singular psychedelic-yet-scathing sound and stands as a symbol of overcoming pain and adversity of the most extreme nature. The album was created over several years of Austin's battle with several major surgeries and treatments on a myriad of levels including a vicious battle with Lyme Disease.
"Hard living and hard times collide in our new song, 'Burn In Hell,'" states Steve Austin. "This song will knock out your two front teeth and put 'em back in. It's a bareknuckle look at the wild side, but also the very empty and dark side of being away from home and missing the ones you love."
Filmed and directed by David Hall/Uneasy Sleeper, with additionally videography by Hank Austin, TODAY IS THE DAY's new video was created for the second single from No Good To Anyone, the searing "Burn In Hell." Leading with a gnarled, mid-paced rock approach, sanity quickly erodes, and the song explodes into one of the album's most explosive crescendos. Its visual accompaniment follows a similar course. The "Burn In Hell" video introduces drummer Vishnu Reddy and a special guest appearance by Charlie Fell of Lord Mantis.
Austin offers, "We got together with my buddy David Hall and ripped out this rocker in Portland, Maine. It was fucking out of control. A lot of stuff got broken. I had a fucking blast. 'Burn In Hell' just simply rocks and explodes and it represents the high speed, hard living lifestyle that is rock n' roll."
Kerrang! writes in part within their interview, "The band's new video for the track 'Burn In Hell' is a tangible exploration of Austin's discomfort and agitation. Made up of performance footage directed by David Hall and Uneasy Sleeper, 'Burn In Hell' is a stark, no-nonsense display of the puny humans making this grinding, swaying noise-rock track. At the center of it all is Austin, his face impossible to look away from as he wails about excess with all the sweaty truth of someone who knows about trying to outrun his pain."
View TODAY IS THE DAY's "Burn In Hell" video only through Kerrang! at THIS LOCATION.
No Good To Anyone will be released on LP, CD, and digital platforms through BMG on February 28th. Find preorders for all formats are now live where "You're All Gonna Die" and the title track are streaming and downloadable RIGHT HERE.
No Good To Anyone will see release in direct conjunction with a major US tour supporting the album. Beginning February 26th in Portland, Maine, the tour will rip through nearly forty cities across the country including dates with The Obsessed, Child Bite, -16-, and others through April 5th. Joining Steve Austin, the TODAY IS THE DAY lineup on the No Good To Anyone Tour will be fleshed-out with co-assassins Vishnu Reddy on drums and Tom Jack on bass and keyboards.
See all confirmed dates below and watch for updates with additional North American and European tour dates to be posted in the weeks ahead.
TODAY IS THE DAY No Good To Anyone Tour 2020:
2/26/2020 Geno's – Portland, ME
2/27/2020 Alchemy – Providence, RI
2/28/2020 Market Hotel – Brooklyn, NY
2/29/2020 Meatlocker – Montclair, NJ
3/01/2020 Café 611 – Frederick, MD
3/02/2020 Howard's Club H – Bowling Green, OH (no The Obsessed)
3/03/2020 Northside Yacht Club – Cincinnati, OH
3/04/2020 Growler's – Memphis, TN
3/05/2020 Ziggy's – Chattanooga, TN
3/06/2020 Reggies 42nd Street Tavern – Wilmington, NC
3/07/2020 Little Harpeth Brewing – Nashville, TN
3/08/2020 The Earl – Atlanta, GA
3/09/2020 Poor Boys – New Orleans, LA
3/10/2020 Freetown – Lafayette, LA
3/11/2020 Bears – Shreveport, LA
3/12/2020 Reptilez – San Antonio, TX
3/13/2020 The Lost Well – Austin, TX
3/14/2020 Ridglea Room – Fort Worth, TX
3/15/2020 Launchpad – Albuquerque, NM
3/17/2020 5 Star Bar – Los Angeles, CA
3/18/2020 Dive Bar – Las Vegas, NV
3/19/2020 Brick By Brick – San Diego, CA
3/20/2020 Holy Diver – Sacramento, CA
3/21/2020 Alex's Bar – Long Beach, CA
3/22/2020 Oakland Metro Operahouse – Oakland, CA
3/23/2020 Star Theater– Portland, OR
3/24/2020 Funhouse – Seattle, WA
3/27/2020 Ernie November – Cheyenne, WY
3/28/2020 Zodiac – Colorado Springs, CO
3/29/2020 Streets – Denver, CO
3/30/2020 Vaudeville Mews – Des Moines, IA
3/31/2020 Fubar – St. Louis, MO
4/01/2020 Live Wire – Chicago, IL
4/02/2020 Black Circle Brewing – Indianapolis, IN
4/03/2020 Sanctuary – Detroit, MI
4/04/2020 Montage Music Hall – Rochester, NY
4/05/2020 Jewel – Manchester, NH
w/ The Obsessed 2/27-3/08
w/ Child Bite 3/09-4/05
w/ -16- 3/17-3/23
TODAY IS THE DAY has been one of the most groundbreaking and unclassifiable entities in experimental music for nearly thirty years, achieving notoriety on fabled bastions of both noise-rock (Amphetamine Reptile) and metal (Relapse, Southern Lord). For such a bold and uncompromising artist, frontman Steve Austin has been a reliably prolific fixture both on wax and the live stage. The band's prior album, Animal Mother, released in 2014, proved once again that Steve Austin and TODAY IS THE DAY are simply one of the heaviest bands on earth. Tours with Nailbomb, Kayo Dot, Weedeater, Abigail Williams, and more made it even more clear that live, Austin and company are at the top of their game. Jaw-dropping appearances at Psycho Las Vegas, Maryland Deathfest, and more showcased the band continuing to create a new kind of heavy metal noise that is delivered with frightening conviction.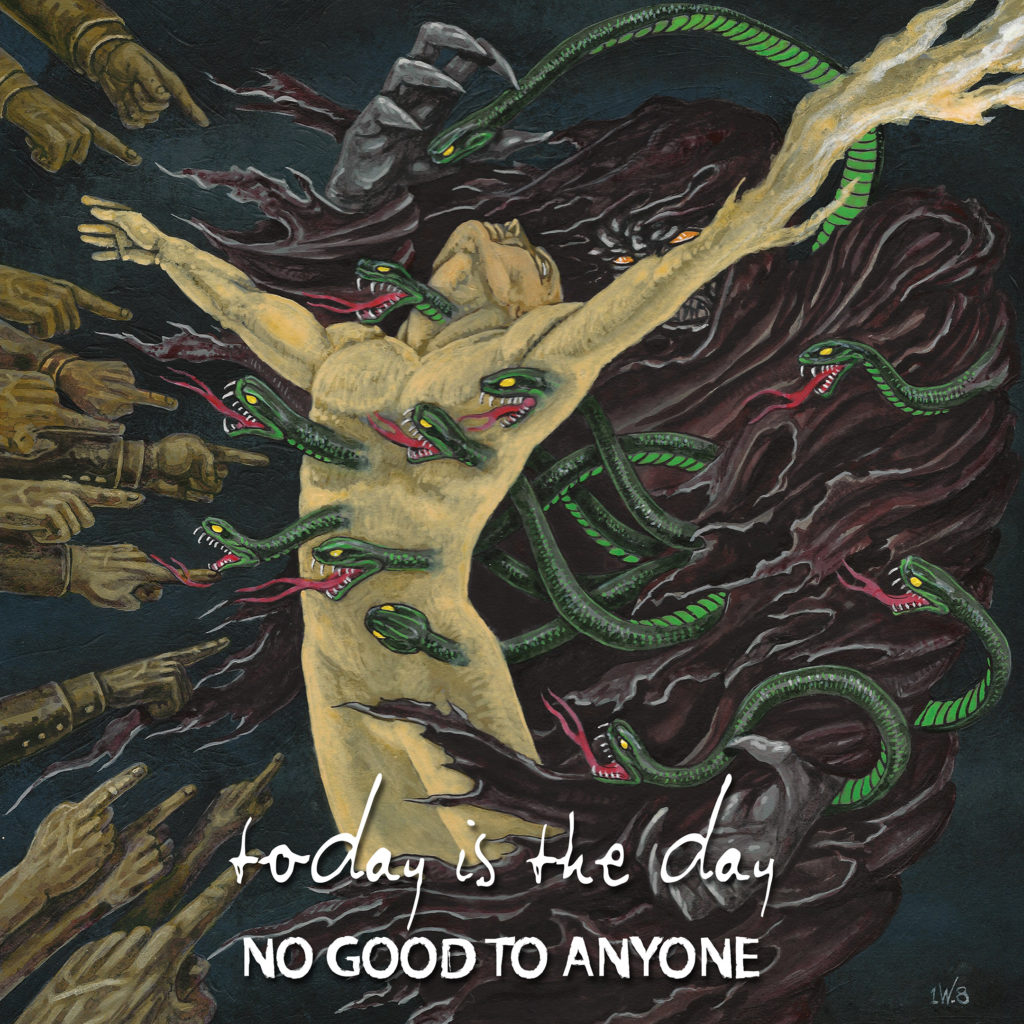 http://www.todayistheday.us
http://www.todayistheday.bigcartel.com
http://www.todayistheday.bandcamp.com
https://twitter.com/todayistheday66
http://www.facebook.com/todayisthedayofficial
https://www.bmg.com