Reflections, the debut full-length from UK doom metal trio GODTHRYMM is currently streaming in its forlorn entirety. The premiere comes on the eve of its release this Friday February 14th via Profound Lore Records.
GODTHRYMM features vocalist/guitarist Hamish Glencross (ex-My Dying Bride, Vallenfyre, Solstice), drummer Shaun "Winter" Taylor-Steels (ex-My Dying Bride, Anathema), and bassist Bob Crolla. Recorded and mixed by Nathan Bailey and featuring artwork and design by Brian D'Agosta of Gostworks Art (Vallenfyre, War//Plague), with Reflections, the trio has unleashed a mammoth slab of heavy, mournful, yet pounding traditional doom that harks back to the classic era of '90s UK doom/Peaceville Records. Through Glencross' soaring, passionate vocals complimenting his powerful riffs along with Taylor-Steels' thunderous percussion giving the rhythm section that immense and glorious tone, Reflections is a testament to the glory days of the genre while simultaneously making its statement as a new force of modern day doom metal to behold.
"I'm equal parts excited and nervous for the release of this album," comments Hamish. "We've invested our hearts and souls into this album with no small amount of hard work. We're incredibly proud and thankful to those who have helped us along the way. Cheers!"
"I'm super proud to be a part of this project," notes Crolla. "I can't wait for people to hear the album and then to get out and play it live."
Adds Taylor-Steels, "It's heavier than a thousand anvils!"
Stream GODTHRYMM's stunning Reflections full-length at THIS LOCATION.
View the band's previously released "The Sea As My Grave" video below.
GODTHRYMM's Reflections will be released on CD, 2xLP, and digital formats. Find preordering info below:
CD/LP: https://profoundlorerecords.merchtable.com/
CD/LP (EU Store): https://profoundlore.aisamerch.de/shop-en
CD/Digital (Bandcamp): https://profoundlorerecords.bandcamp.com/album/reflections
GODTHRYMM was forged in 2017 by Glencross and sees the respected UK metal luminary return to his doom metal roots, creating the music he was known to help forge with Solstice on the legendary New Dark Age album and especially with the heralded My Dying Bride from the 2000 – 2014 time period. Further adding to the band pedigree is drummer Shaun Taylor-Steels who, after some lineup refining following the band's A Grand Reclamation debut EP, became the core of GODTHRYMM. In the months to follow, the pair recorded the colossal Reflections full-length. Upon its completion, Glencross and Taylor-Steels added bassist Bob Crolla to the fold making GODTHRYMM a true power trio of doom.
"GODTHRYMM's debut full length breaks like a glorious new dawn over the modern wastelands of mediocrity… while GODTHRYMM undoubtedly doom by the book, and their influences are clear as day, there's not a stale moment on this album." – Decibel
"No matter the season or the weather, GODTHRYMM will leave you cold and shivering in strange state of disrepair on Reflections,"a despairingly dark debut. Their playing is ominous and unforgiving yet also alluringly creative in a way that is both physically and mentally devastating." — Meat Mead Metal
"…the heart and the ear connect in some meaningful ways within the span of Reflections, unmercifully so. This desired effect expands and contracts within each listen, providing a dark abyss to squirm and gnash within before being lifted from drowning just enough to appreciate what depths you've been through. Received and analyzed on its own individual merits, GODTHRYMM's debut deserves nothing less than a high recommendation." – Grizzly Butts
"…a crisp, fresh look on the doom metal genre, with Glencross capably mining gloom from the deep depths of despair and Steels providing a dark, steady cadence. GODTHRYMM prove they are much more than the sum of their parts…" – Cryptic Rock
"Barely into the second month of the '20s, and already we have a monster of a DOOM album in Reflections. I was expecting to enjoy the album, due to the pedigree involved, but I didn't expect the magnitude of how much GODTHRYMM crushes with all the sorrow and heft on display." – Angry Metal Guy
"The album is quite intoxicating, especially with multiple listens, as Reflections becomes one emotional trip brimming full of sorrow, suffering and despair amongst dense riffs so expertly delivered." — Heaviest Of Art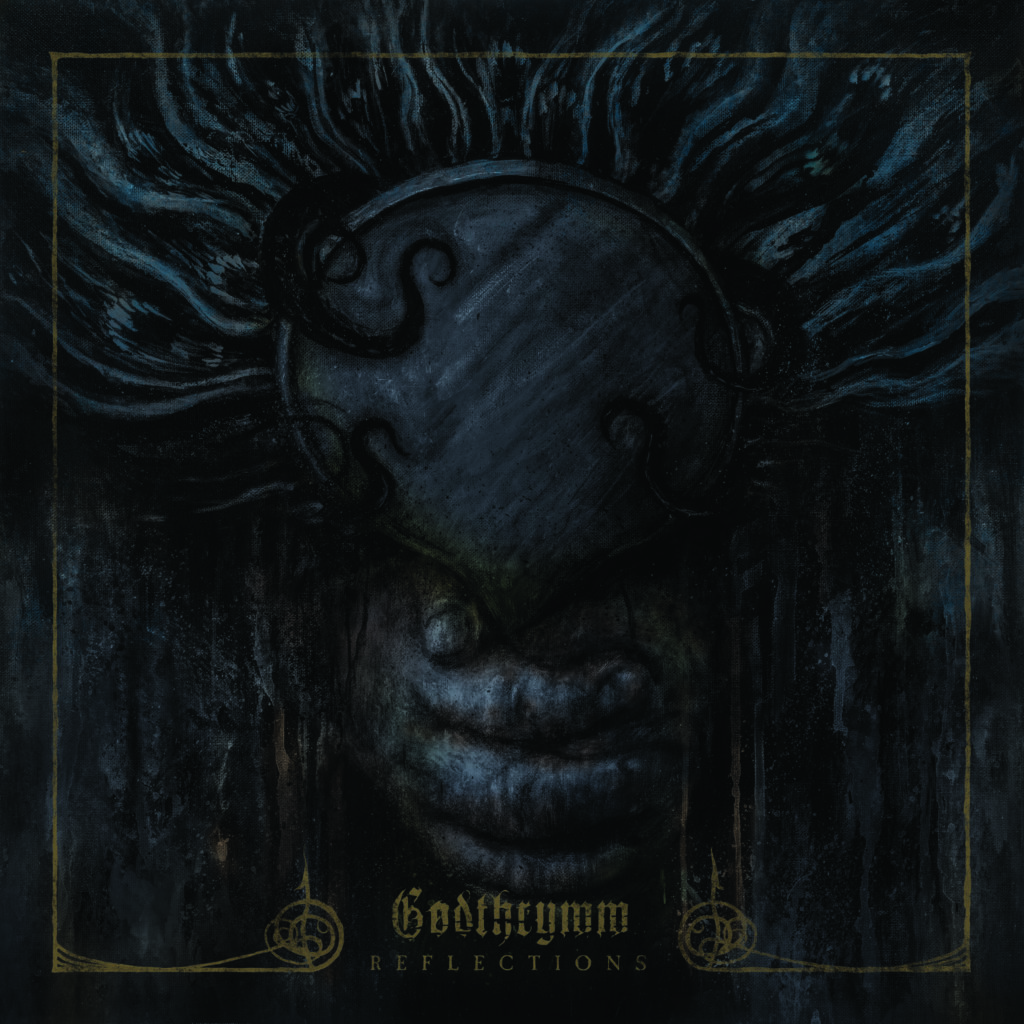 http://www.godthrymm.com
http://www.facebook.com/godthrymm/
http://www.instagram.com/godthrymm/
http://www.profoundlorerecords.com
http://www.facebook.com/profoundlorerecords
http://twitter.com/profound_lore
http://www.instagram.com/profoundlorerecords
http://www.profoundlorerecords.bandcamp.com