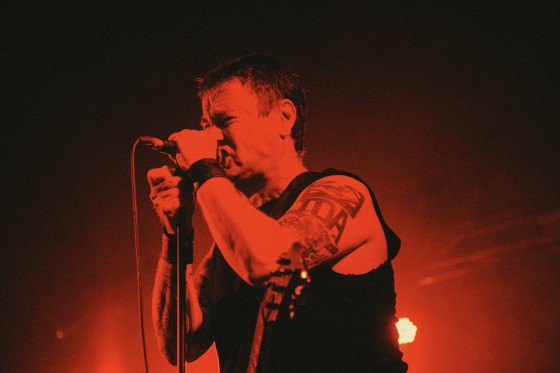 TODAY IS THE DAY hereby announces the band's return to widespread live performances this Spring, this week announcing a month-long US tour to take place in April and May.
Following several months off the road recuperating behind them, consequent to a brutal highway accident in late November, which destroyed their van, merch, equipment and seriously injured some of the members, TODAY IS THE DAY is now ready to take their savagery back to nearly thirty stages across America. The newly booked trek will trudge through the country clockwise, beginning in Portland, Maine on April 24th and finishing on May 24th in Rochester, New York. The current TODAY IS THE DAY lineup is completed by bassist Trevor Thomas, drummer Douglas Andrae, and founding guitarist/vocalist, Steve Austin. Direct support for the entire tour will be supplied by Georgia-based trio, Lazer/Wulf.
Additional stateside tour actions from TODAY IS THE DAY will be announced in the coming weeks, in addition to an upcoming European tour surrounding the band's upcoming set at this year's massive Temples Festival in Bristol, United Kingdom at the end of May, performing alongside the likes of Converge, Pig Destroyer, Triptykon, Nails, Bongzilla, Magrudergrind, Portal, Will Haven, labelmates Goatsnake, and countless others.
TODAY IS THE DAY also has two brand new videos nearing completion to see release in the weeks ahead. Both hailing from the band's commended tenth LP, Animal Mother — released in October via Southern Lord — the video for "Heathen" has been commissioned to Marcos Morales and Neil Barrett of Novel Concept TV (Primitive Man, etc.), and the visual depiction of the title track, "Animal Mother," to David Hall of Handshake Inc. (Brutal Truth, Lae, Maryland Deathfest: The Movie), who also directed the band's intense "Masada" video.
Endure TODAY IS THE DAY's "Masada" video HERE. Animal Mother is available on CD colored vinyl LP HERE and via BandCamp HERE.
TODAY IS THE DAY w/ Lazer/Wulf:
4/24/2015 Space – Portland, ME
4/25/2015 Cambridge Elks Lodge – Boston, MA
4/26/2015 Coco 66 – Brooklyn, NY *
4/27/2015 Kung Fu Necktie – Philadelphia, PA
4/28/2015 Cafe 611 – Frederick, MD
4/29/2015 Strange Matter – Richmond, VA
5/01/2015 Hideaway – Johnson City, TN
5/02/2015 New Mountain – Asheville, NC
5/03/2015 Siberia – New Orleans, LA *
5/05/2015 Fitzgeralds – Houston, TX *
5/06/2015 Lost Well – Austin, TX *
5/07/2015 Doublewide – Dallas, TX
5/08/2015 Sister – Albuquerque, NM
5/09/2015 Pub Rock – Tempe, AZ
5/10/2015 Complex – Los Angeles, CA
5/11/2015 Opera House – Oakland, CA
5/12/2015 Dantes – Portland, OR
5/13/2015 El Corazon – Seattle, WA
5/14/2015 Rickshaw – Vancouver, BC
5/15/2015 The Pin – Spokane, WA
5/18/2015 Larimer Lounge – Denver, CO
5/19/2015 Record Bar – Kansas City, MO
5/20/2015 Nether Bar – Minneapolis, MN
5/21/2015 Double Door – Chicago, IL
5/22/2015 Outpost – Kent, OH
5/23/2015 The Shop – Pittsburgh, PA
5/24/2015 Bug Jar – Rochester, NY
* = no Lazer/Wulf
Animal Mother, TODAY IS THE DAY's flooring tenth studio full-length, saw birth via Southern Lord in October 2014, unleashing one of the sickest creations the prophetic outfit's nearly thirty-year lineage. Dispatching nearly an hour of the band's creepiest and heaviest chaos in years, Animal Mother's wrath recalls elements of their most seminal albums, as always merging murderous anger and horribly depressed vibes into a volatile, unclassifiable, prophetic style of metal all its own, recorded, produced and mastered at the frontman's Austin Enterprises in Maine. The album has reaped international critical acclaim, including Exclaim!'s featured 9/10 review which offered, "While reminiscent of the band's late-'90s works Temple of the Morning Star and In the Eyes of God, the new album includes gorgeous melodic elements." Terrorizer Magazine's outstanding review included, "Ten albums in, TODAY IS THE DAY still stand as the ultimate rebuke to genre-obsessed boilerplate metal, wrenching exorcisms into artworks and imbuing them with a heaviness that goes right down to the marrow," and Last Rites proclaimed Animal Mother is, "the most depressing album since Sadness Will Prevail by a longshot. It may even out-sad Sadness… It's some of Austin's more masterful work in a career already lined up with minor classics." Lambgoat informs the masses, "For the few of you that haven't heard TITD at some point, you've most certainly heard something just one step away. Do you like Converge? Austin produced their When Forever Comes Crashing album. How about Lamb Of God? Austin produced New American Gospel. What about that obscure band Mastodon? Well, Mastodon's rhythm section was once TODAY IS THE DAY's rhythm section. Alright, I'm sure you get it. Austin is a lifer, and TODAY IS THE DAY has been a faithful component of our little scene for two decades…" Come on down and get saved!
http://www.todayistheday.us
http://todayistheday.bandcamp.com
http://www.facebook.com/todayisthedayofficial
http://www.southernlord.com
http://southernlord.bandcamp.com
http://www.facebook.com/SLadmin
http://twitter.com/twatterlord