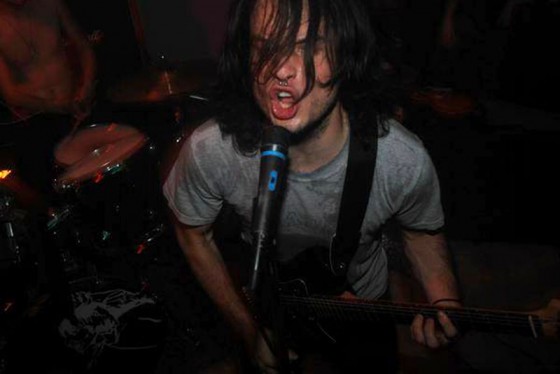 As the Eolian Empire scum breeders prepare their (We've Got) FIENDS IN LOW PLACES: Heavy Vibes Internationale compilation for dispatch in two weeks, Cvlt Nation unloads the tape's inclusion from Brazilian bandits, TIMEKILLER.
(We've Got) FIENDS IN LOW PLACES is the sequel and companion compilation to the (We've Gotta) KEEP OUR HEADS: Heavy Vibes from Portland, Oregon, yet instead of focusing on Portland-based acts as with the label's twenty-nine previous releases, FIENDS IN LOW PLACES marks a new low for the Eolian horde, as its contributions were culled from friends playing off-the-wall heavy music in overlapping scenes internationally. Cvlt Nation now premieres the comp's track from Brazil's unhinged, metallic, crusty rock brigade, TIMEKILLER, the infiltration of Poison Idea, Motörhead, Hookers, Zeke and Obliterations heard in their "Sick Of Myself" ripper.
"Get ready to have your wig pushed back," issues Cvlt Nation, alongside TIMEKILLER's "Sick Of Myself," playing at THIS LOCATION.
Also hit the UK-based MEADOWS' "I Am Gobshite" at Noisey HERE, and Finland's THROAT and their "Clean Cleaner" at The Obelisk RIGHT HERE.
FIENDS IN LOW PLACES will see digital release and on cassette in a run of 333 copies including a download card on February 3rd, 2015. Preorders for the tape are live HERE.
A gnarled calling card with more than fifty minutes of audio, the fifteen stark, aggressive, noise-laden tunes on FIENDS IN LOW PLACES are worked over with smarts and wicked humor on this compilation of exclusive tracks. With contributions from THROAT (Finland), ARABROT (Norway), HEALTH PROBLEMS (USA), MoE (Norway), THE GREAT SABATINI (Canada), DEAD (Australia), BASTARD OF THE SKIES (England), HOMBRE MALO (Norway), SAME-SEX DICTATOR (USA), TEEPH (USA), CYBERNE (Japan), TIMEKILLER (Brazil), ELEPHANT RIFLE (USA), BATPISS (Australia), and MEADOWS (England), the comp is a wild trip through twisted noise rock, bludgeoning sludge, psychotic metal, blackened hardcore, and damaged punk, with each act's warped worldview in full effect.
http://timekillerpunx.bandcamp.com
http://eolianempire.com
http://facebook.com/eolianempire
http://twitter.com/eolianempire