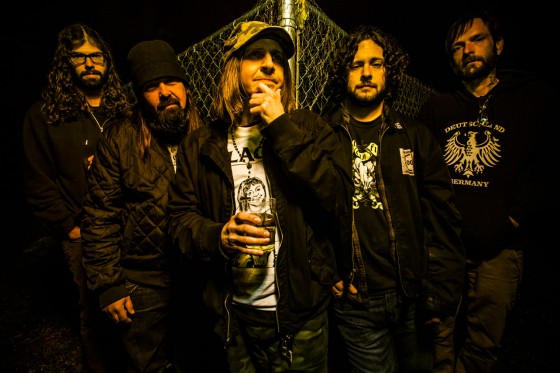 [photo by Danin Drahos]
Louisiana volume dealers, EYEHATEGOD, are readying for another bout of live demolitions this month commencing with a set of California rumblings through Bakersfield, Lancaster, Long Beach, San Luis Obispo and Fresno. From there, the band will head east to sonically traumatize Boston, Massachusetts, Clifton, New Jersey, Brooklyn, New York for two nights and a very special show in Baltimore, Maryland with the Cro Mags, Saint Vitus and Misery Index!
EYEHATEGOD:
1/22/2015 Jerry's Pizza & Pub – Bakersfield, CA
1/23/2015 Moose Lodge – Lancaster, CA
1/24/2015 Alex's Bar – Long Beach, CA
1/25/2015 Sweet Springs Saloon – San Luis Obispo, CA
1/26/2015 Strummers – Fresno, CA
2/04/2015 Brighton Music Hall – Boston MA
2/05/2015 The Clash Bar – Clifton, NJ
2/06/2015 Saint Vitus – Brooklyn, NY
2/07/2015 Saint Vitus – Brooklyn, NY
2/08/2015 Ottobar – Baltimore, MD w/ Cro Mags, Saint Vitus, Misery Index
EYEHATEGOD continues to tour in support of their chart-topping, self-titled studio offering and first full-length in nearly fifteen years. Commended for its, "brilliant riffs," and, "barely contained aural violence," and deemed, "a worthy addition to the band's already impenetrable legacy," by Stereoboard, the record was unleashed last May via Housecore and continues to floor the masses, placing among year end lists globally including the coveted #1 spot of Spin's 20 Best Albums Of 2014 who gushed, "The self-titled slab is as nastily heavy as anything they recorded back in the '90s, dosed with added perspective, instant-classic black-tar blues riffs, and a heady dose of vocalist Mike IX Williams' trademark surrealist protest poetry." Snagging the #14 spot of their Best Metal Albums Of 2014, Pitchfork opined, "The classic New Orleans group's first record in 14 years, which comes after Katrina and various personal tragedies, ranks with the best of their over-driven punked-up sludge blues," while Decibel placed the record at #30 of their Top 40 Albums Of 2014 noting, "we've been privy to a few outstanding comeback albums lately, but EYEHATEGOD's scabrous mix of leaden harcore punk felt the most desperate – in the best possible way," further applauding its, "deranged, almost possessed fervor." Elsewhere, EyeHateGod earned the #14 position on Wondering Sounds' 25 Best Metal Albums Of 2014 who championed a, "symphony of sickness from five ill-fated souls who've suffered the wrath of drug addiction, industry hardships, natural disasters and the death of band mates and friends," #8 on OC Weekly's 10 Best Metal Albums Of 2014 praising the band's eclectic, "Southern influenced, doomy, stoner metal mix of equal parts Black Sabbath, Motorhead, Trouble, Black Flag and the Melvins that many newer bands often emulate, but none can replicate," and #2 on Exclaim's Top Ten Metal And Hardcore Albums Of 2014 who crowned EyeHateGod the band's, "best material of their 25-year career."
Over two-and-a-half decades, EYEHATEGOD have helped define the NOLA sound: down-tuned, blues-inflected guitars awash in furious distortion, underpinning the tormented screams of Mike IX Williams over a thundering rhythm section. Though it was a long time between riffs, EYEHATEGOD reemerged stronger and more determined than ever before. EyeHateGod personifies desperation and addiction in the various backwaters of forgotten America, punctuated by the "N'awlins" sound of rebellion and pollution resulting in triumph over adversity. EyeHateGod is an exclamation mark on an already storied career, a statement of rebirth, catharsis, self-preservation and a sign of things to come.
Order EyeHateGod via Housecore Records HERE.

http://www.eyehategod.ee
http://www.facebook.com/OfficialEyeHateGod
http://www.thehousecorerecords.com