Decibel Magazine is now streaming Vortex 6 – a full-length instrumental split album between Baltimore's THOUGHT EATER and West Virginia's IRON JAWED GURU – in its entirety, as the record is prepped for release next week through Grimoire Records.
As with all Grimoire Records releases, both sides of Vortex 6 were tracked by label owner Noel Mueller in his Maryland-based home studio about a month apart from each other. While not originally planned as a split, the two recordings seemed like a great match, so the label introduced the two bands and the decision to unite the recordings was made immediately.
THOUGHT EATER collectively offers on their half of the split, "Some of the riffs on Vortex 6 were inspired by the concept of twelve-tone composition… In a tone row, all twelve notes of the chromatic scale are played before repeating one of the notes. While most of the riffs do not exactly follow this composition technique, we were able to apply this concept in a general sense to expand the tonality of the riffs. Also, Black Sabbath."
IRON JAWED GURU issues of their contributions to the record, "We're more of the ham-fisted power chord thing. We recorded these songs with Noel in a fun six-hour session after a killer show we played in Fredrick, Maryland. A few of these tunes could be considered B sides to Mata Hari as they were written shortly after recording our first EP for Grimoire."
Decibel Magazine is now hosting an early stream of the entire Vortex 6 experience; stream it at THIS LOCATION.
Vortex 6 will see digital and CD release on October 21st; preorders are available HERE.
Side A of Vortex 6 introduces THOUGHT EATER, a brand new three-piece instrumental band featuring a twelve-string bass through a big muff. This monstrosity is a standard bass with three of everything, producing a bizarre double-vision effect on every note. Uniquely hypnotic riffs reminiscent of High On Fire and Mastodon along with Black Sabbath-esque tempo changes are woven into angular, odd-time compositions. Prior to forming THOUGHT EATER, bassist Darin Tambascio was a founding member of the prog metal two-piece National Sunday Law and Graviton, which featured both members of NSL and Sacha Dunable from Intronaut.
Side B houses the new works by instrumental power duo IRON JAWED GURU, back with their second release through Grimoire in 2016. True to Mata Hari form, their "Killer stoner rock riffs" [Two Guys Metal Reviews], are woven into epic compositions reminiscent of Kyuss and Russian Circles. They too employ a novel technique to thicken up their sound, running their guitar through an array of different amps and octavers to create a mammoth wall of sound with a paradoxically clean edge.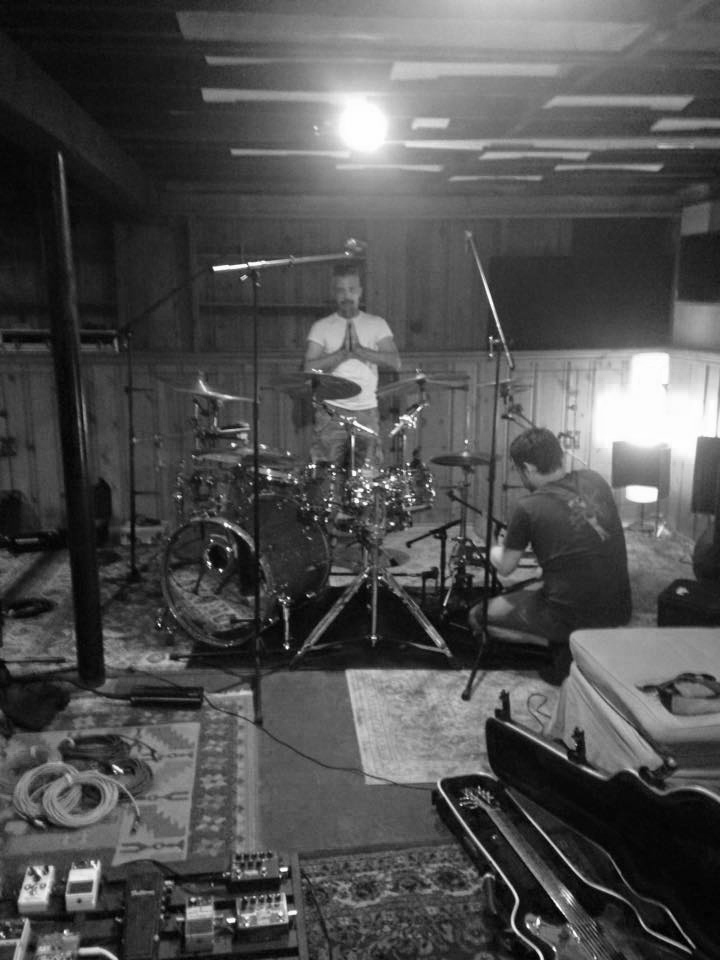 http://www.facebook.com/IJGrock
http://www.facebook.com/thoughteaterband
http://grimoirerecords.bandcamp.com
http://www.facebook.com/GrimoireRecords