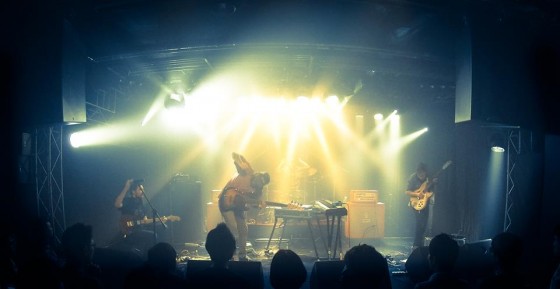 American post-rock exhibitionists THIS WILL DESTROY YOU are pleased to announce the release of Live in Reykjavik, Iceland later next month. Captured at Harpa Concert Hall, the mammoth offering features eleven gorgeous live renditions of material spanning across Young Mountain, S/T and Tunnel Blanket. Live In Reykjavik, Iceland was engineered by Finnur Hákonarson, mixed by Alex Bhore and Charlie Vela and mastered by Alan Douches and will be issued as via Magic Bullet a triple LP, double CD, and digital allowing fans to truly experience THIS WILL DESTROY YOU in a far more textured and visceral live environment. First pressings of the LP will come in white, grey and black vinyl.
Live In Reykjavik, Iceland Track Listing:
01. A Three Legged Workhorse
02. There are Some Remedies Worse Than the Disease
03. Black Dunes
04. Burial on the Presidio Banks
05. Glass Realms
06. Communal Blood
07. Quiet
08. They Move on Tracks of Never-Ending Light
09. Little Smoke
10. The Mighty Rio Grande
11. Threads
THIS WILL DESTROY YOU began in earnest during the mid-'00s in San Marcos, Texas, their initial sound a logical destination point for four friends that had been playing in a variety of bands together throughout their teens. In 2005, the group began writing and recording what was intended to be a simple six-song documentation of where they were at musically. Instead, that demo became Young Mountain, THIS WILL DESTROY YOU's debut full-length, released through Magic Bullet.
From then on, the trajectory of THIS WILL DESTROY YOU became meteoric in arc and path. Acclaim from critics and fans alike came pouring in seemingly overnight (Rock Sound Magazine bestowed "Album of the Year 2006" honors on Young Mountain). The songs quickly found marriage to various licensing projects across film, television, web, and video projects the world over. Even the Pentagon was caught up in the hysteria, using two songs in a disaster preparedness presentation held before the nation's top military brass in the wake of New Orleans' catastrophic Hurricane Katrina. Suddenly, the choice between band and "real life" became not so clear for all involved.
After some domestic touring, the band record S/T, 2008's follow-up full length. Upon its release, THIS WILL DESTROY YOU cycled through countless days on tour both domestically and abroad, pausing only to issue a handful of EPs. As day after week after month after year piled up on the road, the rigors and alternate reality of touring life began to take its toll. Where once stood young men simply excited about exploring the world for the first time, now loomed grizzled veterans with worn out passports, broken bodies, darkened minds, and an existentialism that would crush even Camus. Relationships failed miserably, family and friends either drifted and/or passed away, and "home" became a far more abstract concept than in years prior.
It was amidst this darkened age of despair and equilibratory destruction that the band began to create an entirely new strain upon the trademark sounds that defined Young Mountain and S/T. Nocturnal writing sessions begat entirely sinister, yet simultaneously emotional passages. Tunnel Blanket is their third full-length proper. While previous albums managed to strike a universal chord of human hope and near-optimism toward the future, Tunnel Blanket is the darker and more intricate sides of human emotion, grief, and tragedy. It's "pretty" in the way decomposition is pretty; "artful" in the precise way that a sniper's bullet passes through the largest artery is artful.
Live In Reykjavik, Iceland cultivates some of the most epic moments of each album into one otherworldly soundscape of eloquent despair.
Live In Reykjavik, Iceland will be released digitally on October 22, 2013 and on triple-LP and double-CD on October 29, 2013 via Magic Bullet Records.
http://www.facebook.com/thiswilldestroyyou
http://www.magicbulletrecords.com