Tomorrow. Denver derelicts, CALL OF THE VOID, will embark upon a massive run of live takeovers. Joined by labelmates Ringworm and Howl on select dates, the onstage audio lashings begin in Lincoln, Nebraska and will slaughter its ways through nearly 30 cities including a stop at the Delaware Death Fest next month.
Additionally, CALL OF THE VOID will bring their ruckus to Denver Black Sky. Founded by legendary Skinless throat Sherwood Webber, the three-stage event will be held on December 14th, 2013 and feature a debilitating lineup of: Dying Fetus, Ghoul, Exhumed, Skinless, Speedwolf, Power Trip, Mammoth Grinder, Reproacher, Weekend Nachos, Iron Reagan, Axeslasher, Primitive Man, Vimana, Of Feather And Bone, Native Daughters, Black Sleep Of Kali, Dead Temple and Flight Of Sleipnir.
CALL OF THE VOID will be touring in support of their Dragged Down A Dead End Path full-length released earlier this year via Relapse Records. Applauded for its "legitimate, misanthropic emotion," by Popmatters and commended by Pitchfork for further proving that Denver is "a hotbed of serious vitriol and passion," Dragged Down A Dead End Path meticulously weaves grind, crust and hurt feelings into 25+ minute onslaught of riotous discontent.
Order a physical copy of Dragged Down A Dead End Path HERE or a digital version via iTunes HERE.
CALL OF THE VOID
9/25/2013 Bourbon Theater– Lincoln, NE w/ Windhand, Vickers
9/26/2013 The Hexagon – Minneapolis MN w/ Ambassador Gun
9/27/2013 The Cobra Lounge – Chicago, IL w/ Pig Champion
9/28/2013 The Rockery – Wyandotte, MI w/ Dead Church
9/29/2013 Kopec's – Pittsburgh, PA w/ Meth Quarry, Wrought Iron, Sistered
9/30/2013 Ottobar – Baltimore, MD w/ Asthma Castle
w/ Ringworm, Howl
10/01/2013 Bogies – Albany, NY
10/02/2013 Great Scott – Boston, MA
10/03/2013 Saint Vitus – Brooklyn, NY w/ Noisem
10/04/2013 Delaware Death Fest – Wilmington, DE w/ Dying Fetus, Exhumed, Howl, Noisem, more…
10/05/2013 Greene St. – Greensboro, NC
10/06/2013 Earl's – Atlanta, GA
10/07/2013 Cypress – Metairie, LA
10/08/2013 Downtown Music – Little Rock, AR
10/09/2013 The End – Nashville, TN
10/10/2013 Indy's Jukebox – Indianapolis, IN
10/11/2013 Paycheck's Lounge – Hamtramck, MI
10/12/2013 Annabells Lounge – Akron, OH
CALL OF THE VOID
10/14/2013 Error Records – Champaign, IL
10/15/2013 The Hatch – Evansville, IN w/ The Greenery, Illustrations
10/18/2013 Missouri Gateway To The West Fest @ Fubar – St. Louis, MO
10/20/2013 Whiskey Bar – Lousiville, KY w/ Primitive Man
10/21/2013 Fubar – St. Louis, MO w/ Primitive Man
10/22/2013 Redeemer Church -Cedar Falls, IA
11/22/2013 Bluebird Theater – Denver, CO w/ Morbid Angel, Kill Syndicate
12/14/2013 Denver Black Sky @ Gothic Theater – Denver CO w/ Dying Fetus, Exhumed, Primitive Man, more…
"…one of the best aggressive releases of the year," – Exclaim!
"With a raw, messy sound drenched in over-amped guitars and driven by pure bile, they channel grindcore and Iron Monkey-esque sludgy unpleasantness and with each track – the longest topping out at 3:44 – they go off in a half dozen directions without ever losing their focus on destroying everything close by." – Outburn
"Dragged Down A Dead End Path is home to ten short and definitely not sweet li'l toe-tappers that straddle the line between blown-out crust fury, rough-as-a-bears-arse hostile hardcore and more than a touch of the rusted-razor-edge swampy tones of the more aggressive end of sludge – think Soilent Green without the tech inclinations perhaps." – The Sludgelord
"…powerful, harsh crust grind at its fucking finest…" – American Aftermath
"It's apparent that CALL OF THE VOID have written an album that will cling to fans of crust, d-beat, and hardcore like a symbiote to its host. A crushing, unforgiving album that offers little room for rest and more time for causing a ruckus." – Sputnik Music
"CALL OF THE VOID are callous, loud and, although it sounds like an antonym, sagacious, let's hope they don't change any time soon." – HeavyBlogIsHeavy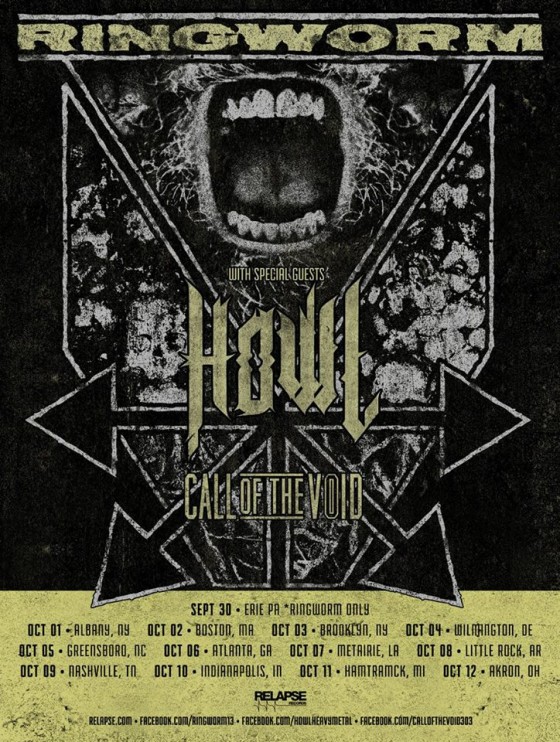 https://www.facebook.com/CalloftheVoid303
http://www.CallofTheVoid303.bandcamp.com
http://www.CallofThevoid.bigcartel.com
http://www.relapse.com
http://relapserecords.bandcamp.com
http://www.facebook.com/RelapseRecords