Brazilian death metal unit THE TROOPS OF DOOM recently released their "Whispering Dead Words" video. The track comes off the band's The Rise Of Heresy EP, released last Fall.
THE TROOPS OF DOOM features guitarist Jairo "Tormentor" Guedz, a former member of Sepultura's original lineup playing author and co-author to classic Sep albums Bestial Devastation and Morbid Visions in addition to collaborating on some of the compositions that appear on Schizophrenia. Joining Guedz is bassist/vocalist Alex Kafer (Enterro, Explicit Hate, ex-Necromancer), drummer Alexandre Oliveira (Southern Blacklist, Raising Conviction), and guitarist Marcelo Vasco (Patria, Mysteriis, acclaimed graphic artist for the legendary likes of Slayer, Kreator, Machine Head, Soulfly, and Hatebreed). THE TROOPS OF DOOM's goal is to revisit the essence of '80s style death metal, exploring a more primitive sound that takes listeners back to that era, while remaining fresh and genuine.
Comments Guedz, of "Whispering Dead Words," "We abused our poetic license and the conditions we had for the production of the video because, like all the processes we have carried out since the creation of the band, we do not escape the rule of exploring resources and internet tools so that everything could be done and completed at a distance."
The "Whispering Dead Words" script briefly tells the story of a priest with his spirit in conflict for having murdered his authoritarian and radically religious mother. The story finds him burying the body, already decomposing, in the garden at the back of his house. The priest is tormented by his mother's obsessive spirit, who whispers words in his ear for days, forcing him to take all the risks when he unearths his remains. At the end of the process, the dead mother causes the priest to regret everything and surrender to his destiny to clear his conscience.
"It was a great pleasure to work on this process, with the help of Edu Nascimento and his own mother, who acted in the role of the priest's mother, in addition to Wagner Moura, playing the priest. I cannot fail to mention the makeup artist and wife from Edu, Sabrina, and the editors and producers (Gema KrioK Filmes and Criatoriom Ideias). Finally, doing my first job as a screenwriter was nice."
View THE TROOPS OF DOOM's "Whispering Dead Words" at THIS LOCATION.
View the band's previously released lyric video for first single, "Between The Devil And The Deep Blue Sea," at THIS LOCATION.
The Rise Of Heresy, which features four original songs and two cover versions of Sepultura classics, "Bestial Devastation" and "Troops Of Doom," was mastered by Øystein G. Brun (Borknagar) at Crosound Studio in Norway.
The Rise Of Heresy is out now on CD, LP, cassette, and digital formats. For CDs in the US, go HERE. For CDs and vinyl in EU, go HERE. For cassettes in EU, go HERE and for digital ordering options, go HERE.
"Guedz and fellow guitarist Marcelo Vasco dole out mean, mid-paced death metal that cycles between foreboding and downright groovy, making sure things continue to move along; the rhythm section of bassist/vocalist Alex Kafer and drummer Alexandre Oliveira really drives the point home–when the grooves hit, it's hard not to bang your head." – Decibel Magazine
"The band intentionally hearken back to the evil, thrashy, proto-death metal sounds of early Sepultura (and to Sepultura's own influences from back then, like Celtic Frost), and [they] do it with extreme conviction." – BrooklynVegan
"…a brilliant balance between present day largeness and the simpler charms of a bygone era in death metal. To those who've been longing for the days when Sepultura used groove sparingly and stuck to the old horror aesthetic, this is what you've been waiting for, and hopefully more will be to come in the near future." – Sonic Perspectives
"If darkness is what you seek, then take thy hand and walk into the forbidden land. This is so good it'll make ya dig out your old battle vest, dust off the death, and smear blood in ballroom slaughter." – V13
"…a demonic thrash attack with killer riffing and bombastic drum work." – Brave Words
"…fast and furious old-school death/thrash that takes no prisoners…Words cannot do this EP justice, so hear them out for yourself." – The Metal Crypt
"a hugely enjoyable listening experience that serves as an appealing precursor to (hopefully) a full-length release and make old school Sepultura fans veritably weep with joy." – The Sleeping Shaman
"…viciously powerful and instantly enjoyable…" – The Razor's Edge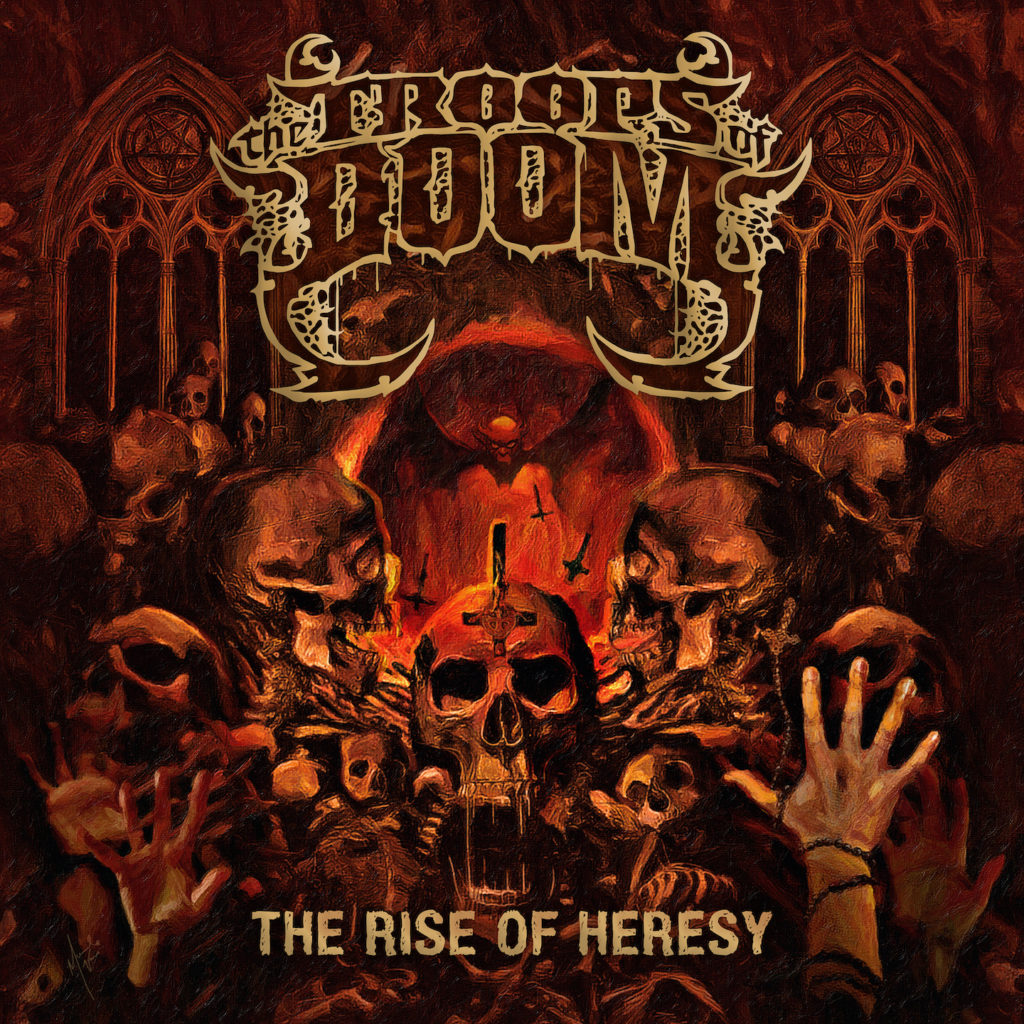 http://www.facebook.com/thetroopsofdoom
http://www.youtube.com/thetroopsofdoom
http://www.instagram.com/thetroopsofdoom/
http://www.bloodblast.com
http://www.facebook.com/BloodBlastDistribution
http://www.instagram.com/bloodblastdistribution