Australian grind faction KING PARROT will join Philip H. Anselmo And The Illegals' A Vulgar Display Of Pantera livestream next week! Set to take place April 9th, KING PARROT will open the show with what's sure to be a high octane set of grit, grind, and good times.
Comments vocalist Matt "Youngy" Young, "It's been a long time between blastbeats, but KING PARROT are excited to finally get back to doing what we do best, grinding out brutal tunes that make your ears bleed. Joining Phil and The Illegals for a one off livestream event from opposite sides of the globe is sure to be a blast! It'll be the first time we've performed in over twelve months and we'll be firing on all cylinders to make sure this is something special!"
The festivities commence at 7:00pm EDT / 4:00pm PDT. Video on demand will be available through Monday, April 12th at 11:59pm EDT / 8:59pm PDT.
Don't miss it! Today (Friday, April 2nd) is your last chance to grab your $12.50 early bird ticket! ($17.50 week of show). Find tickets and exclusive merch bundles at illegalslive.com.
View a special video message from KING PARROT HERE.
KING PARROT's limited-edition seven-inch EP, Holed Up In The Lair, was released last Fall via Anselmo's own Housecore Records in North America. Titled in homage to Anselmo's legendary Nodferatu's Lair recording studio in Louisiana where it all came to life over four days off while on tour in 2017, the EP was engineered by Steve "Big Fella" Berrigan and includes guest vocals from Anselmo on the track "Nor Is Yours." Stream KING PARROT's Holed Up In The Lair at THIS LOCATION.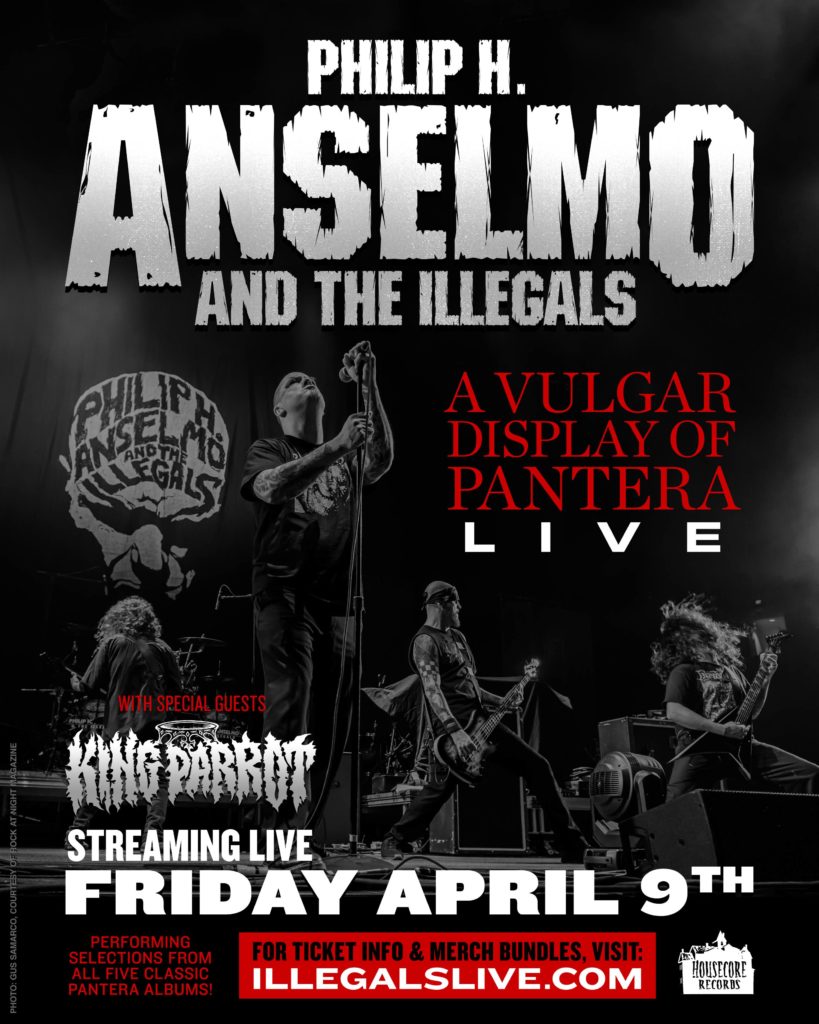 http://www.kingparrot.net
http://www.facebook.com/kingparrotband
http://twitter.com/kingparrotband
http://www.instagram.com/kingparrotband
http://www.thehousecorerecords.com
http://www.facebook.com/housecorerecords
http://www.instagram.com/housecorerecords