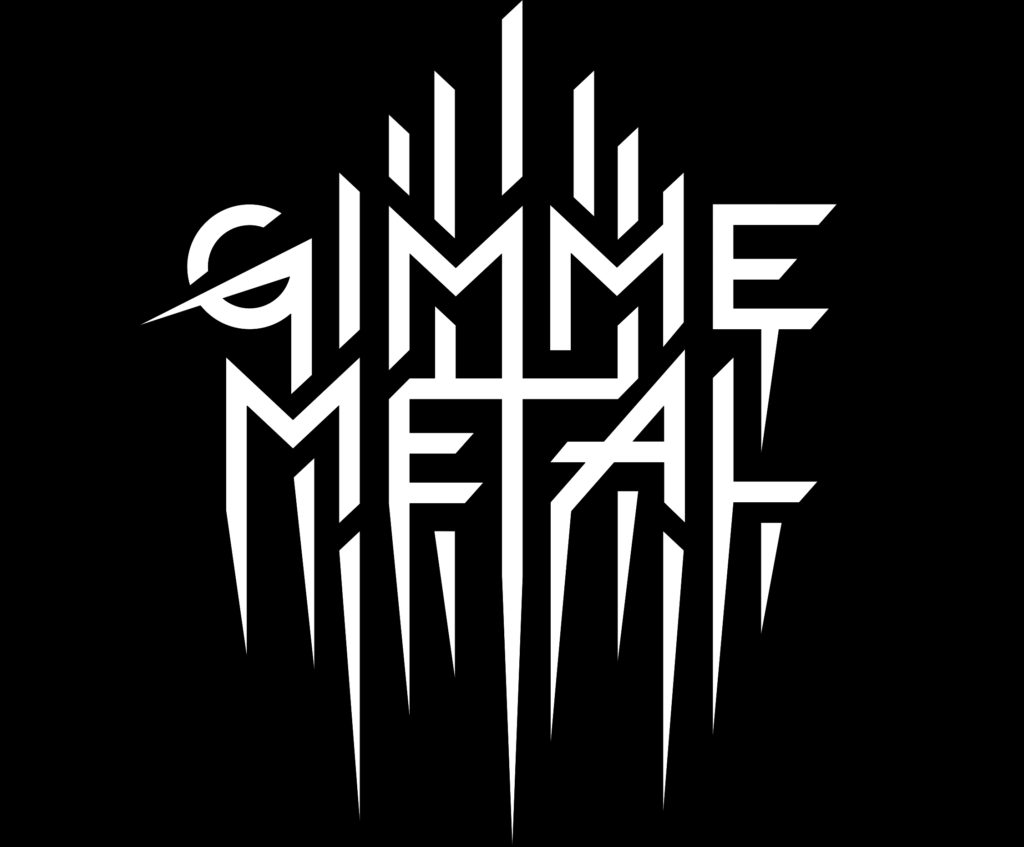 Each week, GIMME METAL publishes its radio chart listing the top 40 tracks played on the station. Already the best metal discovery service online, the GIMME METAL chart is a powerful tool for listeners, labels, and artists for staying up to date on the best new metal released by established greats and up-and-coming underdogs, all handpicked by GIMME's knowledgeable DJ roster and editorial team.
GIMME METAL Chart – April 5th, 2021:
Fuath – "Into the Forest Of Shadows"
Wode – "Fire in the Hills"
Genghis Tron – "Ritual Circle"
Evile – "Gore" (featuring Brian Posehn)
Terror – "Not This Time" (Trapped In A World Sessions)
Monster Magnet – "Mr. Destroyer"
Amon Acid – "Overlord"
Gojira – "Another World"
Krallice – "Folds of Plasma"
Genghis Tron – "Pyrocene"
Click HERE for the full Top 40 List.
This week on GIMME METAL: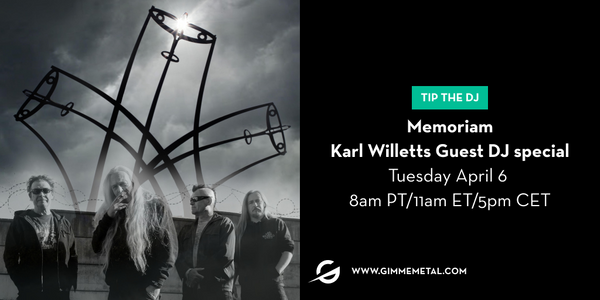 Memoriam Guest DJ Special – To celebrate the release of Memoriam's fourth LP To The End, out now on Reaper Entertainment, GIMME METAL welcomes the one and only Karl Willetts! Legendary throat shredder for Bolt Thrower from 1988-1994 and 2004-2016, Willetts' influence on UK and international metal can not go understated. After founding Memoriam with Benediction bassist Frank Healy, the band has torn it up at full throttle with its inimitable style of death metal, releasing a stream of LPs culminating with this latest blaster. Welcome Memoriam to GIMME METAL!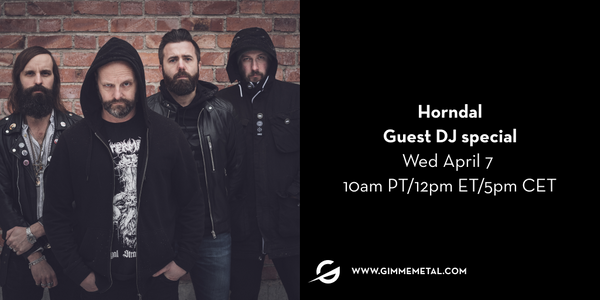 Horndal Guest DJ Special – Distinctly Scandinavian, Horndal fuses the driving rhythms unique to the best of Swedish forward-thinking hardcore whilst preserving the venom of their punk scene alongside the heaviness of the country's finest. But it's in the song-writing that Horndal truly excels, effortlessly weaving their narrative of urban decay into their dynamic and immediate fist-to-the-face anthems. Welcome the band for their GIMME METAL DJ takeover this Wednesday and grab their latest LP Lake Drinker out April 9th on Prosthetic Records.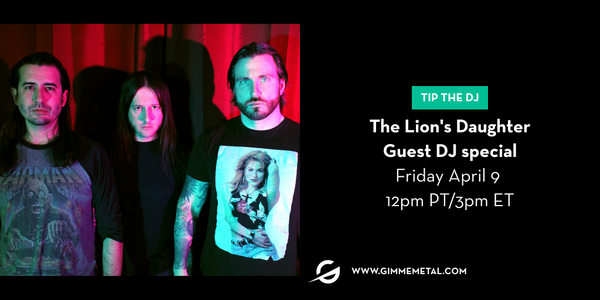 The Lion's Daughter Guest DJ Special – For the first part of their career, The Lion's Daughter was deeply rooted in blackened sludge metal. However, when it came time for album number three, the St. Louis trio abandoned all tradition and traversed into new territory through bold experimentations. The resulting Future Cult is a synth-laden metal record that could easily serve as the score to a Dario Argento film. Now, the band picks up where it left off, with Skin Show, out on Season Of Mist, marking a new direction that cannot be labeled or defined. GIMME METAL welcomes the band to their first ever guest DJ special. Dig in and chat live!
Coming soon to GIMME METAL TV:
Friday Night Thrash Attack – End the week with a Thrash Attack! From 4:00pm PT / 7:00pm ET on, GIMME METAL TV will be showing thrash metal music videos, a thrash-themed Metal Injection collection, and a re-airing of The Rise Of L.A Thrash 1 and 2! Thrash fans, get ready to tear your living room apart Friday with this relentless thrash blast!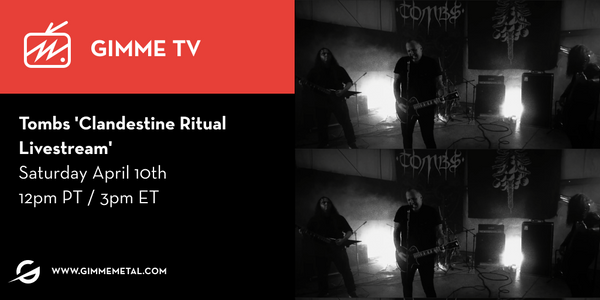 Tombs' Clandestine Ritual Livestream – Start your weekend off with a killer live performance! GIMME METAL TV will be airing Tomb's Clandestine Ritual livestream so if you missed it in February, now is your chance! This professionally shot and mixed livestream features material from the band's critically hailed 2020 LP Under Sullen Skies, in addition to ripping live versions of material from Monarchy Of Shadows and All Empires Fall.
GIMME METAL TV runs 24/7 giving you unlimited music videos, interviews, live performances, and other amazing clips and shows from Metal Injection as well as your favorite metal bands and artists! With Apple Airplay and Google Chromecast features, you can cast it to your TV or laptop! Tune into GIMME METAL TV HERE!
Upcoming on GIMME METAL:
4/16 Exciter
4/20 Bongzilla 420 Special
4/23 Tank Crimes Label Special
4/26 Celestial Sanctuary
4/27 Vreid
4/27 GIMME 5 w/ DJ Jet feat. Trollfest, Cryptosis, Bodom After Midnight, and more
4/28 Carbonized Label Special
4/30 Unique Leader Label Special
4/30 King Fowley
5/01 Capra
5/05 Evile
5/06 Domkraft
5/07 Molten
5/10 Akiavel
5/11 Metal Sydney
5/12 Funeral Leech
5/24 Possessed
5/25 Colin Marston's Lockdown Year Special
5/26 Monster Magnet
5/28 Autumn For Crippled Children
Don't miss it! Visit GIMME METAL: http://gimmemetal.com.
About GIMME METAL:
Founded by digital music veterans from Apple Music, Google Play, Beats Music, and Napster, parent company GIMME Radio builds highly engaged communities for the passionate fan on a genre-by-genre basis. The company launched its first community in June of 2017: the world's first 24/7 metal-focused service. Fans tune in to hear world class DJs playing metal they can't hear anywhere else – for free. The GIMME METAL app and streaming radio service allows the fans and the DJs/artists to communicate directly with one another in a live feed, in real-time, while they listen. Its roster of 70-plus DJs includes Dave Mustaine of Megadeth, Jessica Pimentel, star of Orange Is The New Black, Brian Posehn, and Randy Blythe of Lamb Of God, among many others.
http://gimmemetal.com
http://www.facebook.com/gimmemetal
http://twitter.com/gimmeradio
http://www.instagram.com/gimmeradio