Doom rock icons THE OBSESSED will kick off their long-anticipated US tour this week as direct support to Today Is The Day. The band will join the tour on Thursday February 27th in Providence, Rhode Island through March 8th in Atlanta, Georgia. From there, the band will play two headlining shows in Columbia, South Carolina and Richmond, Virginia respectively before joining back up with Today Is The Day April 4th and 5th in Rochester, New York and Manchester, New Hampshire with additional support from Child Bite. See all confirmed dates below.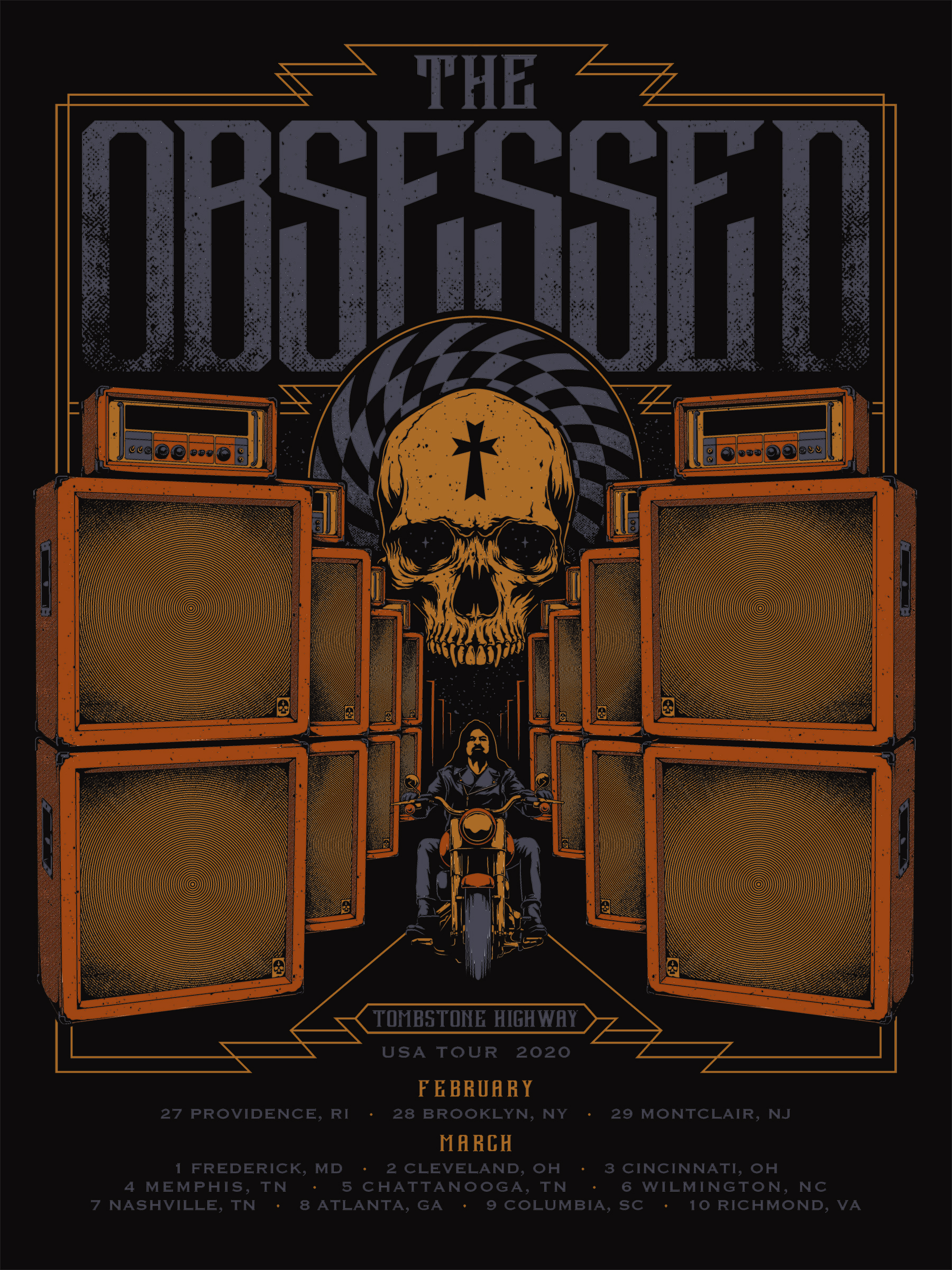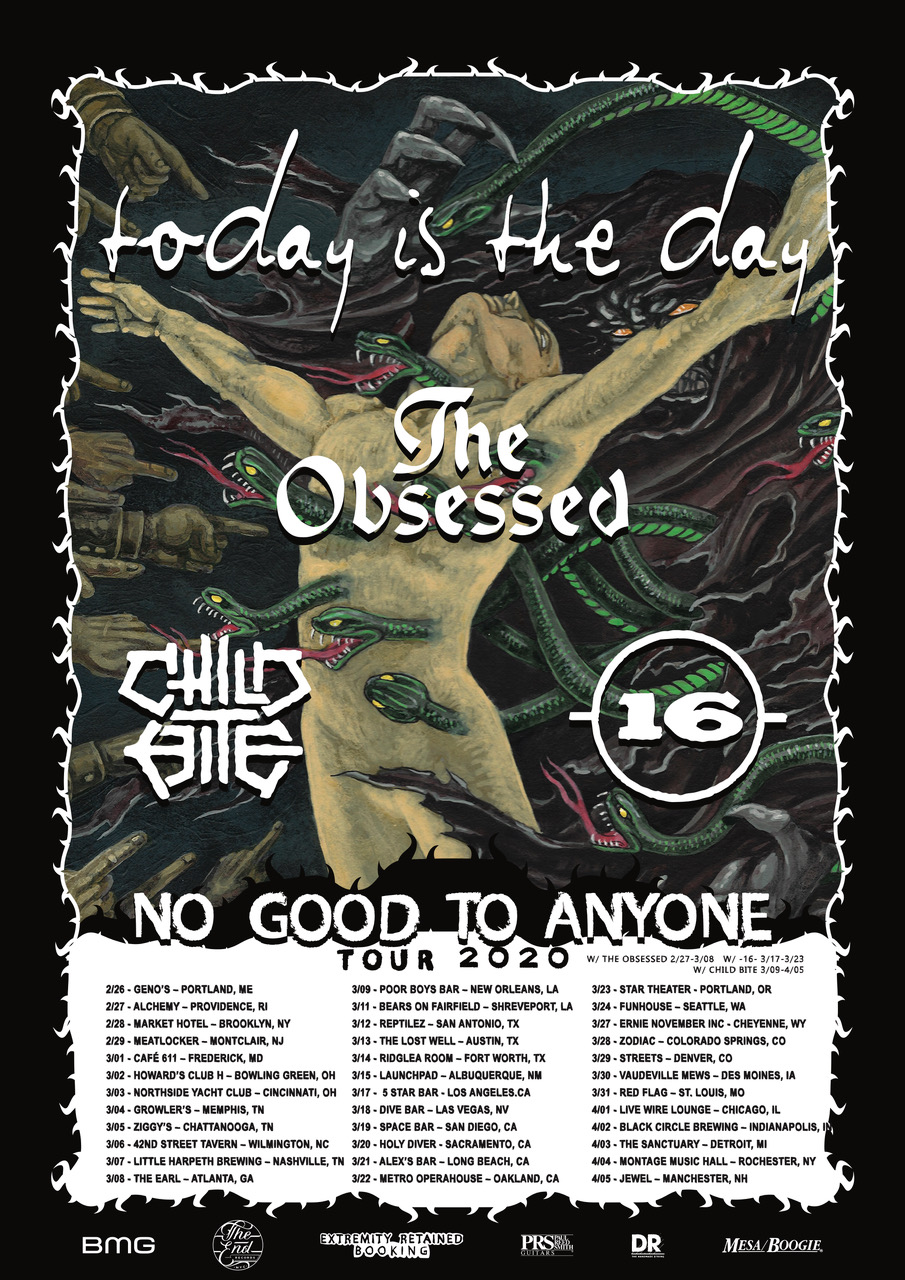 THE OBSESSED w/ Today Is The Day:
2/27/2020 Alchemy – Providence, RI
2/28/2020 Market Hotel – Brooklyn, NY
2/29/2020 Meatlocker – Montclair, NJ
3/01/2020 Café 611 – Frederick, MD
3/02/2020 Now That's Class – Cleveland OH
3/03/2020 Northside Yacht Club – Cincinnati, OH
3/04/2020 Growler's – Memphis, TN
3/05/2020 Ziggy's – Chattanooga, TN
3/06/2020 Reggies 42nd Street Tavern – Wilmington, NC
3/07/2020 Little Harpeth Brewing – Nashville, TN
3/08/2020 The Earl – Atlanta, GA
3/09/2020 New Brookland Tavern – Columbia, SC * THE OBSESSED only
3/10/2020 Wonderland – Richmond, VA * THE OBSESSED only
4/04/2020 Montage Music Hall – Rochester, NY w/ Today Is The Day, Child Bite
4/05/2020 Jewel – Manchester, NH w/ Today Is The Day, Child Bite
In 2017, THE OBSESSED unleashed Sacred, the band's first studio album in in over 20 years. Sounding heavier and more relevant than ever before, on Sacred, the band doubles down on enormous, heaving riffs, and pummeling low-end across twelve tracks of eternal doom. Rounded out by legendary guitarist/vocalist Scott "Wino" Weinrich's lyrical honesty and iconic throaty vocals, Sacred is an album that further pushes THE OBSESSED into the annals of heavy metal history.
The band followed Sacred with a special remastered edition of their now-legendary self-titled debut. Originally released in 1990 and out-of-print for almost two decades, the collection boasts previously unreleased bonus tracks, including the highly sought after four-track Concrete Cancer demo (1984), expanded artwork, never-before-seen photos, and extended liner notes from frontman Scott "Wino" Weinrich making for a true piece of doom rock history.The deluxe 2xCD version of the record includes a bonus disc containing the Concrete Cancer demo as well as a full live set from 1985 in Washington, D.C..
THE OBSESSED currently features Weinrich alongside drummer Brian Costantino, and bassist Brian "Wendy" White (Dog Fashion Disco)
"Scott 'Wino' Weinrich bringing THE OBSESSED back is assurance that what was sparked inside of him with another in-and-out round with Saint Vitus was no fluke…. This doom troubadour is made of iron and stone, and there's no quit inside of him." – Blabbermouth
"…the definitive take on an album that clearly laid a lot of the ground work for the current doom and stoner rock bands." – Hellbound
"…some of the greatest doom songs ever recorded have come from Wino, and this album more specifically. The album has stood the test of time, and the re-issue was overdue and needed for the new generation of doom metal fans waiting for it." – My Global Mind
"THE OBSESSED will forever remain exalted because of their self-titled LP, a rare lightning rod of an album that helped straighten out doom when it needed it most." – Dead Rhetoric
http://www.facebook.com/TheObsessedOfficial
http://www.Instagram.com/theobsessedofficial
http://www.Twitter.com/theobssesedofc