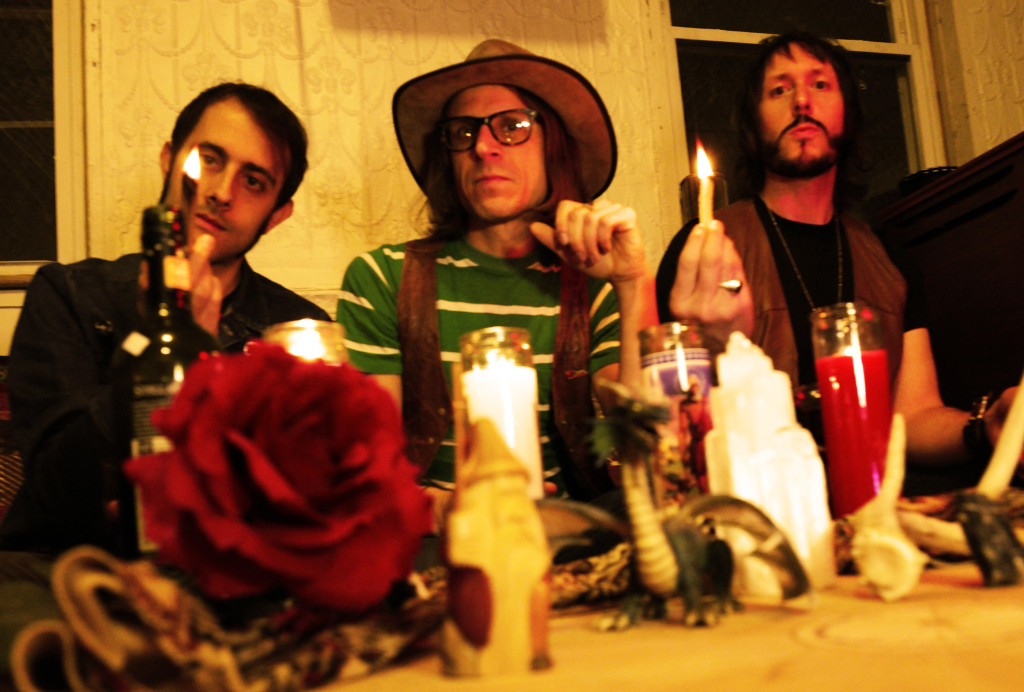 This Friday, Brooklyn, New York-based psychedelic retro rock trio THE GOLDEN GRASS will unveil the jam-laden harvests of their Coming Back Again full-length in North America via Listenable Records.
Captured by Jeff Berner at Galuminum Foil Productions, Coming Back Again delivers a truly soul-capturing audio journey where the epic glory and might of '70s psychedelia, the sun-drenched warmth of Laurel Canyon's golden country/folk era and sheer blues-based Southern rock boogie give way to exploratory landscapes, lysergic prog arrangements and a swinging, jazz touch.
In celebration of its release, today Loudwire is streaming Coming Back Again in its feel-good, transcendent entirety with THE GOLDEN GRASS elaborating in an accompanying interview, "…the current trend of dark music is something that we wanted to react against when we put this band together. There is absolutely no shortage of darkness, sadness, horror, pain, etc. in the world, more so obvious now than ever before in history due to the digital communication age. And to be a conduit and continuation of those dark energies in an artistic way is about the most base and low vibrational response possible. It takes very little effort to reflect more pain and sadness and horror back into the world, but it takes tremendous efforts to find joy and brightness and lightness within yourself and the world and transmute the awfulness of reality into a positive artistic outlook."
Lift your spirits with Coming Back Again courtesy of Loudwire at THIS LOCATION.
Coming Back Again will be available on CD, limited edition colored vinyl and digitally on April 15th in North America and April 22nd in Europe. Preorders are available now at THIS LOCATION.
In conjunction with the release of Coming Back Again, THE GOLDEN GRASS will play a pair of US shows — one in Fawn Grove, Pennsylvania and the other on their home turf of Brooklyn, New York — before bringing their swirling grooves overseas on a month-long European excursion with Travelin Jack on select dates. The trek concludes with an appearance at the legendary Freak Valley Festival. See all confirmed shows below: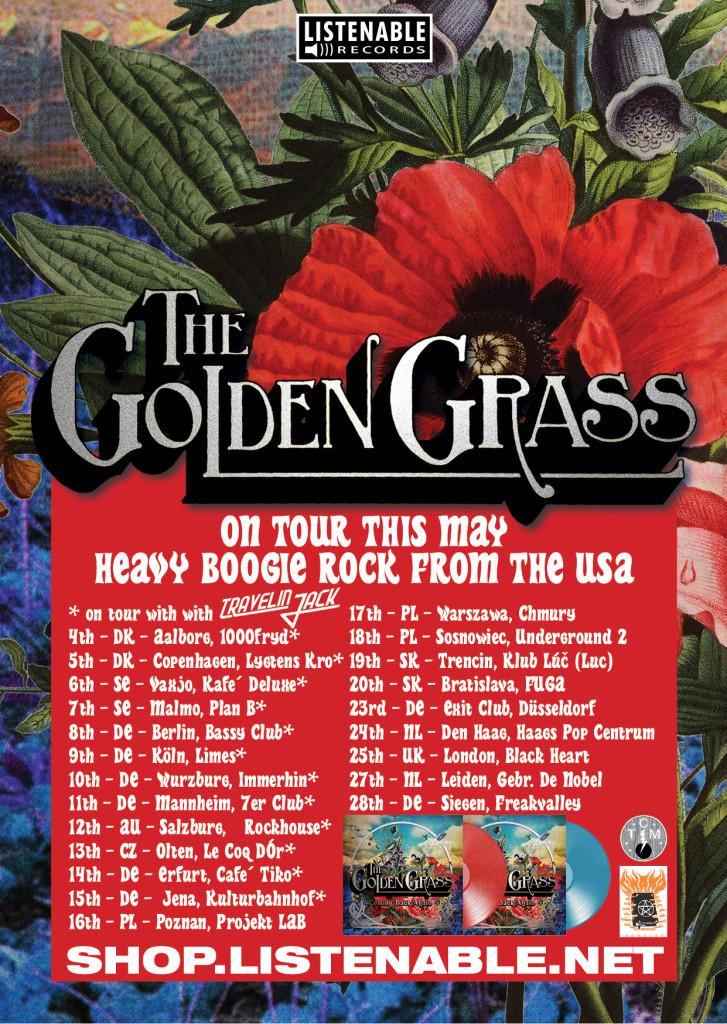 THE GOLDEN GRASS:
4/16/2016 South County Brewing Company – Fawn Grove, PA w/ Mount Carmel, Black Cowgirl, The Magma Move [info]
4/22/2016 Nihil Gallery – Brooklyn, NY w/ Tower * after party for 21 Days Under The Sky NYC screening [info]
5/04/2016 1000 Fryd – Aalborg, DK*
5/05/2016 Lygtens Kro – Copenhagen, DK*
5/06/2016 Kafe Deluxe – Vaxjo, SE*
5/07/2016 Plan B – Malmo, SE*
5/08/2016 Bassy Club – Berlin, DE*
5/09/2016 Limes – Koln, DE*
5/10/2016 Immerhin – Wurzburg, DE*
5/11/2016 7er Club – Manheim, DE*
5/12/2016 Rockhouse – Salzburg, AT*
5/13/2016 Le Coq D'or – Olten, CH*
5/14/2016 Cafe Tiko – Erfurt, DE*
5/15/2016 Kulturbahnof – Jena, DE*
5/16/2016 Projekt Lab – Poznan, PL
5/17/2016 Chmury – Warzawa, PL
5/18/2016 Underground 2 – Sosnowiec, PL
5/19/2016 Klub Luc – Trencin, SK
5/20/2016 Fuga – Bratislava, SK
5/23/2016 Exit Club – Dusseldorf, DE
5/24/2016 Haags Pop Centrum – Den Haag, NL
5/25/2016 Black Heart – London, UK
5/27/2016 Geber De Noble – Leiden, NL
5/28/2016 Freak Valley Festival – Seigen, DE
*w/ Travelin Jack
Influenced by the likes of such American rock legends as The James Gang, The Allman Brothers, and Grand Funk Railroad, the soulful British psych/mod of The Move, The Pretty Things, and The Action, and the heavy umph of Budgie, Blue Cheer and Blackfoot, THE GOLDEN GRASS synthesizes their influences into a seamless, memorable, and high-energy performance that screams from the past but is a welcome and much needed presence in the now.
"Despite the extended length, this is a pretty straightforward, bluesy rocker that brings the likes of Mothership to mind for the first four minutes, before veering off on a jazzy, space-rock interlude. More retro riffs abound on album-closer 'See It Through,' which also throws in some tambourine and warm jazz guitar, coming off kinda like a friendlier Deep Purple." – Hellbound
"Coming Back Again is so much fun, a hard rocking retro ride that any fan of the classic heavy acts of the late '60s and early '70s will certainly fall head over heels for. Spread the word, THE GOLDEN GRASS are the real deal, and this is some mandatory listening right here." – Sea OF Tranquility
"The sound is a heady mix of Steppenwolf, Humble Pie, Cream, Grand Funk Railroad, Blue Cheer, the Amboy Dukes, Spirit, played at maximum volume in a field in the middle of a California summer's day… you get the picture. It's fuzzed up rock, it's psychedelia, it's funky, it's grungy, it's laid back, and it is utterly mesmerizing." – New Hellfire Club
For THE GOLDEN GRASS coverage in North America contact liz@earsplitcompound.com.
http://www.facebook.com/thegoldengrass
http://www.twitter.com/TheeGoldenGrass
http://www.thegoldengrass.bandcamp.com
http://www.listenable.net
http://www.facebook.com/listenablerecs
http://www.twitter.com/Listenable