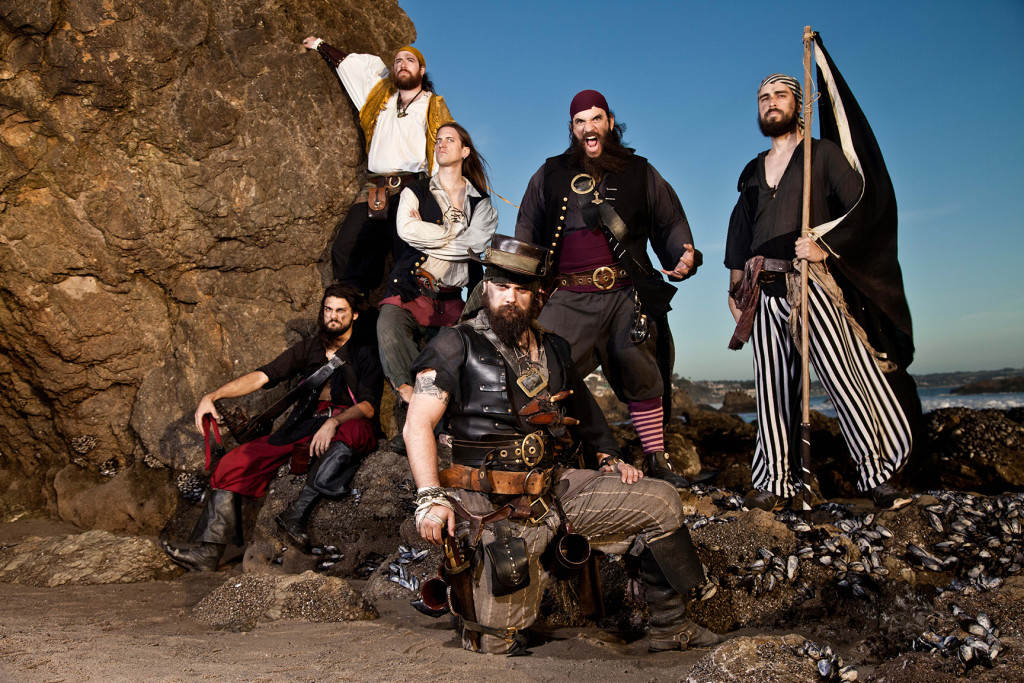 [photo by Flip Cassidy]
California pirate faction, THE DREAD CREW OF ODDWOOD, will embark on the massive Lawful Evil North American tour late next week, which will see the band invading venues and Renaissance Faires across the US and Canada.
THE DREAD CREW OF ODDWOOD is going on the warpath in support of their fourth album, Lawful Evil, which was released earlier this year. The album showcases the band's unique style of heavy mahogany, capturing their relentlessly energetic, dynamic, and entertaining sound in pristine audio, recorded at Seahorse Sound, mixed by Aksu Hanttu (Korpiklaani, Shade Empire). and mastered by Svante Forsbäck (Korpiklaani, Dragonforce, Rammstein) at Chartmakers Audio Mastering. The record bears contributions from several guest vocalists, including Brittney Slayes (Unleash The Archers), Admiral Nobeard (Swashbuckle), and others. The cover art for the album was created by Mark Gibbons (World Of Warcraft, League Of Legends, Warhammer).
THE DREAD CREW OF ODDWOOD's mighty landlocked Lawful Evil North American tour will see the band keelhauling audiences with this grog-soaked barrage in the flesh for thirty-three days between August 12th and September 30th. The itinerary is mixed with a wide array of standard music venues as well as Renaissance Faires. The four Canadian gigs and two in Florida will also see the outfit joined by Wilderun, and the opening show in Los Angeles on August 12th will include a special one-off West Coast set by fellow seafaring cohorts, Swashbuckle.
Declares the outfit's Stark Cordwain on the upcoming raid, "We are returning to some of our favorite North American cities, armed to the beards with fresh acoustic antics! Lawful Evil is coming for you, so crack open a fine whiskey, get ready to party, and hold onto your butts!"
View THE DREAD CREW OF ODDWOOD's riotous "Sulfur" video RIGHT HERE, see the "Dead Man's Medley" play-through at Gear Gods HERE, and stream Lawful Evil in its entirety HERE.
Lawful Evil is available direct from the band on CD HERE and digital HERE, as well through as most digital providers.
Gear Gods offers that Lawful Evil is, "A fully acoustic band playing pirate music that isn't corny or too ren-fair-y – it's just badass." Angry Metal Guy commends the band as, "strong songwriters with a knack for hooks and effective time management." We Love Metal's praise-filled review includes, "The heaviness is there song after song, and although I'm not a big fan of comparing bands to one another, when it comes to THE DREAD CREW think of Dropkick Murphy's drunk; kicking the shit out of Alestorm." Cryptic Rock proclaimed, "Making the audience feel as if they were in the 1500s at a pub filled with rum-drunk pirates, their music was melodic with pounding drums and catchy choruses." National Rock Review dubbed the record, "an entertainingly fun hour of some of the best folk metal you would ever hear," and Toilet Ov Hell commends, "The lack of amps and electric instruments only strengthens the band's throwback sound, allowing all the instruments time to shine."
THE DREAD CREW OF ODDWOOD Lawful Evil 2016:
8/12/2016 Complex – Los Angeles, CA w/ Swashbuckle
8/14/2016 Elbo Room – San Francisco, CA
8/15/2016 Starlite Lounge – Sacramento, CA
8/17/2016 Dante's – Portland, OR
8/18/2016 Funky's – Vancouver, BC
8/19/2016 Funhouse – Seattle, WA
8/20/2016 WMRF – Bonney Lake, WA
8/21/2016 WMRF – Bonney Lake, WA
8/25/2016 Nether Bar – Minneapolis, MN
8/26/2016 Geek.Kon – Madison, WI
8/27/2016 BRF – Kenosha, WI
8/27/2016 McAuliffe's – Racine, WI
8/28/2016 BRF – Kenosha, WI
9/02/2016 Livewire Lounge – Chicago, IL
9/03/2016 BRF – Kenosha, WI
9/04/2016 BRF – Kenosha, WI
9/05/2016 BRF – Kenosha, WI
9/06/2016 Smiling Moose – Pittsburgh, PA
9/07/2016 Sidebar – Baltimore, MD
9/08/2016 PA's Lounge – Boston, MA
9/10/2016 NYRF – Tuxedo Park, NY
9/11/2016 NYRF – Tuxedo Park, NY
9/12/2016 L'anti – Quebec, QC w/ Wilderun
9/13/2016 Katacombes – Montreal, QC w/ Wilderun
9/14/2016 Coalition – Toronto, ON w/ Wilderun
9/15/2016 House Of Targ – Ottawa, ON w/ Wilderun
9/17/2016 NYRF – Tuxedo Park, NY
9/18/2016 NYRF – Tuxedo Park, NY
9/19/2016 The Maywood – Raleigh, NC w/ Wilderun
9/20/2016 The Haven – Orlando, FL w/ Wilderun
9/21/2016 The Orpheum – Tampa, FL w/ Wilderun
9/23/2016 Trees – Dallas, TX w/ Urizen
9/24/2016 Dirty Dog – Austin, TX
9/27/2016 Yucca Taproom – Phoenix, AZ
9/30/2016 Merrow – San Diego, CA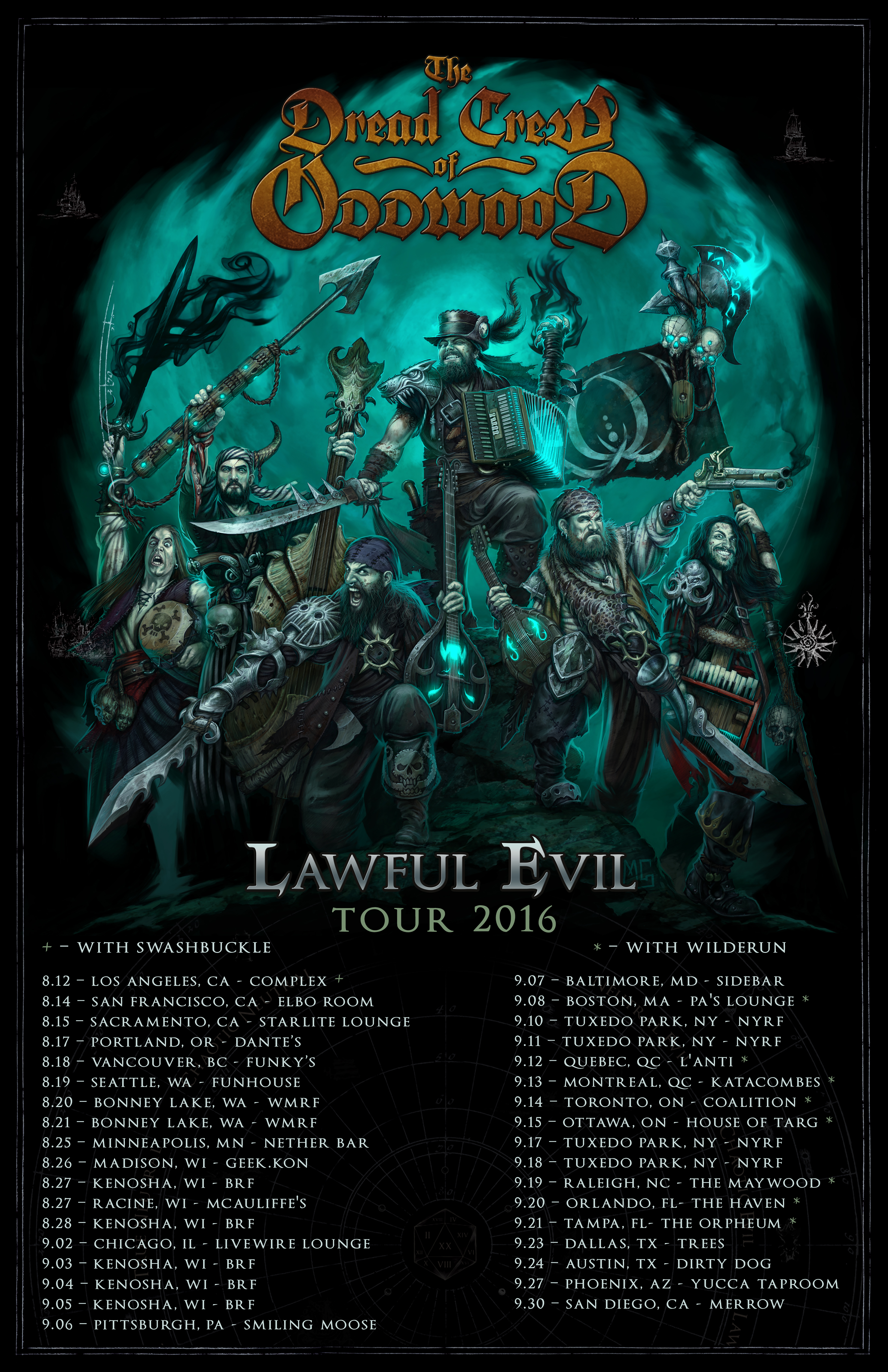 http://thedreadcrewofoddwood.com
http://www.facebook.com/thedreadcrewofoddwood
http://thedreadcrewofoddwood.bandcamp.com