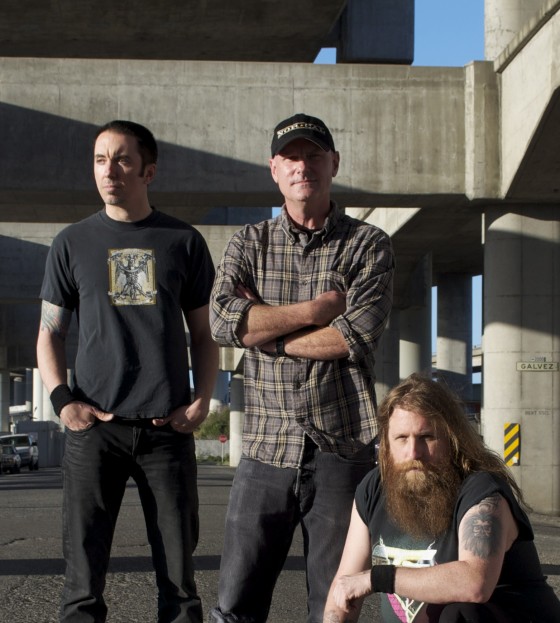 Following its LP release via Lamb Unlimited earlier in the month, the CD version of Dissent — the highly anticipated new album from THE CUTTHROATS 9, the band formed by Unsane guitarist/vocalist Chris Spencer — is out this week via Reptilian Records.
Following a decade-long hiatus from live shows and recording music, San Francisco noise rock kingpins THE CUTTHROATS 9 have fully re-infiltrated the scene on all fronts in 2014, having toured the West Coast with Black Cobra in recent weeks preceding the release of Dissent, with further tour plans currently in the developing stages. The first recordings from the band to see release since the turn of the millennium, Dissent blends organic harmonics into a bed of foundation-crumbling low-end swagger and massive amplification, bringing THE CUTTHROATS 9 back into the mix in massive style with seven new tracks. Chris Spencer's (Unsane, Celan) signature vocals and riffage are here delivered in an even more restrained fashion with a slightly more "Western" vibe, yet tormented aggression still lies within each slick track, fueled by bassist Tony Baumeister (-16-, Aeges) and the percussion of returning drummer Will Carroll (Old Granddad, Death Angel). Dissent was recorded and mixed at Louder Studios with producer Tim Green (Melvins, Bikini Kill, Dystopia, The Fucking Champs, Wolves In The Throne Room) where the band recorded their 2000-released self-titled debut LP, bringing everything full-circle fifteen years later.
Stream all of Dissent now at THIS LOCATION.
The Dissent CD is officially out tomorrow, June 24th, via longtime cohorts Reptilian Records, also responsible for the THE CUTTHROATS 9's early releases over a decade ago. The album is already available on 150-gram audiophile LP with download card included via Lamb Unlimited — the label spawned by Alan Schneider of No More Records and the band's own Chris Spencer. Orders for Dissent are available via Lamb Unlimited HERE and via Reptilian HERE.
Stay tuned for further tour announcements and more on the band in the coming weeks.
"…the trio has returned with a compelling new slab of swaggering low-end abuse and tactical distortion… a bassy, bluesy, almost plaintive slice of audible paranoia." – Noisey
"…Dissent, takes the dissonant, minor-key approach to slide guitar and harmonica and incorporates it into a sound that's absolutely punishing." – East Bay Express
"While Unsane is focused on blood and gore, The Cutthroats 9 are focused on ugliness. The Western-inspired slide guitars and blues vibe, combined with the noisy bass lines and vile guitars, creates a dirty atmosphere that would be sinister if it weren't so catchy. 8/10" – American Aftermath
"…this is the best CT9 record… There is a looseness here that doesn't really shine through on the Unsane records, and the slide guitar sounds more like a slide through gravel. 8/10" – Decibel
"This band knows how to dip their riffs into a vat of emotional angst so that the listener will get where the band is coming from." – Cvlt Nation
"There is no questioning who is running this ship, Spencer is front and centre with those distinctive tones both vocally and guitar wise. I think some Unsane fans dodge theses release because they somehow get a rap for being more bluesy than sludge. Those fans are fucking missing out." – The Sludgelord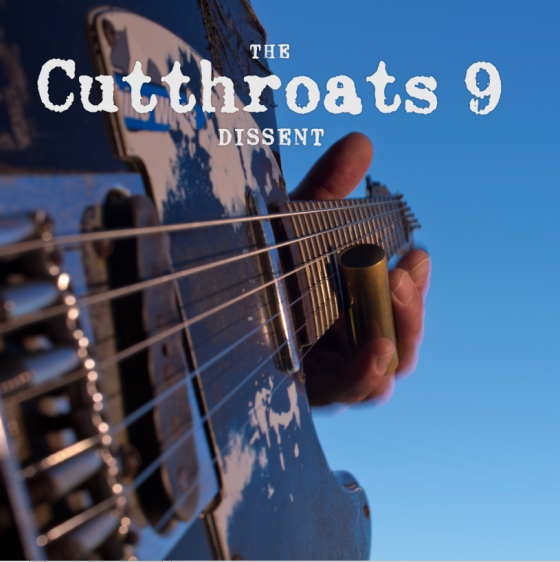 https://www.facebook.com/TheCutthroats9
http://lambunlimited.com
https://www.facebook.com/LambUnlimited
http://www.reptilianrecords.com
https://www.facebook.com/ReptilianRecords
https://soundcloud.com/reptilian-records