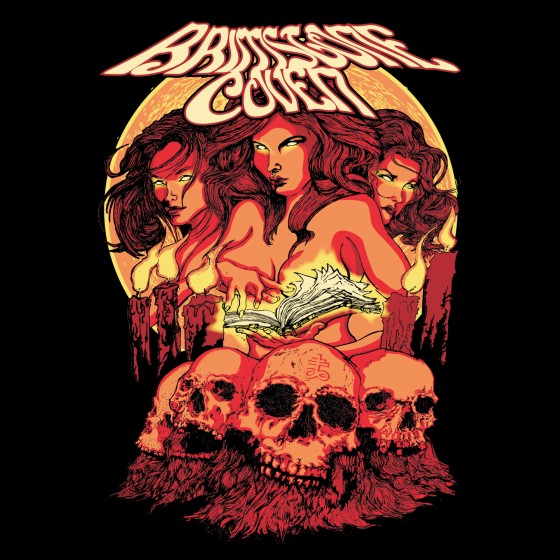 Retro rock/doom metal sorcerers, BRIMSTONE COVEN, will unleash the psychedelic rumblings of their self-titled full-length and inaugural release for Metal Blade Records.
Formed in Wheeling, West Virginia in 2011, BRIMSTONE COVEN churns a cogent blend of dark, smoky cult rock that echoes the eerie reverberations of hard rock icons such as Black Sabbath and Pentagram, mixed with the classic rock craftings of Led Zeppelin and Pink Floyd, all the while preserving a vintage rock sound mixed with a style all their own.
The outfit's Metal Blade debut boasts seventeen mind-altering tracks of occult conjurings – a combo of their self-released full-length and EP — complete with new mastering and the vintage art renderings of Creighton Hill.
Described The Sludgelord of BRIMSTONE COVEN: "Coming across as Zeppelin meets '70s Black Sabbath (the best kind), BRIMSTONE COVEN certainly have that vintage sound in spades, guitars are crisp, bass feels warm and drums played adeptly, with a looseness that only Messieurs Moon, Ward and Mitchell …are known for. Great stuff and what a voice, 'Big John' is quite the frontman with an endearing and rich tone to his voice and yes he sounds. Killer."
Brimstone Coven will be released in North America via Metal Blade Records on August 5th, 2014. In the meantime, zone out to the witchy, jam-wrangled goodness of fifth cut, "The Grave" at THIS LOCATION.
Brimstone Coven Track Listing:
01. Cosmic Communion
02. Behold, the Anunnaki
03. The Black Door
04. Blood On The Wall
05. The Grave
06. Lord & Master
07. Vying
08. The Seance
09. Hades Hymn
10. The Folly of Faust
11. Intro (Bonus Track)
12. We Are Forever (Bonus Track)
13. The Ancients (Bonus Track)
14. Son of the Morning (Bonus Track)
15. LoSt in the oDyssey (Bonus Track)
16. Children of the Sun (Bonus Track)
17. Outro (Bonus Track)
BRIMSTONE COVEN:
"Big John" Williams – Vocals
Corey Roth – Guitar
Andrew D'Cagna – Bass
Justin Wood – Drums
http://www.facebook.com/brimstonecoven
http://www.metalblade.com/brimstonecoven