THE EARSPLIT COMPOUND continues to infiltrate the populous with quality non-mainstream music through its three subdivided branches of public propaganda — EARSPLIT PR, THE COMPOUND RECS, and EARSPLIT DISTRO — and here declares the latest actions on behalf of its label and mailorder sects for the first quarter of 2015. THE COMPOUND RECS methodically plots the deployment of new works from across the musical underworld through cult label sub-faction, THE COMPOUND RECS, including the new collaboration from GODHUNTER & AMIGO THE DEVIL, the impending vinyl version of Break The Clasp from LAE, and much more. New and exclusive wares are also now available through EARSPLIT DISTRO, including preorders for the second collaborative LP from WINO & CONNY OCHS, as the only US outlet to purchase the vinyl edition of the album.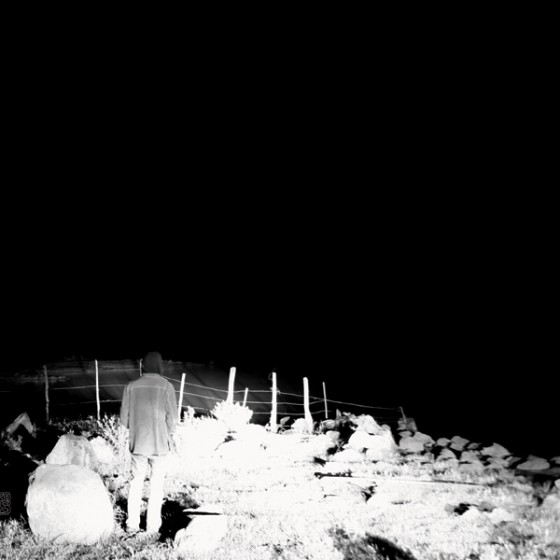 Out as of Valentine's Day is the new collaborative release from political sludge faction, GODHUNTER, and banjo-attacking murderfolk soloist, AMIGO THE DEVIL, a succinct but imposing two-song release capturing both bands in an entirely new approach. GODHUNTER & AMIGO THE DEVIL PRESENTS: The Outer Dark leads off with a barren hymn, "Weeping Willow," wrought with both beauty and sadness, ill-omened from the start. The video for the track, created by Frank Huang (Metal Injection's Pit Full Of Shit), was recently premiered at popular rock underworld portal, The Obelisk RIGHT HERE. On the B-Side, a stark rendition of Nirvana's iconic ballad, "Something In The Way" pays homage to the already bleak anthem, painted with the foreboding, southwestern Americana vibe of the collaboration, which was released in conjunction with GODHUNTER's Battleground Records. Stream the entire 7″ HERE.
Following its CD and digital release in November, Break The Clasp, from Montreal-based post-rock/hardcore outfit LAE — featuring lead vocalist Steve Austin from Today Is The Day — is now being constructed in its prime, intended format, with the vinyl edition now in the production process. With nearly fifty-three minutes of unearthly, heartbreaking, psychedelic audio artistry delivered in four segments — Life, Hope, Love, Death — fans of Three Mile Pilot, Pink Floyd, Swans, Sonic Youth, Unwound, Slint, Shellac, early Today Is The Day and more will be instantly hooked. Having restructured their original lineup and works forged in the Y2K era as LAE-TSU, this dynamic five-piece invited Steve Austin to produce the album, which landed him a seat as the band's new lead vocalist. Recording in founding member Marc Ablasou's wood shop, utilizing acoustic and electric guitars, trumpet, saws, organs, pianos, accordion and more to capture their debut full-length, Break The Clasp was captured on an arsenal of vintage analog equipment, mastered at Austin Enterprises and bearing artwork by Sonny Kay (The VSS, Angel Hair, Gold Standard Laboratories label). Break The Clasp is out now on all digital platforms as well as eco-friendly, 6-panel, spot-varnish digipak CD, and a massive 180-gram gatefold double-LP will be available this late Spring/early Summer. Two videos for the album are also in construction. Stream Break The Clasp in its entirety and order the CD/digital RIGHT HERE. Vinyl preorders coming mid-March.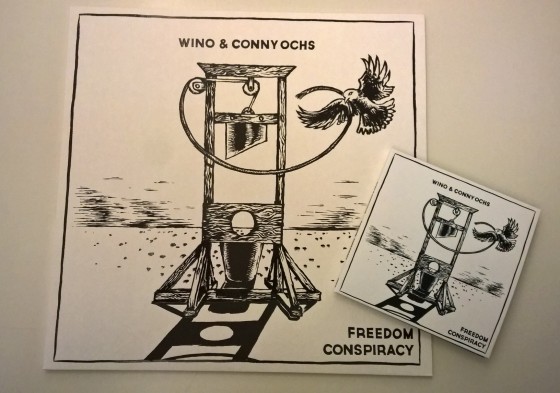 And as the anxiously anticipated second collaborative LP from American doom metal legend and solo artist, SCOTT "WINO" WEINRICH, and iconic German singer/songwriter, CONNY OCHS, entitled Freedom Conspiracy nears late March release via Germany's Exile On Mainstream, EARSPLIT DISTRO has just posted preorder links to both the CD and LP version. Not only is our depot the ONLY outlet in the US from which to order the vinyl version, but the first fifteen preorders of the LP will also receive a FREE copy of CONNY OCHS' Suiciety 7″, with two new songs and an outtake from the Raw Love Songs sessions, initially released to accompany Ochs' November tour in November 2014 European tour with labelmates, Kristian Harting and Friedemann, limited to 300 copies worldwide. Recorded at Kabumm Studio with producer Thommy Krawallo, as was their Heavy Kingdom LP, the newest collection of ambitious, harrowing and beautiful music created by WINO & CONNY OCHS not only brings forth the same quality of organically conceived folk/rock fans of the previous album should expect, it simply excels in every imaginable aspect. Freedom Conspiracy's approach is slightly different from Heavy Kingdom as it has been created in a much more organic way with rudimentary ideas brought in by each and then carved into songs by both together. Fusing acoustic and electric guitars and with both artists' standout vocal styles searing through these thirteen well-crafted brand new hymns, the album delivers forty-five minutes of some of the most refined, dynamic and unforgettable folk/rock music in years. Fans of Woodie Guthrie, Townes Van Zandt, Steve Earle, Bob Dylan, The Black Crowes, Scott Kelly, Mike Scheidt and the like should make sure this duo is on your radar. Imported from Germany, the LP version of Freedom Conspiracy is pressed on 180-gram black vinyl in a reverse board sleeve with thermographic print and an extensive booklet, the CD packaged in a mini-gatefold with booklet and matt laminate varnish. Preorders can be placed in the US right HERE and internationally via Exile On Mainstream HERE.
Since the release of ENABLER's Flies CDEP on Samhain 2013, EARSPLIT's DIY label division, THE COMPOUND, has been responsible for GODHUNTER's City Of Dust album and split GH/0ST:S LP with SECRETS OF THE SKY, COP PROBLEM's Buried Beneath White Noise 7″, ENABLER's La Fin Absolue Du Monde sophomore album (now released through Century Media for Europe), DIE CHOKING's self-titled debut 7″ and II follow-up 7″, the magnificent Break The Clasp debut album from LAE, featuring Steve Austin of Today Is The Day on lead vocals, and the recent collaborative GODHUNTER & AMIGO THE DEVIL 7″. Updates on future releases and endeavors are being prepped for broadcast in the coming days.
Also stay frosty with updates from EARSPLIT DISTRO as new stock from our cohorts at Eolian Empire, 20 Buck Spin, Supernatural Cat, Selfmadegod, Battleground Records, Indisiplinarian, Exile On Mainstream and more, with new titles from Ufomammut, Rabbits, Encoffination, Treedeon, Secret Cutter, Graves At Sea, Big Black Cloud, Deivos and tons more now joining the hundreds of other releases in our arsenal. Free stickers, pins mags or other random swag included in every order. We've also got an Ebay store HERE.
http://www.thecompoundrecs.com
http://thecompound.bandcamp.com
http://www.facebook.com/TheCompoundRecs
http://www.earsplitdistro.com
https://www.earsplitcompound.com
http://www.ebay.com/usr/earsplit_distro