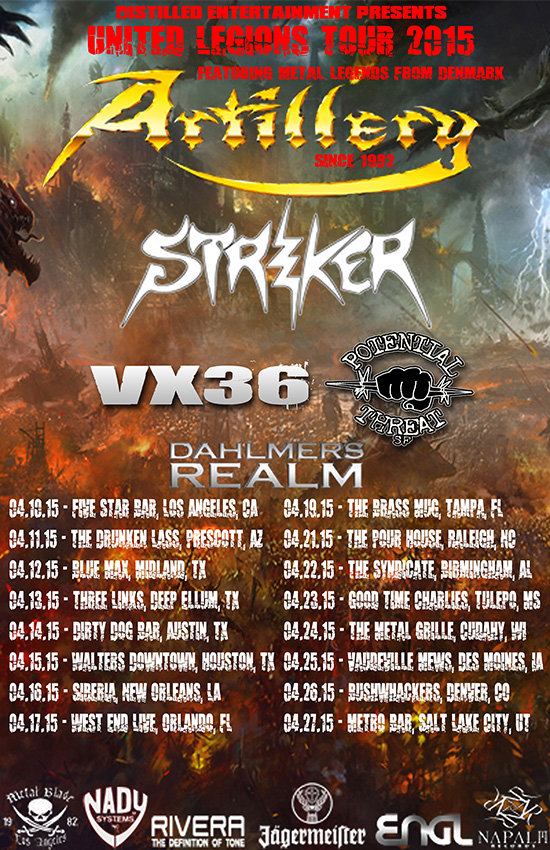 Denmark thrash metal veterans, ARTILLERY, will return to the US this Spring. Set to initiate on April 9th in San Jose, the United Legions Tour will weave its way through seventeen cities before wrapping up on April 27th in Salt Lake City. ARTILLERY will be joined by Striker, VX36, Potential Threat and Dahlmers Realm.
Comments the band: "It's with a great pleasure that ARTILLERY are returning to the United States, this time as a headliner for the United Legions tour together with Striker and VX36. We cannot wait to play songs from Legions together with our old songs from Terror Squad, Khomaniac and more! Come and join the Legions!"
ARTILLERY w/ Striker, VX36, Potential Threat, Dahlmers Realm:
4/09/2015 Rock Bar Theatre – San Jose, CA
4/10/2015 Five Star Bar – Los Angeles, CA
4/11/2015 The Drunken Lass – Prescott, AZ
4/12/2015 Blue Max – Midland, TX
4/13/2015 The Three Links – Deep Ellum, TX
4/14/2015 The Dirty Dog – Bar Austin, TX
4/15/2015 Walter's – Houston, TX
4/16/2015 Siberia- New Orleans, LA
4/17/2015 West End Live – Orlando, FL
4/19/2015 The Brass Mug – Tampa, FL
4/21/2015 The Pour House Music Hall – Raleigh, NC
4/22/2015 The Syndicate Venue – Birmingham, AL
4/23/2015 Good Time Charlie's – Tupelo, MS
4/24/2015 The Metal Grille RK NYDM Spring Bash 2015 – Cudahy, WI
4/25/2015 Vaudeville Mews Des – Moines, IA
4/26/2015 Bushwacker's Saloon – Denver, CO
4/27/2015 The Metro Bar – Salt Lake City, UT
ARTILLERY is one of Europe's earliest and most important exponents of thrash metal, and the band's contribution to the bourgeoning genre is difficult to ignore. The Danish quartet successfully managed to fuse an abrasive brutality with technicality and strong melodies, with the noteworthy guitar leads of the Stützer-brothers serving as highlights. Listen to music and watch videos from latest offering, Legions, now at metalblade.com/artillery.
ARTILLERY formed in the Copenhagen suburb of Taastrup, Denmark in 1982 by Michael and Morten Stützer. Since then the band has gone through numerous lineup shifts and gave released six studio offerings. The first period of ARTILLERY's existence gave the world the three classic albums – Fear Of Tomorrow, Terror Squad and By Inheritance – featuring some of the finest moments of thrash metal Europe has ever put out.
"ARTILLERY are doing what they were surely born to do, namely hurling impressively intricate, ridiculously tight thrash anthems from every direction, they are still unstoppable." – Terrorizer Magazine
"…one of the best thrash metal albums this year…" – Iron Fist Magazine
"The songwriting talent on display is formidable, and all the instruments turn potentially routine passages into extra appendages that work always in the band's favor." – MetalSucks.net
"…this new album proves that they're still fighting on, with no end to the war for thrash metal in sight." –NewNoiseMagazine.com
http://www.artillery.dk
http://www.facebook.com/ARTILLERY.DK