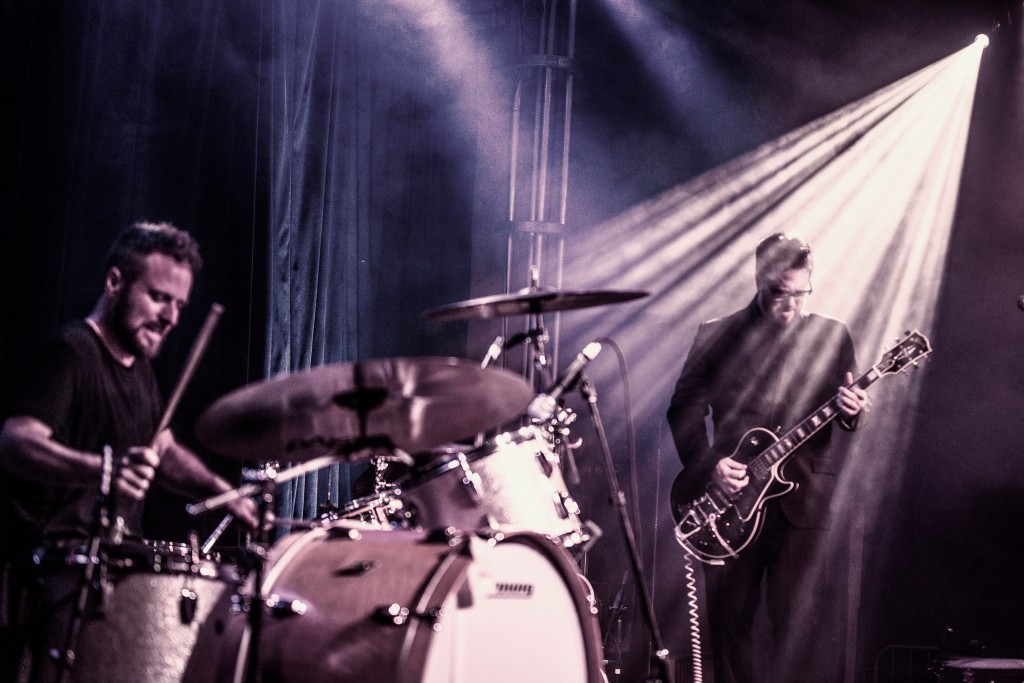 Head Bent is the newest full-length from Nashville rock duo THE COLD STARES. Produced and mixed by the band with Greg Pearce and mastered by Chris Goosman (Acid King, La Chinga, Solace, Lo Pan, Freedom Hawk et al), the record serves as a must-have gem for fans of The Black Crowes, Dirty Streets, Rival Sons, and Royal Blood.
Head Bent is out NOW on CD, LP, and digitally via Small Stone. Orders are currently available at THIS LOCATION where you can stream the record in its entirety.
You can also check out an interviews series with the band exploring Head Bent at THIS LOCATION.
"It's a title [Head Bent] that evokes the notion of capitulation, and particularly in the context of Southern and blues tinges the Nashville-based two-piece bring to their brand of heavy rock, also of prayer," writes The Obelisk of the release. "Vocalist/guitarist/etc.-ist Chris Tapp and drummer/percussionist Brian Mullins deliver a crisp eleven tracks in thirty-seven minutes as they follow-up 2014's A Cold Wet Night And A Howling Wind and a series of EPs and singles, and the clearheaded traditionalism of their taut songcraft becomes one of Head Bent's most defining aspects. It also rocks, and that certainly doesn't hurt its cause either." Shockwave concurs, "Each track on this album is tight, in-the-pocket, and yet maintains a fluidity I haven't heard since I don't know when… Every track is full of life and paints a different picture. Tapp's voice helps add color, but the emotion felt and conveyed through the lyrics are what really draws out the texture of each song. Complex and vivid, they provide distinct visuals."
THE COLD STARES will play a handful of shows throughout the summer and fall, which include a record release show on July 1st in Evansville, Indiana as well as performances opening for Matthew Sweet, Grand Funk Railroad, and Drive By Truckers. Additional live dates will be announced in the weeks to come.
THE COLD STARES:
7/01/2017 Mojo's – Evansville, IN Record Release Show
7/15/2017 Summerfest – Springfield, IL w/ Matthew Sweet
8/26/2017 Lincoln Amphitheater – Lincoln City, IN w/ Grand Funk Railroad
9/24/2017 The Forum – Hazard, KY w/ Drive By Truckers
Forged in 2008 and named in honor of The Black Crowes song "Stare It Cold," vocalist/guitarist/etc.-ist Chris Tapp and drummer/percussionist Brian Mullins united with the sole intent to jam. The result is a sonically and emotionally weighted, story-based brand of rock sung directly from the soul.
Tapp's unique guitar rig and Mullins' giant bass drum provide a visual and sonic landscape for the two to travel on different paths than other acts. You may find yourself looking for another member behind the curtains, but it's just the two of them. As Huffington Post writer Radley Balko wrote in describing the first time he saw the group at a hometown gig at 3rd And Lindsley, "This will go on for an hour. Between songs, people will whisper. They're asking one another if anyone knows who the hell this is. And it's here that you and everyone in the room will have the same realization just about everyone else has the first time they see and hear THE COLD STARES live: These guys are better than the band you came to see."
http://www.thecoldstares.com
http://www.facebook.com/thecoldstaresmusic
http://www.smallstone.com
http://www.facebook.com/smallstonerecords