One Day You Will Ache Like I Ache is the fittingly-titled, forthcoming collaborative debut between apocalyptic doom duo, THE BODY, and grindcore/harsh noise sculptors, FULL OF HELL. Set for release on March 25th via Neurot Recordings, the offering came together during last year's massive North American trek which united both bands. Amidst the chaos of tour life, the two groups found time to record together at Machines With Magnets in Providence, Rhode Island. The session eventually culminated into One Day You Will Ache Like I Ache, which is ultimately an audio reflection of their surroundings and their inability to cope therein.
As a precursor to its release, today Spin Magazine offers up eighth scathing movement, "The Little Death," commending the track's "jackhammering drums, monsooning guitars, and the ambulance-siren shrieks of Body vocalist Chip King."
Sample the ferocious sounds of "The Little Death," at THIS LOCATION.
In related THE BODY and FULL OF HELL missives, the nihilistic union will descend upon Europe together this April. The string of dates see the bands travel across the Netherlands, Belgium, the United Kingdom, Denmark, Germany, Czech Republic, France, Spain and Portugal, including appearances at the renowned Roadburn Festival and providing support for Converge's "Blood Moon" spectacle at the Electric Brixton, London.

THE BODY + FULL OF HELL European Tour Dates 2016:
4/06/2016 Vera – Groningen, NL
4/07/2016 Magasin 4 – Brussels, BE
4/08/2016 Het Bos – Antwerp, BE
4/09/2016 Ritual Festival @ Canal Mills – Leeds, UK w/ Conan, 40 Watt Sun
4/10/2016 Audio – Glasgow, UK
4/11/2016 Rainbow Cellar – Birmingham, UK
4/12/2016 The Ruby Lounge – Manchester, UK
4/13/2016 Electric Brixton – London, UK w/ Converge "Blood Moon"
4/14/2016 Roadburn Festival – Tilburg, NL
4/16/2016 KB18 – Copenhagen, DK
4/17/2016 Kantine Am Berghain – Berlin, DE
4/18/2016 Klub 007 – Prague, DE
4/19/2016 Feierwerk – Munich, DE
4/20/2016 Jubez – Karlsruhe, DE
4/21/2016 Gaswerk – Winterthur, CH
4/22/2016 La Machine A Coudre – Marseille, FR
4/23/2016 Sidecar – Barcelona, ES
4/24/2016 Moby Dick – Madrid, ES
4/25/2016 Musicbox – Lisbon, PT
4/26/2016 Cave 45 – Porto, PT
4/27/2016 Santana 27 – Bilbao, ES
4/28/2016 Le Saint Des Seins – Toulouse, FR
4/29/2016 La Mecanique Ondulatoire – Paris, FR
4/30/2016 Tivoli De Helling – Utrecht, BE
Forged in 1999 in Little Rock, Arkansas and now based in Portland, Oregon, THE BODY has been massively prolific since their inception with a sound that is uncategorized and unmatched. The duo writes and acts as one, a deafening wail against a failing species.
FULL OF HELL was formed in 2009 in Ocean City, Maryland. In similar ethos, the band has remained relentlessly productive both on stage and in recorded form and has continued to challenge themselves, channeling resonances from across the spectrum of extreme music into an uncompromising wall of oppressive sound.
Through their own respective recordings, both THE BODY and FULL OF HELL are internationally-revered as forward-thinking entities of harsh music, delivering their audio torment through incredibly intense and often unorthodox methods.
Neurot Recordings will issue One Day You Will Ache Like I Ache on March 25th, 2016 with preorder bundles available at THIS LOCATION.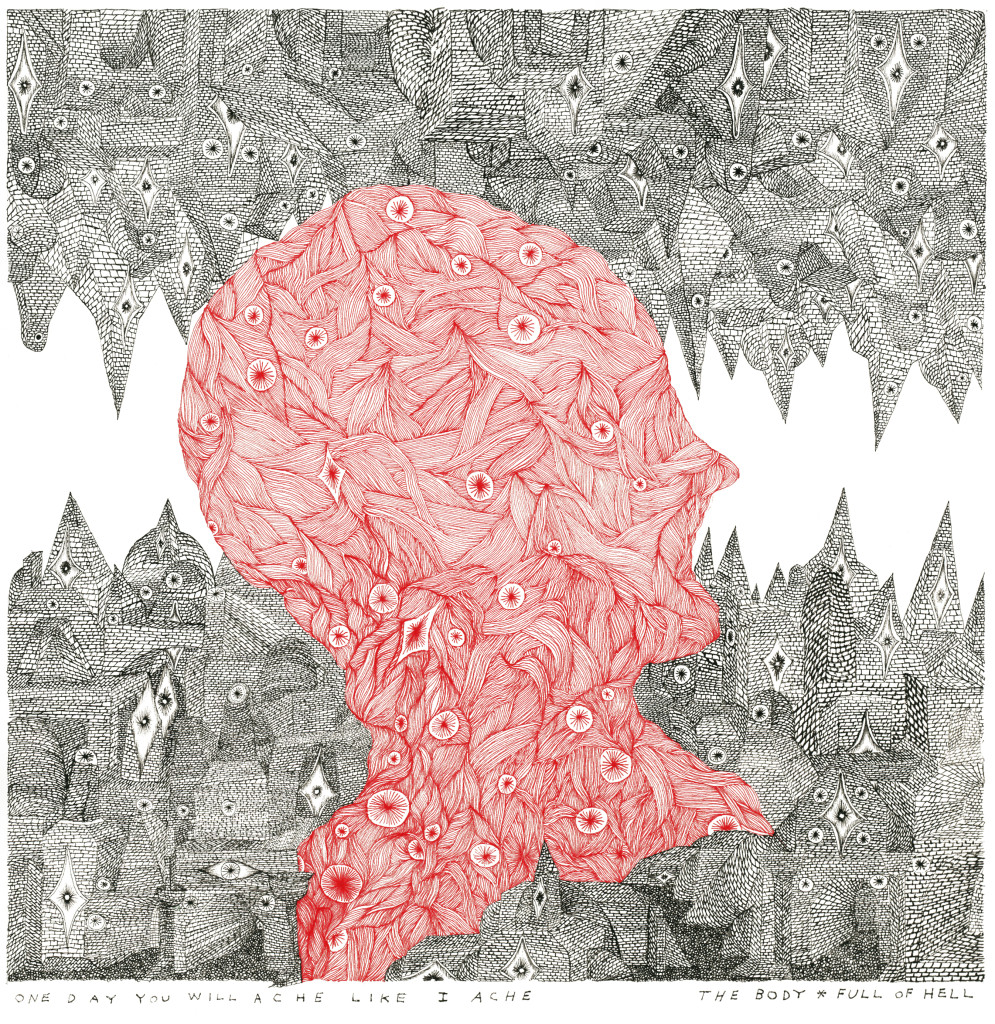 For coverage of THE BODY and FULL OF HELL contact liz@earsplitcompound.com with all North American requests, in Germany contact ansgar@community-promotion.com and across the rest of Europe contact lauren@rarelyunable.com.
http://www.facebook.com/pages/the-body/334047229514
http://www.fullofhell.com
http://www.facebook.com/fullofhell
http://www.neurotrecordings.com
http://www.facebook.com/neurotrecordings