[photo by James Rexroad]
This week, the outsider underground aficionados at Eolian Empire will issue the first proper vinyl release from Portland's dismantling punk trio, TINY KNIVES, with the outfit's teeth-smashing Black Haze LP. Noisey has let this unhinged riffathon out early with a full stream of the platter, the adjoining review boldly issuing of the band's damaging ways, "TINY KNIVES sounds like nothing else that's going on in music right now, which is a pretty massive feat for any band, let alone one with such a slim discography."
Stream all of TINY KNIVES' Black Haze LP at Noisey RIGHT HERE.
TINY KNIVES combines anarcho-punk with frenzied rock 'n' roll and douses it in avant madness. See-sawing between full-speed-ahead riffage and heavy emotional bulldozing, sprinkled with startling prettiness, the trio coheres these stylistic shifts into a sound that rings familiar bells while resolutely being their own thing. The band cuts deep with Black Haze; the rhythm section is a fine-tuned propulsion engine that turns on a dime, built on '77 fundamentals but often veering sideways into strange times and modes, driven by fuzzed-out chords and vocals that shapeshift through brutal growls, rapid-fire shouts, lovely balladeering, and spoken word tirades. The album was recorded by Caravan Recordings with engineering handled by Andrew Grosse and Jose DeLara, the later also handling mixing, mastering duties. It's a rant-fueled, maniacal, white-knuckled ride through Portland's gritty back-alleys.
Black Haze is out this Friday, February 5th. Pick up the wax from the Eolian Empire faction HERE or digital HERE.
TINY KNIVES will continue to shank local audiences with steady shows around Portland with more widespread tour plans coming together for the Summer months.
TINY KNIVES Live:
3/04/2016 Booberamapaloozafest – Portland, OR
Paste Magazine boasts how TINY KNIVES, "make some of the most caustic punk sludge around," adding of their sound, "There are a few Pacific Northwest touchstones–particularly riot grrrl and some Melvins weirdness–sprinkled into their music, but TINY KNIVES is definitely breathing air on another planet… One of the best heavy releases of this early 2016." Bearded Gentlemen Music raved in a 4.5/5 review, "Albums that I keep coming back to have that ability to keep the listener on their toes. Black Haze does that in spades. The way that TINY KNIVES is able to turn on a dime is a credit to their ability as musicians. I love the way that you can be grooving to a bad ass punk rock song and then they take you way into outer space in an instant." Portland Mercury's take on the band's output includes, "TINY KNIVES' more unhinged moments recall Crass' reckless musical abandon at times, and His Hero Is Gone's crushing anger at others," noting of the band's liaison with Eolian Empire, "The Portland trio fit right in on the label with their ability to careen between anarcho-indebted freneticism and post-punk melody." Black Haze baffled local Williamette Week, the write-up offering, "Melody without hooks. A smattering of spoken word. Bass high in the mix, almost used as a lead instrument… By the third time I finished listening to this record, I really felt like I had accomplished something with my day. I felt triumphant, like I could be hit by a bus and keep on going."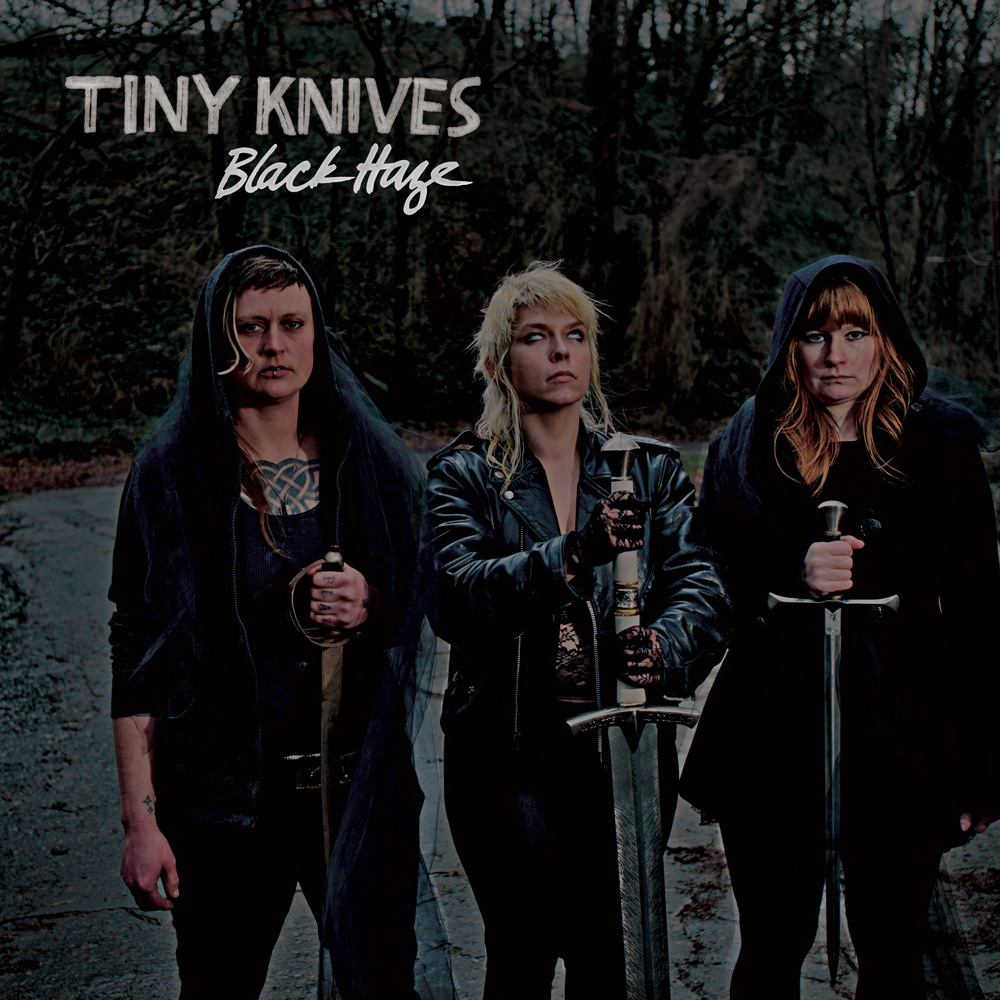 http://www.facebook.com/Tiny-Knives-135287383857
http://www.tinyknives.bandcamp.com
http://www.eolianempire.com
http://www.facebook.com/eolianempire
http://www.twitter.com/eolianempire