Today sees the official release of TAU CROSS' highly anticipated sophomore album Pillar Of Fire.
The record is available worldwide on CD, 2xLP, and digital formats. Physical orders and bundles are currently available via Relapse.com at THIS LOCATION. Digital preorders are available via Bandcamp HERE.
Listen to the album in full via a Youtube clip featuring photography by Cavan Blight HERE or below.

Watch the previously released videos for "Deep State" and "Killing The King" below.

Pillar Of Fire further expands the group's unique musical approach ranging from dark folk witchery to industrial punk metal brutalism; a moody melting pot of Killing Joke's metallic post-punk and Motörhead's anthemic, hard rock with flourishes of traditional instrumentation and an infusion of 16th century English mysticism. Pillar Of Fire is a musical unearthing of TAU CROSS' philosophical preoccupations: mythological motifs, ultra-terrestrial hypotheses, surreal, social political landscapes and the endless search for meaning in a controlled Universe.
Check out a recent interview with bassist/frontman Rob "The Baron" Miller at Decibel at THIS LOCATION.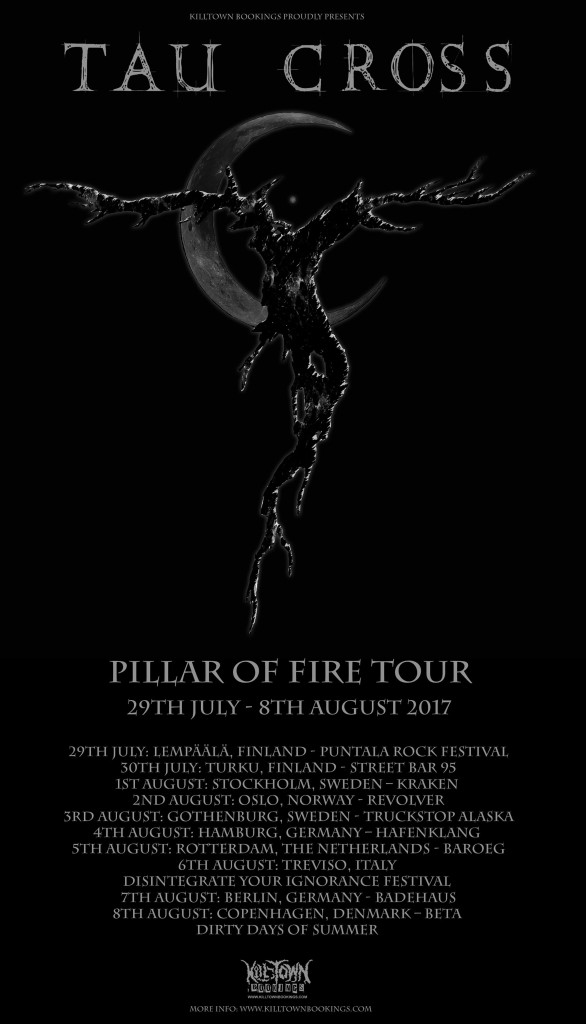 TAU CROSS will tour throughout Europe beginning next week. The tour commences July 29th in Finland and ends August 8th in Denmark. A full list of confirmed tour dates is listed below.
TAU CROSS:
7/29/2017 Puntala Rock Festival – Lempaala, FI
7/30/2017 Street Bar 95 – Turku, FI
8/01/2017 Kraken – Stockholm, SE
8/02/2017 Revolver – Oslo, NO
8/03/2017 Truckstop Alaska – Gothenburg, SE
8/04/2017 Hafenklang – Hamburg, DE
8/05/2017 Baroeg – Rotterdam, NL
8/06/2017 Disintegrate Your Ignorance Fest – Trevisto, IT
8/07/2017 Badehaus – Berlin, DE
8/08/2017 Beta Dirty Days Of Summer – Copenhagen, DK
Formed in 2013 across two continents and three countries, TAU CROSS is a multinational punk/heavy metal collective featuring Amebix bassist/frontman Rob "The Baron" Miller, Voivod drummer Michel "Away" Langevin, and members of cult crust outfits Misery and War//Plague. TAU CROSS is the natural evolution of Miller's work in Amebix. The band's self-titled debut was recorded in 2014 and released via Relapse Records in May 2015 to widespread critical reception including an inclusion on Rolling Stone's Top Metal Albums Of The Year List. TAU CROSS may have set a high standard for its first record, but if the band has proven anything so far, it's that it's incredibly skilled at meeting – and exceeding – expectations. TAU CROSS made their live debut performance in 2016 in North America, followed by a special mainstage performance at the legendary Roadburn Festival in the Netherlands. Now in 2017, TAU CROSS returns with Pillar Of Fire.
"…a more adventurous affair, veering from the expected four-to-the-floor chugging to the title track's acoustic reverie, but the band's fiery spirit remains resolute. And then, of course, there's Miller's voice; the bastard offspring of Lemmy and Jaz Coleman, its fierce authority makes everything here sound like a clangourous, inspirational mountainside sermon…" – Team Rock
"Like Amebix, the song sorta occupies the grey area between punk and metal, with melodic riffage, heavy chugs, snarling shouts, gravelly screams, and just a little bit of psychedelia." – BrooklynVegan on the "Killing The King" single
"TAU CROSS is an act that combines the veteran experience and the youngster vitality. What comes across is that all five members enjoy greatly what they do… through every twist and turn of Pillar Of Fire TAU CROSS comes across with undiluted attitude and conviction, and that honesty to themselves and their sound is what really stays." – Pop Matter
"Pillar Of Fire is an adventurous record, which their prior recording hinted at, spanning genres like post-punk, metal and those moments in the late '60s where some psych bands began to experiment with an almost-medieval style of folk." — Decibel
"Like Amebix, TAU CROSS rages, but with tempered intensity and a controlled, focused fire. May that fire continue to burn bright, and the travels always continue." – Angry Metal Guy
"Pillar Of Fire crunches forward time and time again with tracks that can't help but make you smile, but also that encourage you to think. Building on the old masters to craft something grand, it's hard not to fall in love with what TAU CROSS have done here." – Two Guys Metal Reviews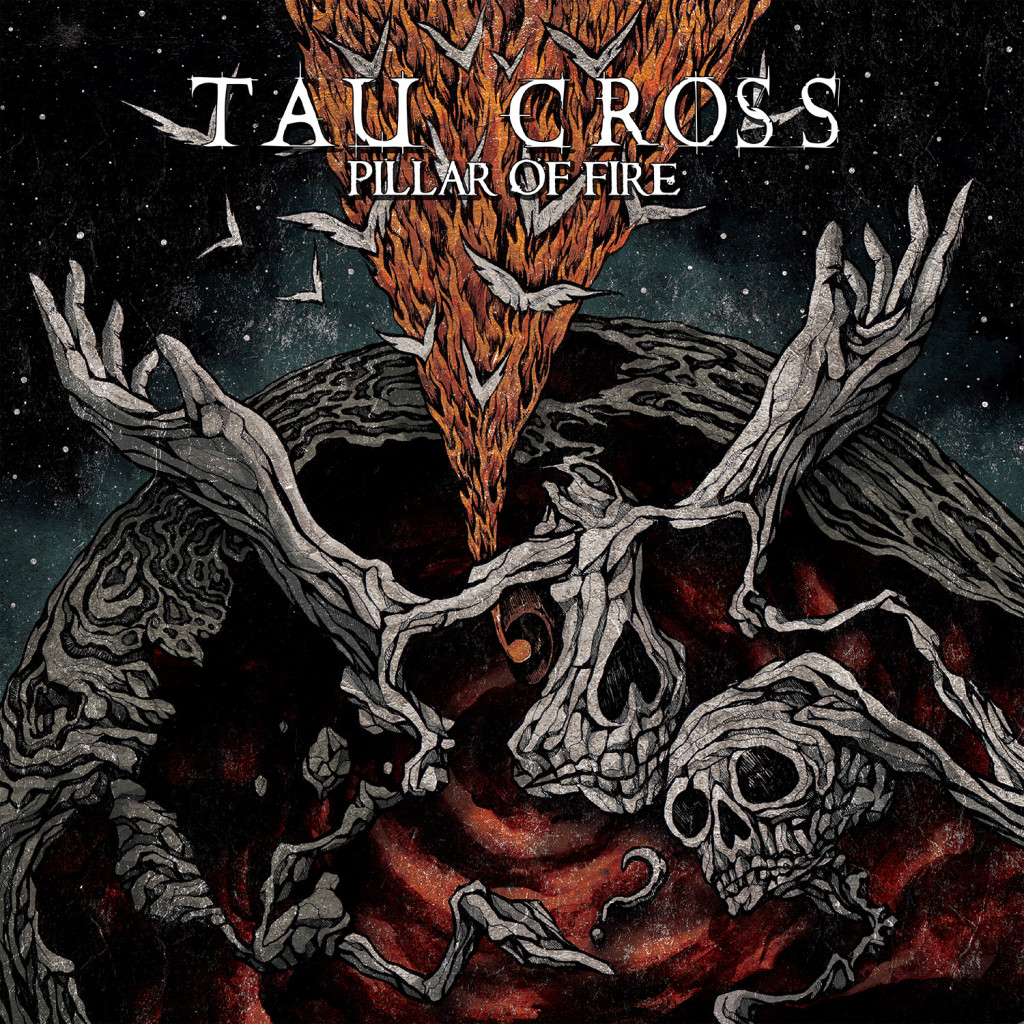 http://www.facebook.com/TauCrossOfficial
http://www.relapse.com
http://www.relapserecords.bandcamp.com
http://www.facebook.com/RelapseRecords
http://www.twitter.com/RelapseRecords