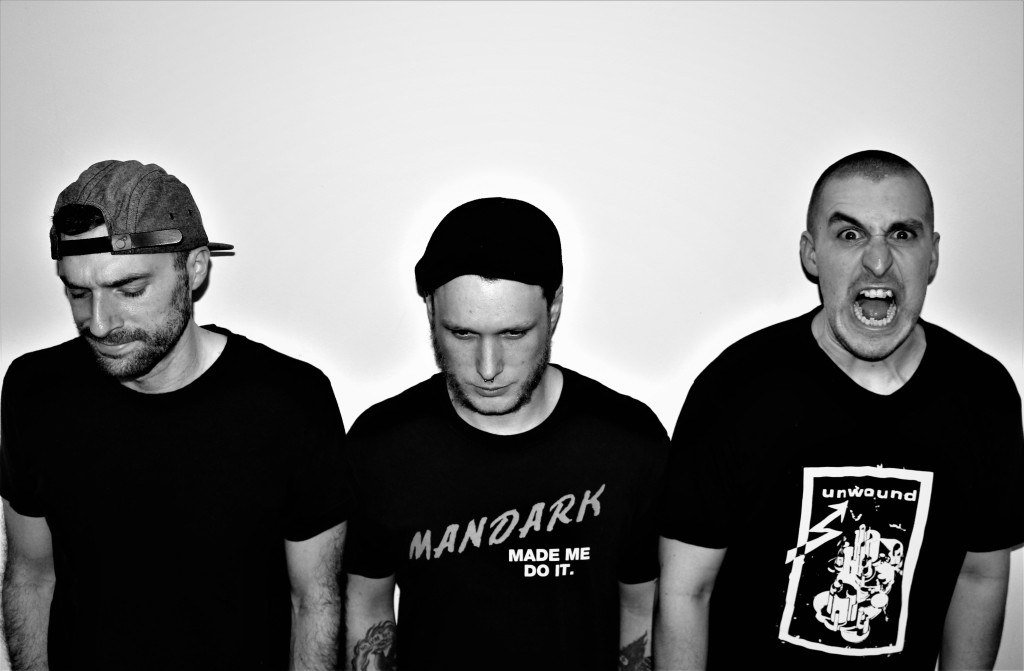 [photo by Steve Veyga]
In one week, Nefarious Industries will release the debut recordings from upstate New York-based trio LACES OUT, with the band's self-titled EP. Advancing its public arrival, Decibel Magazine is hosting a premiere of the track "Fortunes."
The band issues of the song's intent, "'Fortunes' is about the pressure we put on ourselves to always be accumulating and consuming, the detrimental effects it has on the human brain, and how we pass that to our children."
Decibel offers, "The members of LACES OUT have been playing music together for more than a decade, so they presented themselves a unique challenge: write a whole EP, in order, without trashing any songs. The end result is a cohesive and fluid EP that takes influence from a host of bands like Nirvana, Fugazi, At The Drive In and Jesus Lizard but has its own sound still."
Stream LACES OUT's "Fortunes" at Decibel RIGHT HERE.
Hear the previously-released "Will To Become" at New Noise Magazine at THIS LOCATION.
Laces Out sees release next Friday, July 28th. Preorder options for the EP, including the limited edition 2-song 7″ version limited to 50 hand-numbered copies, shirts, and more, are available at Nefarious Industries HERE.
LACES OUT has booked several new regional gigs in support of the new EP, with much more in the works to be announced over the weeks ahead.
LACES OUT Live:
7/28/2017 The Elephant Graveyard – Chester, NY @ Goodbye Fest w/ Entropy, The Closers, Hell Mary, Tesla's Revenge [info]
8/07/2017 Gold Sounds – Brooklyn, NY w/ You Bred Raptors, Spring.Fall.Sea, XK Scenario [info]
8/20/2017 TBA – Beacon, NY
LACES OUT sounds like licking dirt with tiny granules of sugar scattered throughout. Hailing from Orange County, New York, the band features members of Warwick-based post-punk quintet Pigeon, as well as acts Mandark, Veneer, and others. Merging punk, indie, grunge, and noise rock elements through a surge of heartfelt songwriting, listeners can expect trace elements of Fugazi, Unwound, At The Drive In, Jesus Lizard, Pissed Jeans, BVS, Young Widows, Drive Like Jehu, and Nirvana from the songs of LACES OUT. Drummer Steve Delucia and guitarist Ed Ciarfella have been playing together in various projects for nearly fourteen years. Longtime friend and local scene veteran Ray Wasnieski joined the duo in Pigeon, and continued onward with them in LACES OUT. Dynamics and angular progression drive their sound, which is heavily influenced by noise from the '90s. Laces Out was recorded live at Boom Stick Recording in Monroe, New York, engineered by Jeff Rendano, produced by Rendano and the band, mastered at Nada Studios by Eric Costello, and finished with artwork by Joe Hallmark.
https://www.facebook.com/lacesouttheband
https://www.instagram.com/lacesouttheband
http://nefariousindustries.com
http://www.facebook.com/NefariousIndustries
http://www.twitter.com/NefariousInd