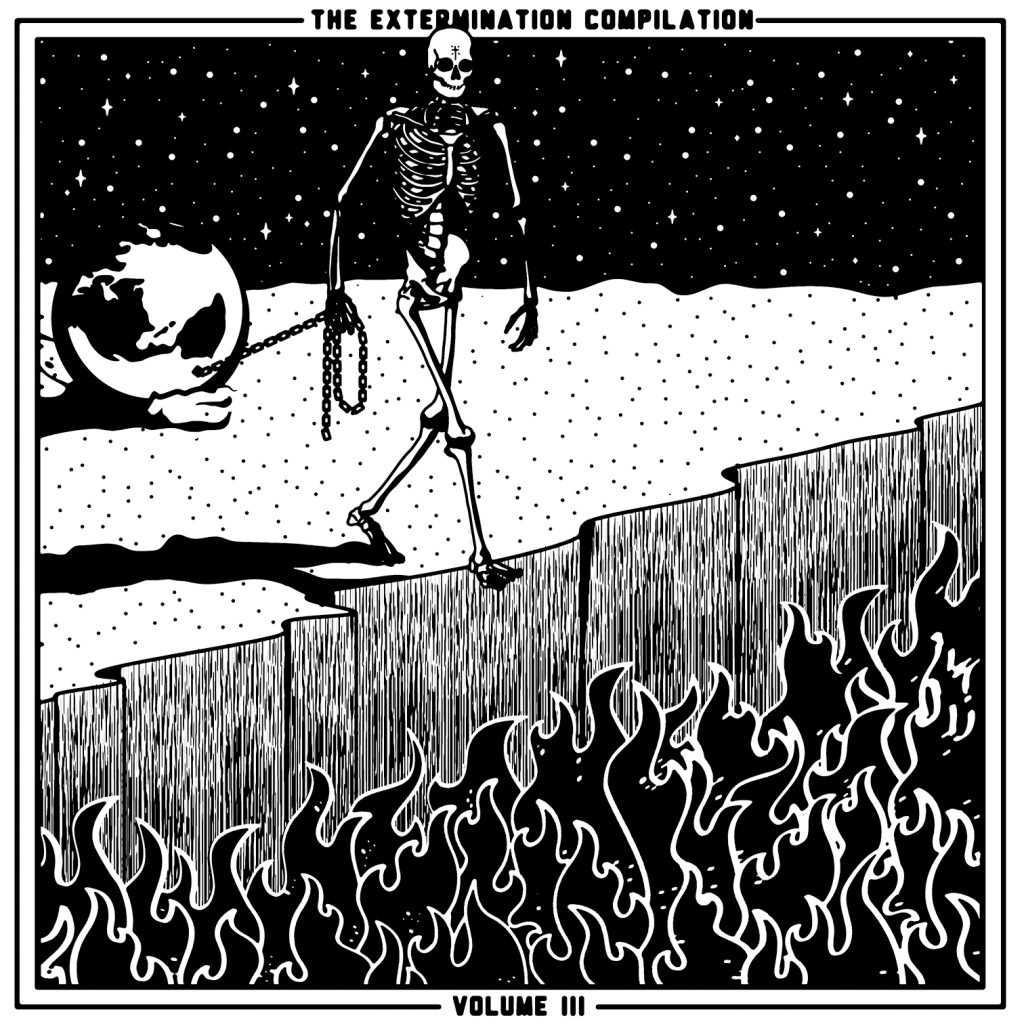 Flatspot Records this week unloads two more tracks from the impending The Extermination Vol. 3 compilation LP for release in November, with exclusive tracks from TAKE OFFENSE and D.C. DISORDER raiding the airwaves through Idioteq.
TAKE OFFENSE is a hardcore/crossover band from Chula Vista, California, who here presents the track "Enter The Center." With heavy vibes of Suicidal Tendencies and Best Wishes­-era Cro-Mags, the band has released two LPs on Reaper Records in addition to several EPs. The band has toured all over the world with bands like Agnostic Front, Madball, Trapped Under Ice, Backtrack, and more, and has played many large festivals like United Blood Fest, Black N Blue Bowl, Sound & Fury, and more.
D.C. DISORDER is a new four-piece hardcore outfit from the hardcore/punk hotbed of the Washington DC area, who closes out the punishing compilation with their gritty "Naïve To A World." The band has been, quickly making a name for themselves throughout the area, and is preparing to release their debut EP for release through Youngblood Records this Fall, a sign that this is just the beginning of things to come.
Offers TAKE OFFENSE vocalist Anthony Herrera, "Since the beginning of TAKE OFFENSE one of the main intentions for us is to make sure that everything we do is packed with energy, and for this track I don't think we lacked. We do our best to let loose and just have fun with it really. 'Enter the Center' is a track for old and new TAKE OFFENSE fans alike. Thank you to our good friends at Flatspot for making it happen!"
Idioteq webzine is now streaming both tracks exclusively; hear TAKE OFFENSE's "Enter The Center" and D.C. DISORDER's "Naïve To A World" RIGHT HERE.
Also stream TERROR's "Other Worlds" and HIGHER POWER's "World Gone Mad" at Clrvynt at THIS LOCATION.
The Extermination Vol. 3 will see release through Flatspot Records on 12″ vinyl LP and digital platforms, as well as a limited cassette run on November 11th, 2016. Alongside the exclusive lead premieres from the comp, preorders have gone live. Check out the options RIGHT HERE.
Flatspot Records takes pride in their scene by releasing the bi-annual The Extermination titles, the series showcasing some of the new-blood in the hardcore/punk world, along with established bands that have been proudly carrying to the torch. Past editions have featured bands such as TURNSTILE, ANGEL DU$t, POWER TRIP, BACKTRACK, and KING NINE, among many others. This series is a homage to classic hardcore compilations such as Where The Wild Things Are, The Way It Is, Free For All, and others, where listeners discovered influential bands that still have an impact on our scene today.
The third installment in this ongoing series bears another intense collection of new tracks from some of the leading acts of the current scene. The Extermination Compilation Vol. 3 features nine brand new tracks that are entirely exclusive to this compilation only. Represented on the collection are four bands from the West Coast US, including TERROR, TAKE OFFENSE, PIECE BY PIECE, and DISGRACE, East Coast US acts FRIEND OR FOE, MANIPULATE, COUNTDOWN, and D.C. DISORDER, as well as a song from UK-based HIGHER POWER.
http://www.flatspotrecords.com
http://www.facebook.com/flatspotrecords
https://flatspotrecords.bandcamp.com