Peripeteia, the ambitious and reflective third album from Kentucky-based black metal outfit, ANAGNORISIS, will see release next week, and today, the band unveils the title track to the record through an exclusive premiere at Invisible Oranges, who is sponsoring the band's upcoming tour.
ANAGNORISIS' looming third LP Peripeteia is an honest and passionate autobiography of vocalist Zachary Kerr. The themes in the album have no apparent beginning or end as the record is composed to infinitely loop, repeating the dramatic emotions we all encounter in our own lives. Peripeteia is a story thirty years in the making, told through the heart-breaking lens of audio tapes from Kerr's childhood, spliced throughout the album.
Intrigued not only by ANAGNORISIS' seamlessly melodic, methodical, and malicious execution of the music on Peripeteia, but also by its concept, Invisible Oranges is now hosting the LP's namesake track ahead of street date, proclaiming of the material, "Zachary Kerr only screams in Lousiville's ANAGNORISIS, but on their upcoming album Perpeteia, the band tells his story. Snippets of audio recordings from Kerr's childhood pepper these songs and hint at an unhappy domestic life. Combined with the band's sometimes rough and tumble riffs, not to mention prolonged song lengths, these tape snippets evoke Shining's masterful V: Hamlstad album (dig the tremendous organ freak-out that closes this song), but the knowledge that these samples don't come from a film give the story the weight of reality."
Explore ANAGNORISIS' "Peripeteia" only at Invisible Oranges RIGHT HERE.
The album's "5306 Morningside" is also playing at Decibel Magazine HERE.
Invisible Oranges is also now the official sponsor of The Peripeteia Tour 2016, which will see ANAGNORISIS hitting sixteen cities across the eastern half of the country in November. Originating in their hometown of Louisville on November 3rd, the trek takes the band through Nashville, Knoxville, Charlotte, Richmond, Baltimore, Brooklyn, Worcester, Clementon, Rochester, Pittsburgh, Columbus, Indianapolis, St. Louis, Milwaukee, and closes down in Detroit on November 18th. Direct support on all dates will be provided by Cryptic Hymn, featuring bassist Josh Mumford of ANAGNORISIS.
ANAGNORISIS – The Peripeteia Tour 2016:
11/04/2016 The End – Nashville, TN
11/05/2016 The Pilot Light – Knoxville, TN
11/06/2016 The Milestone – Charlotte, NC
11/07/2016 McCormack's Irish Pub – Richmond, VA
11/08/2016 The Depot – Baltimore, MD
11/09/2016 The Well – Brooklyn, NY
11/10/2016 Ralph's Rock Diner – Worcester, MA
11/11/2016 Harper's Pub – Clementon, NJ
11/12/2016 The Bug Jar – Rochester, NY
11/13/2016 The Smiling Moose – Pittsburgh, PA
11/14/2016 The Summit – Columbus, OH
11/15/2016 Kuma's Corner – Indianapolis, IN
11/16/2016 Fubar – St. Louis, MO
11/17/2016 The Metal Grill – Milwaukee, WI
11/18/2016 Corktown Tavern – Detroit, MI
Peripeteia will see release on LP and CD through Berlin-based Vendetta Records, on cassette through Yehonala Tapes (Europe) and Like Young Records (US). The CD, cassette, and digital versions will be issued worldwide on October 21st; the vinyl sees release November 15th. Preorders for CD, cassette, and digital are available through ANAGNORISIS right HERE, CD and digital preorders are at Vendetta HERE, and cassettes on different colors through Like Young Records HERE. Vinyl preorders go live on October 21st.
What started as a cathartic effort by vocalist Zachary Kerr in 2013, with ANAGNORISIS' previous LP Beyond All Light, is finished with raw emotion in the form of Peripeteia, which serves as both the prequel (tracks 1-5) and sequel (tracks 6-8) to the critically acclaimed prior release. The new album evolves key musical themes from Beyond All Light in a skillful, operatic way. Black metal continues to be the dominant genre with guitarist and songwriter Zak Denham crafting the music and production of the record. The album is rounded out by bassist Josh Mumford and keyboardist Samuel Hartman, who also contributes alto saxophone to the record. For drums, the group tapped ÄŒerná and Boreworm drummer Cody McCoy to contribute.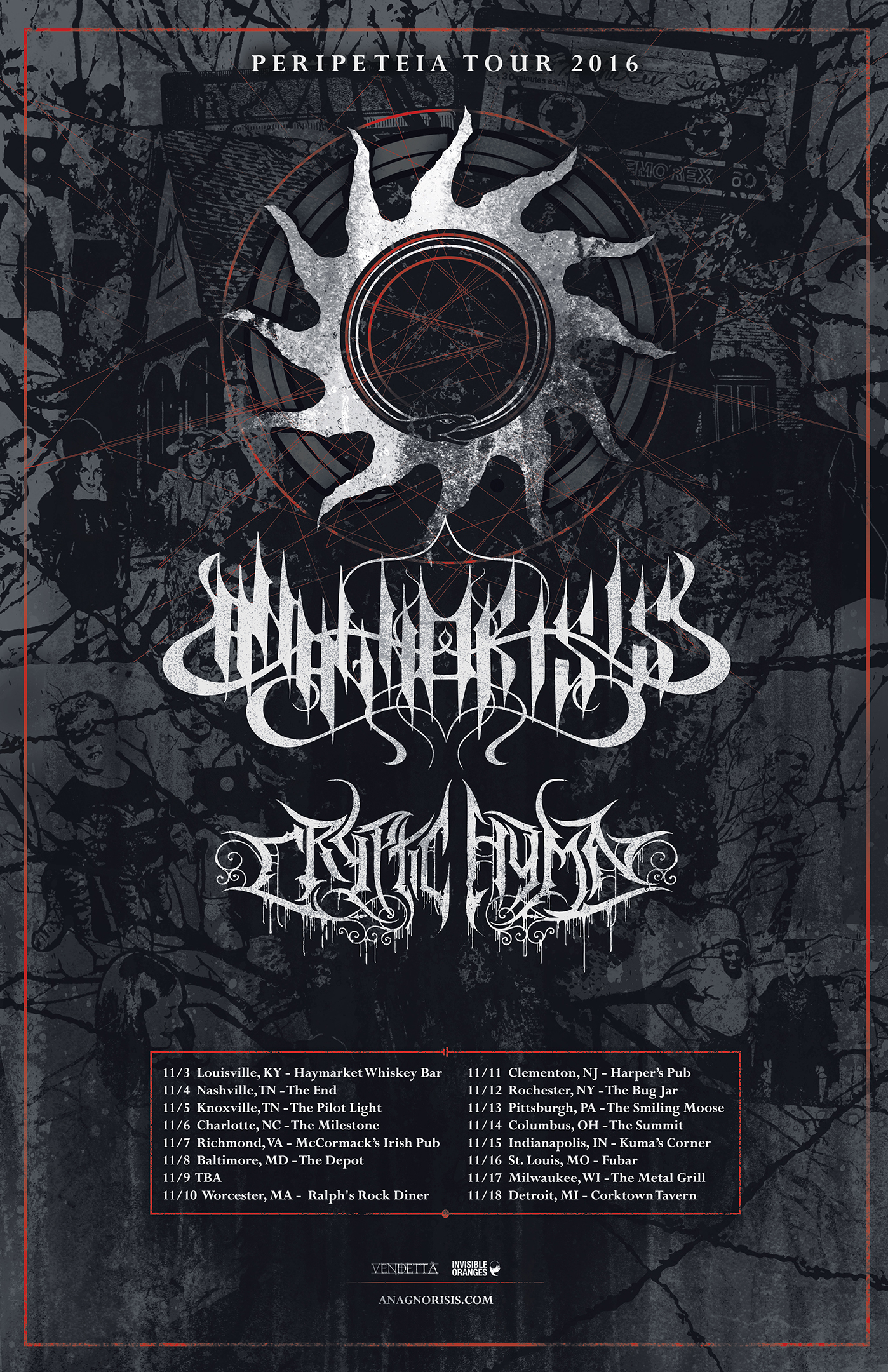 http://www.anagnorisis.com
http://www.facebook.com/anagnorisismetal
http://twitter.com/anagnorisis666
http://www.instagram.com/anagnorisis666
https://www.facebook.com/vendetta-113775778703319/
http://www.vendettarecords.de
http://www.instagram.com/vendettarecs